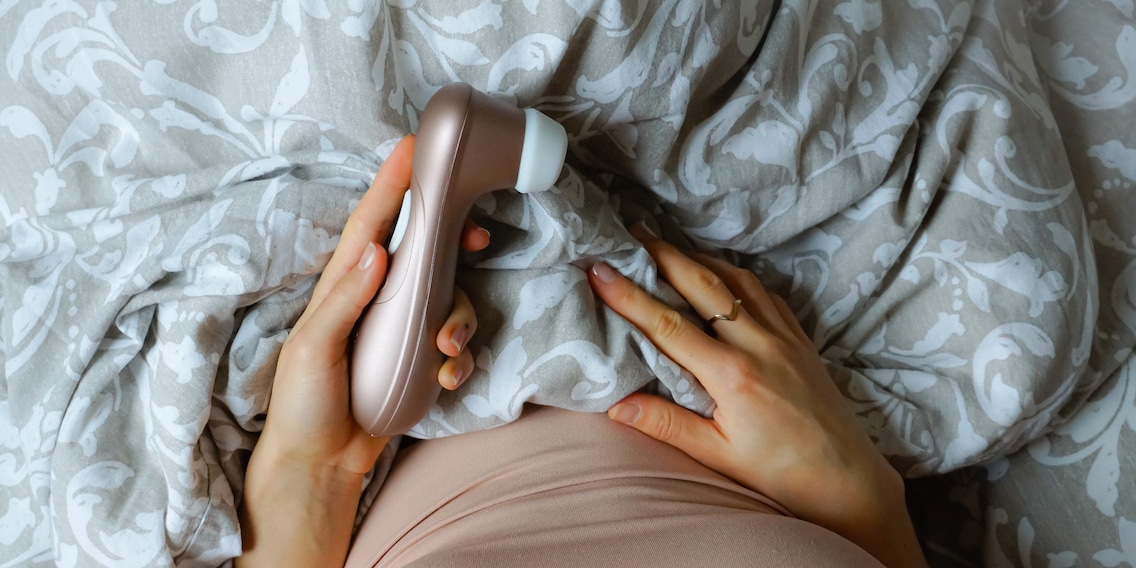 Like a trip to the spa: 5 reasons for more self love

Part 2 of the fantastic facts about masturbation is all about love and health: improved sleep, less pain and a boosted libido – taking matters into our own hands makes us happier.
Fantasies, the masturbation gap and a bad reputation that's unjustified: part 1 of the fantastic facts about masturbation covered all sorts of background knowledge and talking points. Today, I'm providing you with good reasons for more self-love. After all, it's like a trip to the spa for our body and soul.
Holy cramp!
What you may have already known has now been proven: 2020 saw the launch of the first clinical trial to find out whether masturbation helps against period pain. The outcome? Absolutely! Both in the short and long term. In addition, 90 per cent of the study participants said they'd recommend masturbation for pain relief to affected friends and family. Alternative sources of relief including medication, heat packs, breathing exercises and CBD oil are all well and good, but a pill certainly doesn't taste as good as an orgasm.
Lust fuels lust (and makes babies)
If you've been sexually inactive for a while, this often translates into a reduced libido. A great way to kickstart your sex drive is with masturbation. According to a study by the Simon Fraser University in Canada, women release the sex hormone testosterone during climax, which makes them horny. In men, it increases the chance of reproduction. According to Australian fertility specialist David Greening, men who masturbate on a daily basis significantly improve their sperm quality and quantity.
Falling asleep fast
Watching a bit of porn in bed in the dark is popular among single people. And rightfully so! Nothing kicks in the door to the land of nod more reliably than a decent orgasm. And all you need for it is yourself. So why does masturbation relax us so much? Because it briefly paralyses those areas of the brain that are responsible for anxiety and worries. This means you can stop your negative thought spiral. What's more, getting busy with yourself reduces that nasty stress hormone cortisol. A boost of prolactin delivers (inner) peace in the bedroom.
A men's complaint: kidneys stones Everyone off, please!
Kidney stones are deposits of urine that become lodged in the ducts of the kidney or in the renal pelvis. Typical symptoms include sudden, seizure-like severe pain in the side, which can radiate into the lower abdomen. This is also referred to as renal colic. Over the past 20 years, the number of cases has more than tripled. And: men are more frequently affected than women. The solution? That's right: get them out – by means of masturbation as well. In a study published in 2020, it was observed that ejaculating three to four times a week was as effective in spontaneously clearing kidney stones between 5 and 10 millimetres in size as therapy with the commonly prescribed drug tamsulosin.
Body positivity: love yourself!
How does your body work, taste and feel? Masturbation is an effective tool to get to know your body better and finally make peace with it. After all, it's the one to thank for giving us so much pleasure. Mindfully taking in the anatomical landscape of your body not only helps you find your pleasure centres, it's also a way to give your naked body all the attention it deserves. Expect improved confidence, deeper relaxation and more unfiltered fun in life.
Header image: Dainis Graveris via Unsplash
---



Health, sexuality, sports and sustainability. Delve into all aspects of this life less ordinary with the right amount of curiosity, humour and a pinch of salt.
---
---
---
These articles might also interest you
Skeleton Loader

Skeleton Loader

Skeleton Loader

Skeleton Loader

Skeleton Loader

Skeleton Loader