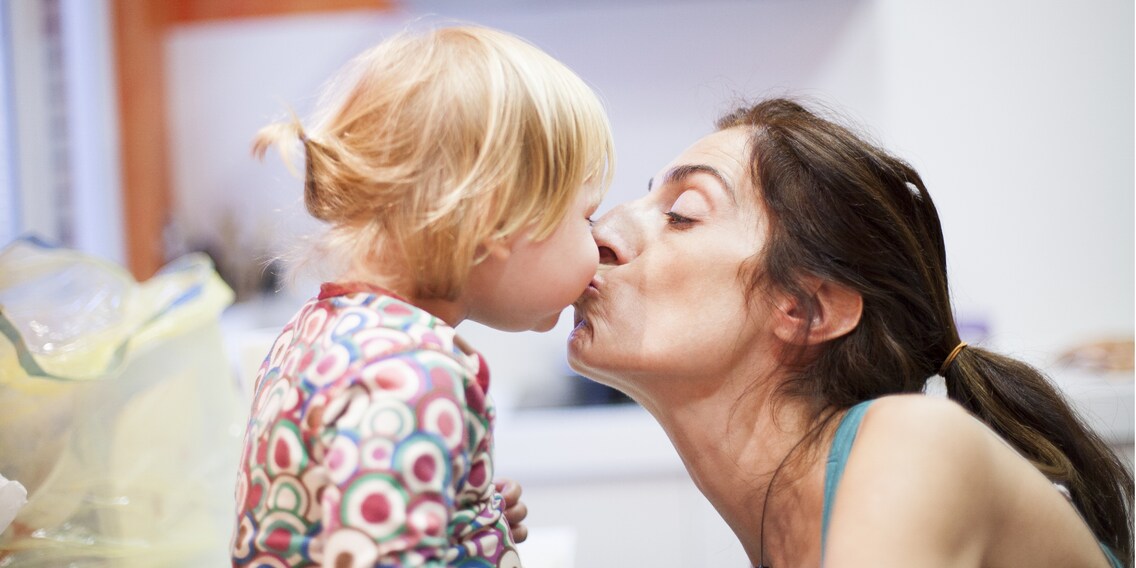 Is it okay to kiss my child on the lips?

Former English football star David Beckham recently posted a photo on Instagram that shows him giving his ten-year-old daughter Harper a peck on the lips. This sparked a heated discussion about whether this is acceptable or not. So, is it?
In times of social media, celebrities often post photos of themselves with their loved ones. As did English football star David Beckham recently. He posted a photo on Instragram of him giving his 10-year-old daughter Harper a big smack on the mouth.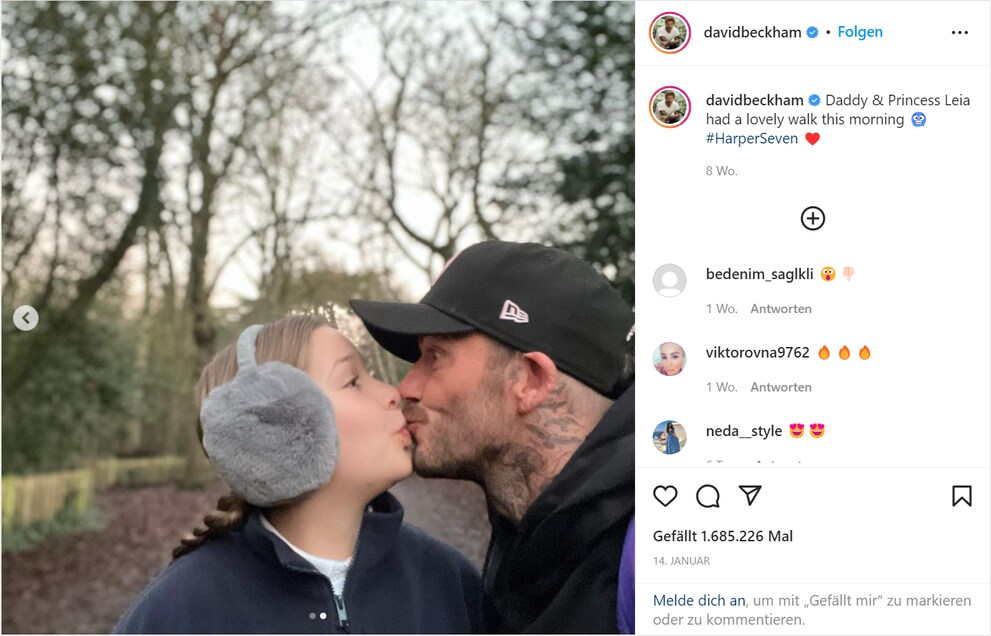 Soon after, the reactions came flooding in. While some regarded the photo as an expression of paternal affection, others thought the kiss was overstepping the line and a violation of physical integrity.
Personally, I still occasionally kiss my 7-year-old daughter on the mouth and have never given it much thought – let alone worried about my display of affection potentially being perceived as an assault. Should I have? Is it okay to give your kids a peck on the mouth, or is this reserved for couples? I asked psychotherapist and sexologist Dania Schiftan.
Dania Schiftan, former football star David Beckham posted a picture of himself giving his 10-year-old daughter a kiss. This caused a heated debate about whether that's okay or not. What's your view on this as a professional?
Dania Schiftan: I follow these types of discussions with great interest. It's important to take into account social norms that are predominant at the time and within a particular culture where the discussion is taking place. Let me give you an example. I recently came across a baby massage book from the 70s. It contained a section about massaging genitals – probably an idea borrowed from traditional Indian massage practices.
Really?! Thankfully, that's no longer acceptable today.
No, it's not. On the one hand, it's great that there's more awareness surrounding sexuality and physical integrity these days and that sexual assault is recognised more quickly.
What's the flip side?
We're seeing a kind of alienation from all things physical and sexual. Take the example of kissing your child on the mouth. I'm sure there are fathers who'd like to kiss their child on the lips, but don't, because they feel they're under general suspicion of paedophilia. I'm pretty sure that the outcry wouldn't have been as great if it wasn't papa Beckham, but mama Beckham who was giving her daughter a smooch on the mouth.
To some parents, their child's lips are taboo. Can you relate to that?
Of course! What matters is that you as a parent feel comfortable about what you're doing. If kissing your kid on the lips sits right with you, that's totally legitimate. Problems start when parents feel insecure and do or refrain from doing something because they're either scared or following a rule. Breastfeeding is a good example. There's a consensus that nursing children is important and beneficial for a child. And yet, it's 1000 times better for a mother not to breastfeed her child if it makes her uncomfortable.
Why?
Because it's been proven this releases large amounts of stress hormones, which are absorbed by the baby through the mother's milk.
The basic rule says that children will tell us – either verbally or nonverbally – how much closeness they feel comfortable with.
That's right. And, as parents, we should pay attention and respect this – even if it makes us feel pushed away or rejected. It's something you have to learn to live with.
But what if my daughter wants to make out with me? Surely that's where I have to draw the line?
Sometimes, children just want to experiment. In this kind of situation, you could say, «that's something I only do with mummy».
Which brings me to the next question: we cuddle, kiss, and shower our children with love all day long – especially when they're little. Shouldn't we be reserving this affection for our partner?
No, I wouldn't go as far as that. For one, I believe that we have infinite love within – so there's enough for everyone. Just ask parents before the birth of their second child whether they can imagine loving it as much as their firstborn (laughs). What's more, rationing affection also implies that sexual arousal and desire between parents can only happen through physical closeness. But the goal should be to feel sexuality in other ways as well.
For the last 14 years, Dania Schiftan has been working as a sexologist and psychotherapist in her practice in Zurich. She's also a psychologist at Parship. You can find out more about Dania and her job in this interview:
So that's what expert Dania Schiftan has to say on the topic. Now I'm curious to hear what your view is. Is it okay to kiss your child on the lips? Thanks for sharing your opinion in the comments.
---



Half-Danish dad of two and third child of the family, mushroom picker, angler, dedicated public viewer and world champion of putting my foot in it.
---
---
These articles might also interest you
Skeleton Loader

Skeleton Loader

Skeleton Loader

Skeleton Loader

Skeleton Loader

Skeleton Loader