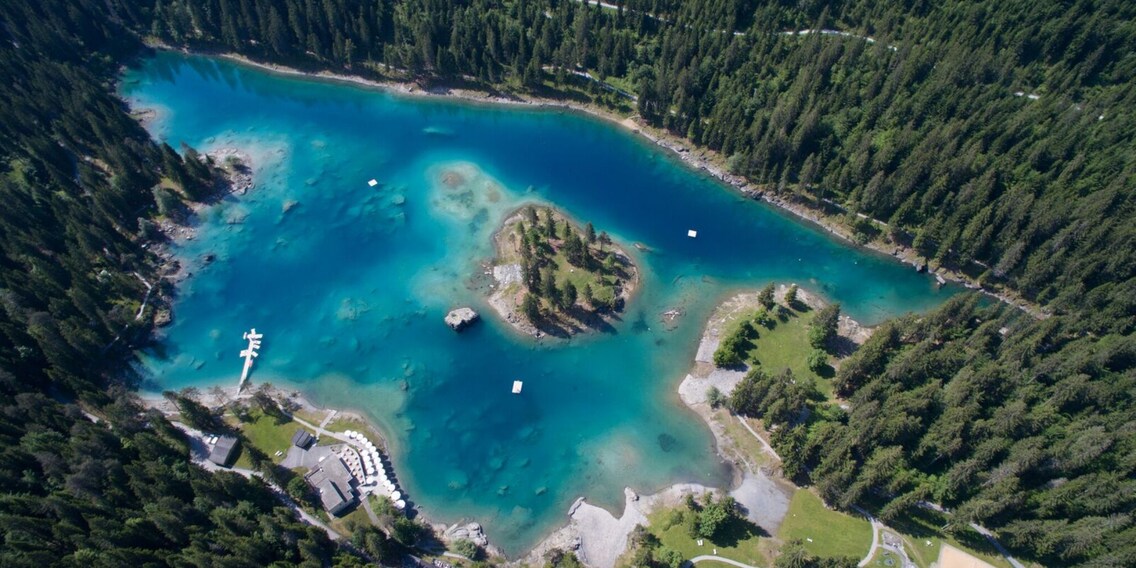 Lake Cauma in Flims (Image: air-view.ch)
"...in less than three months, I already had my own company!»

Flying a drone has become a much-loved hobby for many. Martin Schumacher turned this hobby into his profession. We asked him about his daily work, the equipment he uses and his best experience.
Did you have any experience with remote-controlled models before you got into professional drone flying?
Martin Schumacher: I gained my first RC experience at a very young age. My father used to take part in RC car races. I soon followed and we both started to win races and bring home trophies.
How did you get into drones?
That was at my own wedding in 2013. My wife really wanted several horse carriages on the day and I thought it would be a pity not to adequately capture those precious moments. That's why we hired a drone photographer. His work fascinated me and I bought myself a small drone straight after.
When did you realise this was a good business model?
It all happened really quickly. I posted the pictures taken with my quadrocopter on Facebook and got a lot of feedback. My first job offer soon followed. Not even three months later, my own company and brand were established.
Who are your customers?
They're very diverse. We were recently filming for "Joko und Klaas" (Pro7), for example. Architects are also good customers and usually want images before and during construction work so they can give potential buyers an idea of the surroundings. Some jobs involve inspecting construction sites or bridges. Company and image videos are also in high demand, as are drone photos for the tourism industry. We recently shot some 360° videos for the Swiss Army.
What was your best experience?
Handing over rings by drone at a wedding. The rings literally came out of nowhere and were hanging by a string. That was a beautiful experience.
What about your worst experience?
Occasionally, people come up to me when I'm working and want to chat or give me their opinion on the current legal regulations. These people simply don't respect a filming location that has been cordoned off. On one occasion, somebody even tried to push me away. That could've been dangerous as I simultaneously had to keep the drone and the aggressive man in check.
Speaking of legal regulations – how law-abiding are Swiss drone enthusiasts?
In my experience, most people are well-informed when it comes to the law. Two years ago, the Swiss Federation of Civil Drones was founded. That has definitely helped put things on the right track.
When drones were still a new thing, there used to be a lot of irresponsible contests: Who can fly the highest, who can fly the furthest, stuff like that. Whenever a professional drone flyer would see this, he or she would point out the dangers to the fellow enthusiasts.
What do you think of the legal situation in Switzerland?
It's very liberal compared to other countries. In Germany, Austria and France, regulations are a lot stricter. Not only do these countries require a permit for every single flight but also restrict you in terms of the radius that the permit covers. This makes filming abroad quite complicated as you can't spontaneously change filming locations.
Occasionally, even large hobby drones will involve passing an exam and getting a licence. This even applies if you want to fly your drone in the back of beyond.
Last week the Swiss government announced that it wants to make every single drone traceable. What do you think of this?
Not much to be honest. I think there should be some kind of compromise between a very liberal legislation and total control. After all, no two situations are the same. Now we've got passers-by asking me if my drone already has an IP address.
This kind of control sheds a negative light on things. As did the video of a collision between a plane and a drone shown on the TV news show "10vor10". Although the video turned out to be fake, it got a lot of attention online. I think for a lot of viewers, the take-home message of that video was "drones are lethal".
Well they can be. Last December, skier Marcel Hirscher was almost hit by a drone.
That was terrible. I don't know the details but several things must have gone wrong – both from a technical and human point of view. Batteries drain a lot faster in winter than in summer. Plus, the pilot clearly made a mistake when he flew over the piste.
That is why I find live jobs quite daunting. There's always a lot of pressure and you're generally pushed to get just a bit closer. And that's all it takes for things to go wrong. Fortunately, the said incident did not have any serious consequences but did cost me a couple of jobs. I was booked to film some of the off-piste activity at the Lauberhorn but everything was cancelled after that near miss.
What about the new drones that follow you (Yuneec Typhoon H, Airdog)?
They're really up-and-coming! The law says that this kind of drone must always be in view when it's being flown in autonomous mode. Also, it must be remote-controllable at all times. This probably requires two people; one of which has to hang on to the transmitter.
Which devices do you use?
(Counts in his head). We're currently using seven drones. The drone for 360° recordings I built myself. You can attach up to ten GoPros to it. Another drone we use is equipped with a full-format Canon EOS Mark III.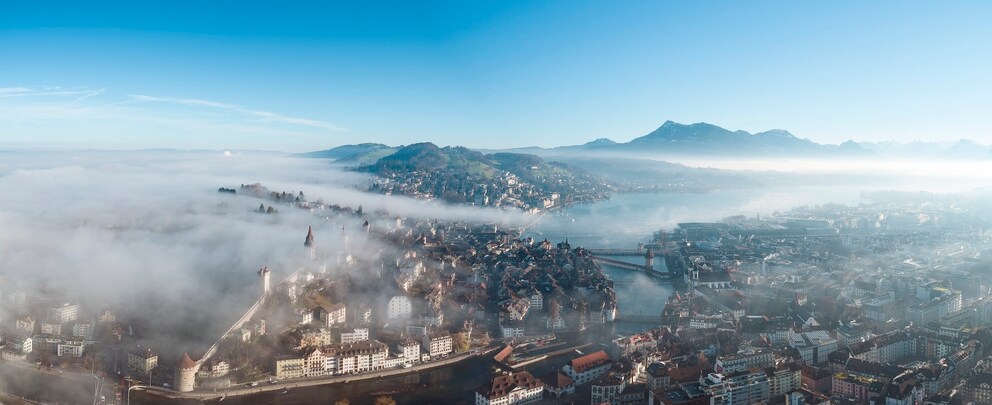 Panoramic view of Lucerne. (Image: air-view.ch)
No amateur models?
Yes, we also have some of those. DJI makes good devices, for example, and I have some contacts with the manufacturer. However, as soon as you've got a specific idea in mind or want to take high-quality photos, a GoPro just doesn't cut it anymore and you'll need a different calibre. This costs quite a bit of money: The 360° drone including all its accessories, batteries, SD cards etc. cost 25.000 Swiss francs.
What do think of the plans of certain companies to deliver parcels via drone? Will Galaxus.ch be able to make drone deliveries soon?
Parcel drones are purely a marketing move – but it's a great idea and it's got people talking. However, technically, there are still a lot of challenges that need to be tackled. Something that is definitely possible today is the delivery of medicine to disaster areas.
Right, I've got to go! There's a job waiting for me in Schaffhausen.
Martin Schumacher, thank you very much for the interview.
Martin Schumacher on YouTube, Facebook and Instagram
More about drones
---



I'm the master tamer at the flea circus that is the editorial team, a nine-to-five writer and 24/7 dad. Technology, computers and hi-fi make me tick. On top of that, I'm a rain-or-shine cyclist and generally in a good mood.
---