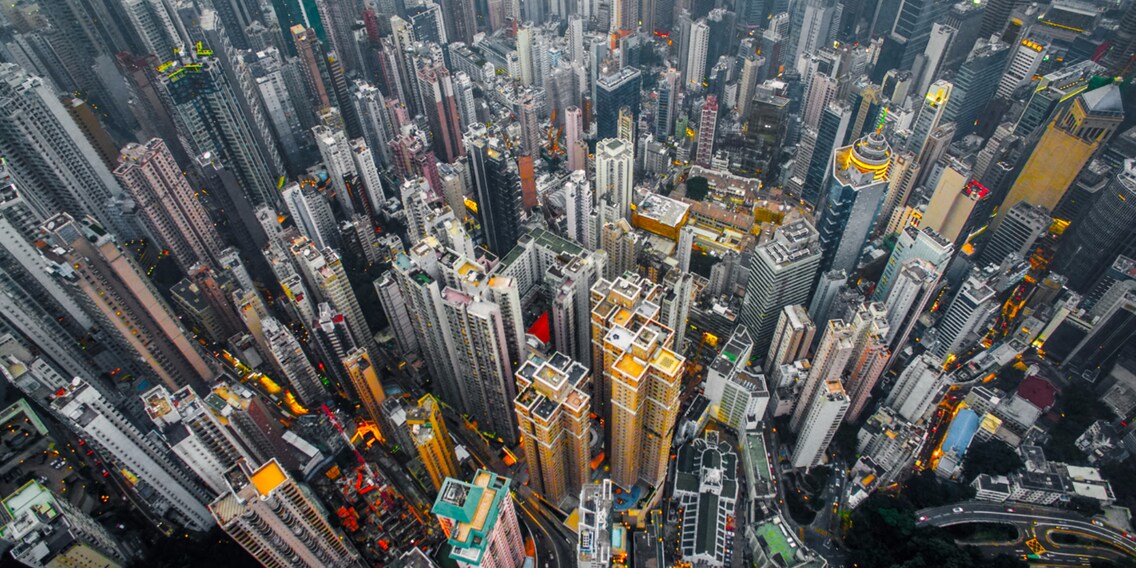 Urban Jungle #01
Hong Kong like you've never seen before

Andy Yeung takes photos. But not just any kind of photos. In his series "Urban Jungle", he has captured his home town Hong Kong from high above. We asked him how he discovered drone photography and what technique he uses.
How did you get into drone photography?
Andy Yeung: When I was travelling back from Europe, I had an intimate aerial view of Hong Kong. Looking down, I saw gazillions of buildings soaring high into the skies. The idea of creating a drone series that offers a glimpse into the reality of living in one of the most densely populated areas of the world just sprung to my mind.
Did you have any previous experience with RC/drones? Did you take a crash course?
No I didn't but I sure watched a lot of videos on youtube! I also joined several Facebook drone groups where pilots of camera drones share their feelings, lessons and suggestions. As a first-time drone pilot, I benefited immensely from it.
Which drone did you use to take the pictures?
The DJI Phantom 3 Professional.
Were there any accidents with the drone? Did you crash?
Fortunately, I didn't. In terms of the dangers, I think flying right above the concrete jungle might subject the drone to electromagnetic interference, hence the danger of flyaways. So it is important to use the drone safely.
At which height did you fly your drone for the photos?
I normally fly at 200m to 300m in order to get a good perspective.
Do you post-process you images or use special filters?
I mainly use use Lightroom 6 for raw processing and light balancing and Photoshop CC for exposure blending, contrast, enhancing detail. I use different plugins for colour changing, such as, Nik Color Efex Pro. Finallly, I do selective sharpening and noise reduction with Photoshop CC.
The "Illusion" effect is the side effect of the drone lens' "distortion". Some people may consider "distortion" a problem for the photo. But I think this effect can add tension to photos – as you can see in my "Urban Jungle" series.
What is your best advice for aerial photographers?
Firstly, choose the right time of day as it is crucial (sunset, sunrise or the blue hour, etc.)
Secondly, use the RAW format so you can later correct the exposure and adjust colours.
Thirdly, use bracketing to bring up the shadows or highlights.
Any advice for beginners?
Try to take as many photos as possible and don't be afraid to share them with others. Your skills will develop as you get constructive feedback. Also, I think it is a good idea to follow your favourite photographers. You can learn a lot from them and stay informed about the latest trends in photography. 500px.com is a good platform for this.
Is there a message you want to convey with your photography?
I hope my drone series can generally get people to think about the high-density living in one of the world's richest cities. The message I'm trying to convey is that HK is a great city, but lurking beneath the prosperity is a severe housing problem that depresses every dweller living in horrid conditions in this city.
Any ideas for your next project?
Bangkok!
More about Andy Yeung. Follow Andy on Instagram.
In Hong Kong, drones like the DJI Phantom 3 Professional are regarded as toys, for which there are no specific provisions. In Switzerland, the same does generally not apply. So before you hurl yourself into drone photography, inform yourself about the legal situation and the local safety regulations.
DJI Phantom
Picture editing
More about drones
---



I'm the master tamer at the flea circus that is the editorial team, a nine-to-five writer and 24/7 dad. Technology, computers and hi-fi make me tick. On top of that, I'm a rain-or-shine cyclist and generally in a good mood.
---