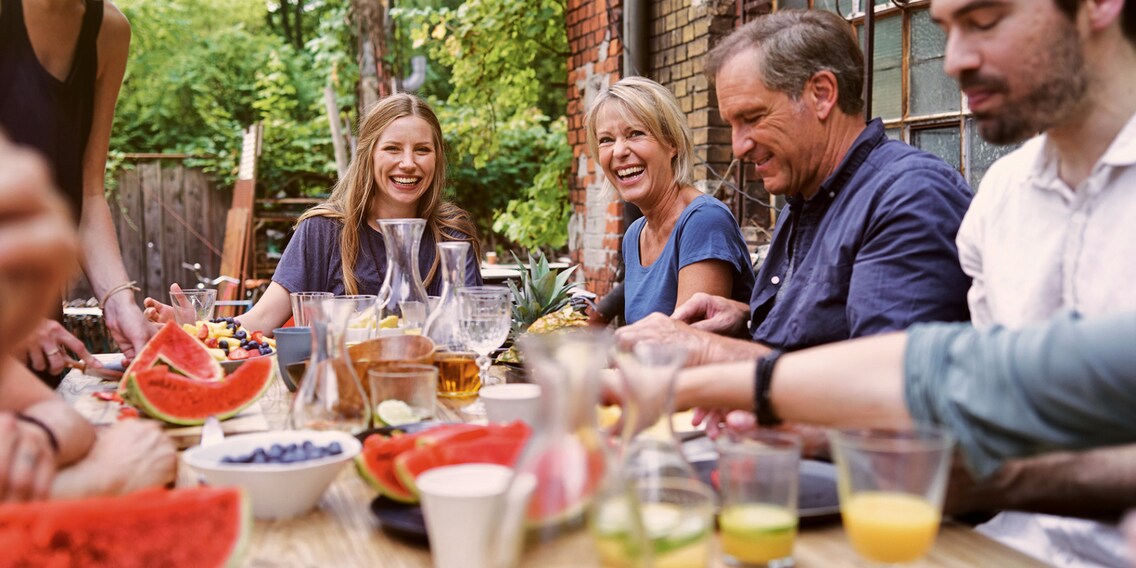 Glorious food to serve up in your garden!

Those long summer nights spent outdoors in the company of good friends and good food are one of the many perks of the summer season. Whether you're planning an intimate dinner or a big garden party, we've got some tips on how to impress your guests with great food and an inviting atmosphere.
What to cook?
Light, refreshing dishes are perfect when temperatures rise. We've put together some mouth-watering seasonal recipes that will have your guests smacking their lips from starter to dessert.
A light summer starter
With the heat comes a craving for refreshing and light starters. Small, elegantly presented appetisers are the perfect prelude to your perfect summer menu.
Gazpacho and other chilled soups served in small glasses
Serves 4:
1 red bell pepper
1 cucumber
4 tomatoes
1 onion
1 clove garlic
100g toast bread
4dl vegetable stock
2 tbsp olive oil
1.5 tsp salt
pepper to taste
Preparation:
Chop pepper. Cut cucumber lengthwise, seed and chop. Chop tomatoes, onion and garlic. Tear toast bread. Mix all ingredients together, add vegetable stock and olive oil and puree. Season and serve chilled in small glasses.
Flavour meets freshness for the main course
A refreshing salad complements barbecued delicacies.
Tifosi burgers with pancetta: American style with an Italian twist
Tifosi is Italian for (football) fan and this spicy burger from the Weber recipe book is perfect for feeding hungry supporters. It's served in a panini and will turn heads no matter what's happening on the pitch.
Serves 4:
Burger:
600g minced beef
1 egg
1 tbsp mustard
1 tsp Worcester sauce
1/2 tsp salt
Sauce: Pepper-lime aioli
4 tbsp mayonnaise
1 clove garlic, chopped finely
juice and zest of 1 lime
1/2 tsp freshly ground black pepper
Panini filling:
4 slices pancetta
rucola
cherry tomatoes
2 shallots, finely sliced
2 tsp sugar
1/2 tsp salt
basil leaves
120g Boursin cheese
4 paninis, halved lengthwise
Preparation:
Mix the egg, mustard, Worcester sauce and salt. Bring together with the minced meat and taste with freshly ground pepper.
Shape 4 burger patties and place in fridge for 1 hour. For the sauce, bring together all ingredients and chill.
Prepare the BBQ for direct medium heat (175 – 220 °C) and barbecue until crispy.
Place vegetable basket on kitchen paper and put cherry tomatoes inside. Drizzle with oil and season with salt and pepper. Barbecue on indirect heat for approx. 10 – 12 minutes. Remove from barbecue.
Heat GBS with a little oil on indirect heat. Add onion slices and season with sugar and salt. Gently cook for 5 – 8 minutes until golden brown. Remove from grill.
Barbecue hamburger patties on both sides for 3 – 4 minutes. Leave to rest over indirect heat and lightly toast buns in the meantime. Garnish buns with sauce, rucola, tomatoes, onions, basil, pancetta and cheese and add patty.
One of my personal favourites: Seasonal quinoa salad
My all-time favourite seed has got to be quinoa (KEEN-wah). I regularly try out different ways of using this versatile food and like it best when it's used as a salad. It's nice and fresh and great for summer. Still looking for a good repice for quinoa salad? To give you some ideas, I've put together a little something for you.
Ingredients:
red quinoa
avocado
cherry tomatoes
cucumber
spring onion
juice of one lemon
coriander
salt and pepper for seasoning
olive oil and balsamic vinegar for the dressing
Preparation:
Bring required amount of quinoa (follow instructions on packet) to the boil in double the amount of water with a bit of vegetable stock. Reduce heat to medium, cover and simmer quinoa for 15 minutes until tender. The seeds should look slightly glassy – this means they are "al dente". If you prefer softer quinoa, simply let it cook for a little longer depending on your taste. Drain any excess water and leave to cool.
Finely slice spring onion. Half or quarter cherry tomatoes. Cut avocado and cucumber into medium-sized cubes. Place in a bowl and squeeze lemon over ingredients.
Add quinoa as soon as it's cooled off and bring together all ingredients. Personally, I love coriander and the zing it gives dishes when combined with lemon. However, it's love it or hate it when it comes to this herb. If you're a fan like me, you should definitely add a few chopped leaves to your salad. It will give your quinoa salad a nice kick. If you're more of a mint lover, try adding a few freshly chopped leaves.
Season your salad with salt and pepper and dress with a bit of olive oil and white or dark balsamic vinegar. This refreshing salad tastes amazing when it's freshly made but definitely won't disappoint if you eat it the day after.
A fruity homemade gelato for a sweet ending
Lime-coconut ice cream – summer on a stick (or in a bowl)
Serves 4–6:
200ml double cream
400ml coconut milk
150g sugar
75ml lime juice
zest of two limes
2 tbsp white rum
Preparation:
Place freezer bowl in freezer a day in advance. Put cream, coconut milk and 100g sugar in a saucepan. Slowly bring up the heat until the sugar is dissolved, then leave to cool before freezing. Put the remaining sugar, lime juice and zest in a saucepan. Slowly heat until sugar dissolves and reduce until syrup thickens. Cool and freeze.
When both mixtures are half frozen, place in KitchenAid mixing bowl and whisk at level 6. Pour in freezer bowl. Add rum and beat at level 2 with dasher until mixture is almost solid. Place in a freezer container and place in freezer overnight. Enjoy your exotic ice cream the next day.
Love your gelato? More on ice cream
Skeleton Loader

Skeleton Loader
Get that summer feel for your table
---


Discovering foreign countries and cultures and tasting coffee or other delicacies is what I enjoy most when I travel. My home is decorated with little gems I find in thrift shops and at flea markets. When I'm having one of my big DIY moments, my creativity is unleashed. Both the mountains and the seaside restore my inner balance. With a snowboard or surfboard under my feet, I'm happy. 
---
These articles might also interest you
Skeleton Loader

Skeleton Loader

Skeleton Loader

Skeleton Loader

Skeleton Loader

Skeleton Loader