Looks like a DIY lamp but isn't. The "Townhend" by Eglo – get that industrial look to illuminate your dining table.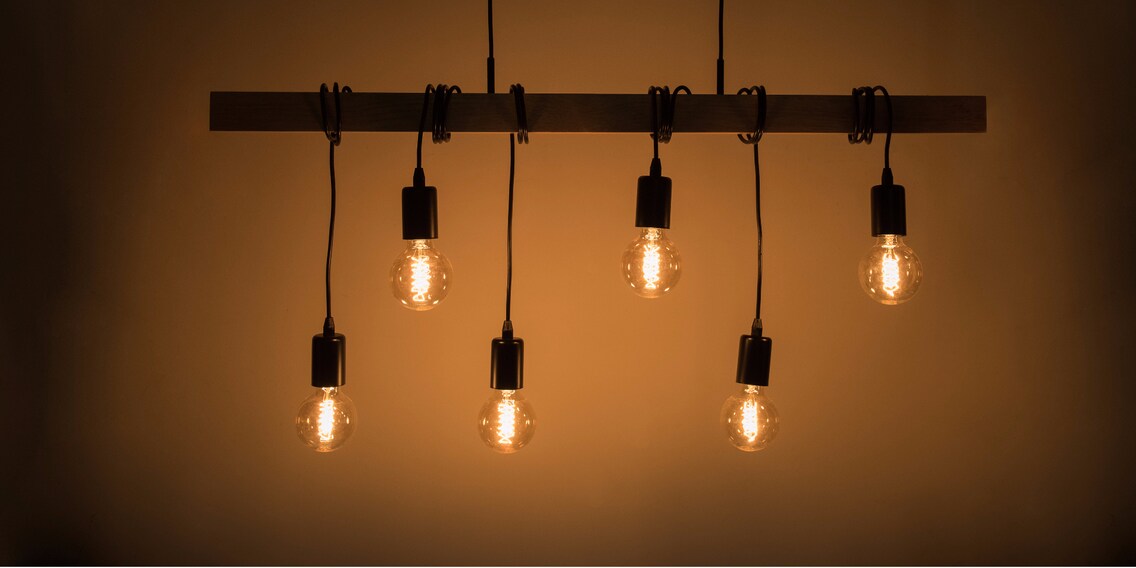 This lamp looks great in combination with vintage bulbs.
For that home-made feel – Eglo Townshend

We love the DIY trend: The web is chock-a-block with inspiring video clips, step-by-step guides and impressive before/after photos – all giving us the impression it's really easy to make stuff yourself. The latest hype includes home-made lamps consisting of a branch and lots of bulbs. For all of you who don't have the time, the tools or the talent, we've got the "Townshend" by Eglo.
Naturally, you'll be a lot prouder if that's your own creation hanging over the dining table. However, there usually just isn't enough time to start those DIY projects. But if you don't want to miss out on the DIY look, the "Townshend" by Eglo is for you: Screw in a few bulbs, loosely wrap the cables round until they have the length you want. Done.
You're a DIY pro?
Are you itching to start your personal DIY project? Let yourself be inspired by these fabulous DIY instructions (in German) for all levels of difficulty. All you need is some time, the right tools and a bit of skill.
News + TrendsInterior

«Do it Yourself»-Projekt: Kleiner Indoor-Garten
---



When I'm not busy putting together home décor themes or planning marketing activities for Galaxus, I enjoy decorating my home with things I love and starting DIY projects I finish all too rarely. The inspiration I get comes from blogs, magazines and travels. My favourite home living styles: Nautical, Scandinavian and Nordic. 
---
---
These articles might also interest you
Skeleton Loader

Skeleton Loader

Skeleton Loader

Skeleton Loader

Skeleton Loader

Skeleton Loader