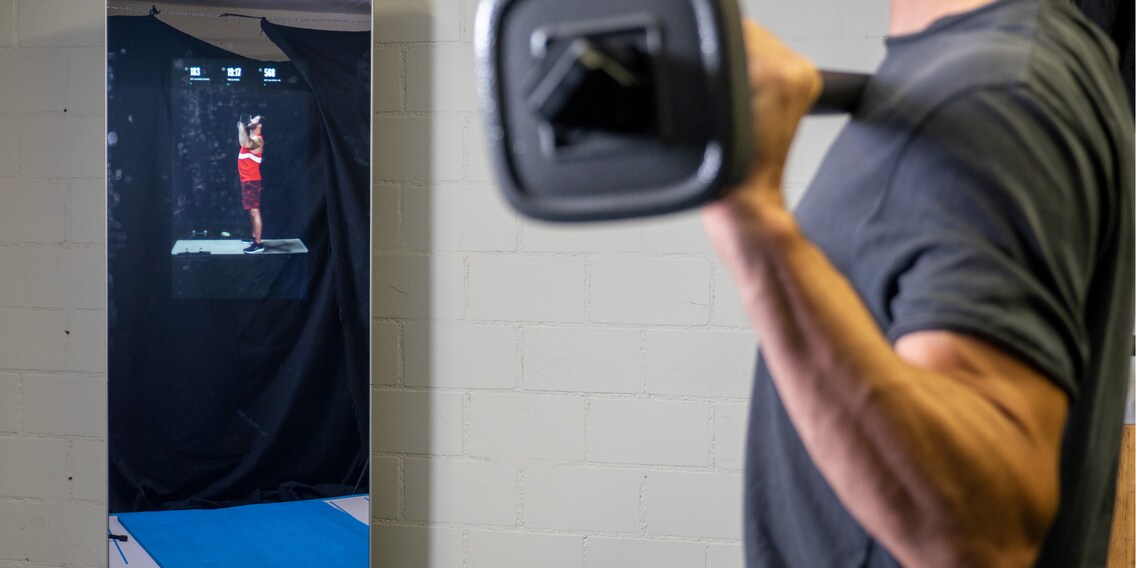 Fitness mirror review: not everything that glitters is gold

Translation:
Julia Graham
With its rotating mirror and integrated display, speakers and dumbbells, the fitness corner for home is here. Although iFit has a huge range of workouts, the same doesn't go for the added value of the Proform Vue.
Normally, when I look in the mirror, my focus is mostly on myself. But for the last few weeks, it's been about more than just that. I've had access to the window of the online training world of iFit in the form of a 22-inch display behind the shiny surface of the Proform Vue. Proform is an iFit brand. This device gives you the opportunity to conjure up all kinds of workouts on the screen. It lets me sweat under supervision, using the dumbbells located on the back of the device. This is something new for me, and it initially had a certain appeal. But once I stood in front of the mirror for long stints at a time, I started ruminating on it – as is always the case.
Every start is difficult; all dumbbells are light
If the term «mirror» conjures up a delicate piece of furniture for you, then that's only half the story in the case of the Proform Vue. The slimline front may blend into the room as mirrors usually do, but there's a fair bit below and behind it that's bulky. This soon outs it as a fitness device.
Three loudspeakers hide behind a cover. Meanwhile, a base plate provides a stable stand and the dumbbell bars and discs it comes with hang on the back. There's a 4.5 kg barbell bar; two dumbbells, each weighing 2.3 kg; and four small discs, each coming in at 1.13 kg. I doubt it's worth buying any more discs. In the instructions, it says: «Don't put more than 9 kg of weight plates on the barbell or on each of the dumbbells.»
In other words, it's not made of sturdy material. They're suitable for the odd workout, but depending on your training goals, you'll soon outgrow them and be on the lookout for other dumbbells. The light weights it comes with are spread over several plastic hooks. A display unit is also screwed on at the back. The supplier assured me that, as with other technical parts, it can be replaced via a repair service if it breaks.
To avoid completely damaging it when you set it up, it's best not to try to do it all on your own. When combined with the accessories, the mirror comes in at 62 kg. I'm lucky in that two of my strong colleagues transported it to my basement for me, set it up and got it working.
Now it's standing there, more or less unbudgeable, on its stable black base plate. We placed it near a socket so I could hide the power supply block behind the device. There's space for it there. Because the mirror can't be flush against the wall, it can also go in corners and be rotated easily. This isn't just an issue of practicality in that it lets me access the weights tucked away behind it. It also enables me to change the position in the room while I'm training. That can make sense for some exercises. What's more, the power switch is located at the back of the device, just above the ground. By virtue of that, each training session starts with a squat. When you put pressure on the switch, a fan briefly whirs into action, but it quickly calms down again. Then the world of iFit logo appears in the mirror thanks to the Wi-Fi connection.
Nothing works without iFit
In order to use the mirror, you need to be an iFit member. The device comes with a 30-day trial, after which time you're charged the yearly fee. On Proform (site in German), it costs 149.90 Swiss francs at time of writing, while the family membership for up to five people comes in at 349.90 francs.
Alongside the couple of thousand for the device, you also have to shell out a tidy sum in order to be able to work out in the living room, office or basement rather than the gym. In recent years, a lot of people have wanted to do this – and for good reason. Online offers from the likes of Peloton and iFit saw a boom at the beginning of the pandemic. But in the meantime, alternatives have sprung up again and the fight for customers is a hard one.
As I'm on a test device, I'm spared any clutching for my credit card. I get a login, have full access and am amazed at what's on offer. As I smear my index finger across the mirror and scroll and swipe through the workouts, I find every possible trendy option. From yoga to HIIT, short stretching to hour-long strength workouts and cardio sessions. There are options for beginners and those more advanced. Not only that, there are 32 trainers I can follow and filter their workouts depending on what I fancy.
Do I want to train in the studio or would I rather my coach was filming somewhere in the countryside? Which continent would I rather they were on? Do I want to train with dumbbells, kettlebells or fitness bands. Am I focussing on the arms, the whole body or the legs? Do I want a workout that's under or over 20 minutes? If I felt like it, I now had the option to mark my favourites, create a plan and add different workouts to my calendar. But I decided to just start somewhere. With the accessories that are there.
I start with studio workouts where the coaches appear against a black background. To a certain extent, this looks quite funny. But it's balanced out by the fact it gives me enough mirror space to see myself. This effect disappears when swimming superstar Michael Phelps leads the way on the coast of Hawaii, for instance. It's amusing but for me it has no significant wow factor on the 22-inch HD display. In fact, I focus less on the execution of the exercise.
At the top of the screen, you can see your training time so far. With a tap, you can also display the remaining time, which is something that interests me more. Conversely, I'm not bothered about the information on calories that have supposedly been burned. You also have the option to hide the information.
For most workouts, I take the dumbbells out from behind the mirror and add the available weights onto them. Aside from this, I add my own, because there's not much I can do with the four discs they supplied.
Dumbbells with corners and edges
Workouts usually start with a small introduction, so I get to know the exercises and have to think about the weights. They should be within reach at all times in suitable increments or at least be easily adjustable.
Compared with this, the Proform Vu dumbbells are quite basic. Plastic reigns supreme on the dumbbell bars, which doesn't give it that high quality feel. If you turn it at the ends, the weights snap into place. When the dumbbells bump into each other slightly as I do shoulder presses, the clasp opens and a weight disc almost falls, making me lose my confidence once and for all.
If you're serious about training, you'll already have other weights or be able to get hold of others quickly. It's a shame, because the dumbbell storage behind the mirror is actually a good idea. I also like the form factor. Rather than being round, the discs are flattened. Meanwhile, the dumbbells work well as push-up grips.
Do the crab walk
If dumbbells aren't for you, you'll also find workouts that use your own body weight or other accessories that you may already have at home. As I mentioned earlier on, you can filter and find everything based on your preferences. And the more you do, the sooner it'll recommend suitable training sessions. There's also the fact that it's easier to find your way around the wide range of workouts on offer if you have no issues with English content.
German isn't available as a system language, and I haven't stumbled upon workouts in languages other than English – having said that, I can filter by «all languages». I can display automatically translated subtitles that add an extra dimension to the fun of training. When it says «hang your hips» or «we're doing the crab walk», I catch myself smiling in the mirror. But essentially, it doesn't matter because I know which exercises come after the introduction. During a lot of the training situations, I don't have an eye on the screen anyway and the overwhelming majority won't have any difficulty with English instructions. What's more difficult is doing the exercises correctly in the long run.
Good workouts, limited connection
All of the workouts I've tried over the course of time are well structured and professionally guided. But whether I train with Hannah Eden, the top-fit CrossFitter, in front of Castelo de Silves in Portugal or whether I choose one of her colleagues in the studio, when it comes down to it, only I know what I've done. There are no live workouts. And apart from my reflection in the mirror and my body reflecting back to me how it feels, there's no control. In some respects, it's pleasant and alluring, knowing that no one's looking at me. No camera, no AI controls if and how I participate. But wait, there really aren't any cameras? Surely there's one in-built on the front. But it has no role yet, which is why I won't mention it further. This can be a pity, because without an element of feedback and correction, you can lose what constitutes a fitness class in the studio.
When I ask suppliers I find out there hasn't been much demand for live sessions so far. Most people would rather follow their favourite trainer and work independently. However, other fitness mirrors on the market can capture your movements using cameras or motion detection. They can already give more feedback on this. With the Proform Vue, I only have 61 × 150 cm of mirror image so far, which isn't always in the field of view. As I do exercises on the ground, I listen to the instructions from the integrated speaker. The quality of the latter is good enough that I understand every word and don't find the workout background music bothersome. Alternatively, I can connect my headphones via Bluetooth. A heart rate belt is also compatible and it goes without saying that completed training sessions get counted, stored and celebrated. But it sticks with quantitative success monitoring. I have to ensure quality myself.
Verdict: not more than the sum of its parts
The training world of iFit is big, but that's only a minor argument for the Proform Vue. After all, you can always use the app without the mirror – but it lacks that certain something. It's possible that in the future, for example, it could boast new functions and thus a new format as a result of new feedback channels. For now, it's a streamlined way to integrate a new piece of fitness equipment to the apartment. But the dumbbells it comes with are now what you've been waiting for and the design isn't at the stage where it could pass as a decorative piece of furniture. The touchscreen is fine, but doesn't match a current tablet in terms of sharpness or speed. A device that integrates many features should be more than the sum of mediocre individual parts. Given that both direct training feedback and the wow factor are missing in the design, that's not the case for me. But things can always change. I'm sure that developments in this area are far from over. I find the concept interesting – but at the moment I'd opt for high-quality individual parts and would still have saved money.
Either:
Or:
---



Sports scientist, high-performance dad and remote worker in the service of Her Majesty the Turtle.
---
---
These articles might also interest you
Skeleton Loader

Skeleton Loader

Skeleton Loader

Skeleton Loader

Skeleton Loader

Skeleton Loader