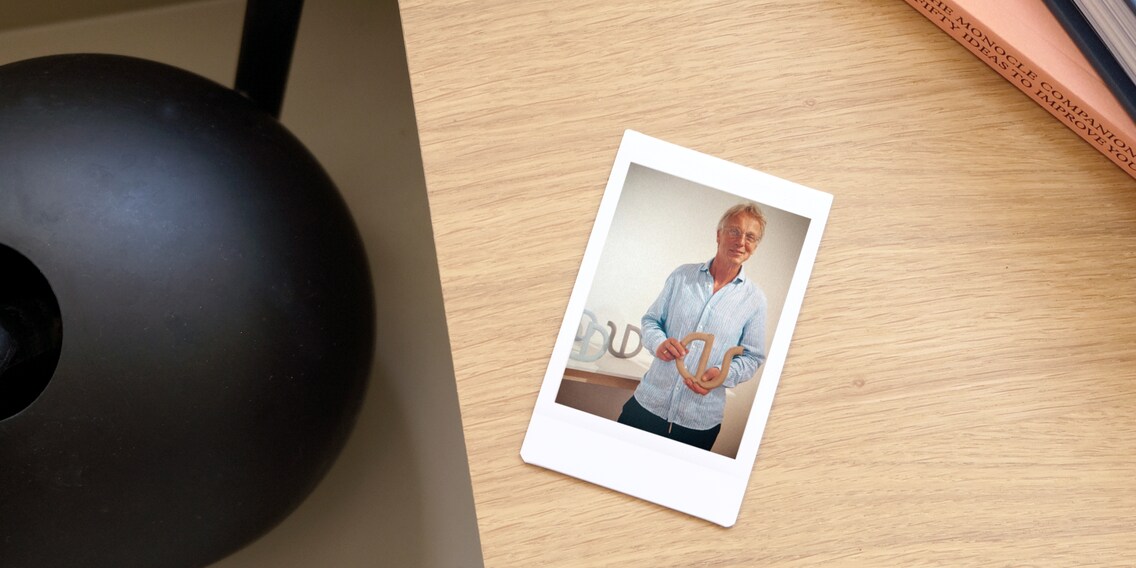 This article was translated automatically.
Cup or jug? Why one designer loves ambiguity

I recently asked the designer Thomas Eyck which thing he would save if there was a fire in his studio. Since then, I not only know his favourite colour, but also his enthusiasm for magic.
When I ask about the hypothetical situation, "There's a fire in your studio, all the people and animals are saved. Which of your objects do you take with you?" the designer chooses the sand-coloured watering can called "Tube". There are several reasons for this, says the designer: "Firstly, it's the most recent project I've developed in 2022. That's why I really wanted to present it for the first time in Milan during the furniture fair at Rosanna Orlandi's gallery. Secondly, I would choose 'Tube' in the plain sand colour because I love the jug mainly for its design. The way the tube, handle and reservoir are combined in one form is magical to me. All of the 15 colours are beautiful, but the sand colour draws the eye away from the silhouette the least."
Transforming an initially unremarkable raw material into a valuable product through processing, modelling and painting - this is what fascinates Thomas Eyck about ceramic art. In his fifteen years as a designer and founder of the "t.e." brand, the Dutchman has already realised more than 200 ceramic pieces in collaboration with various designers. One of the oldest designs from this time plays a special role again today: the small carafe made of anthracite-coloured porcelain called "Nose", which Aldo Bakker designed for "t.e." exactly 15 years ago. Seen from the back, "Nose" looks like a cup. But if you turn it by a quarter, its appearance changes and its spout appears, turning the object into a jug. On the occasion of its 15th anniversary, Thomas has reissued this design and translated all the functional parts into "Tube" - including the ambiguity.
"Tube" is composed of curved tubes. But from the front, the jug looks flat as a flounder. Only when you turn the object do you see that it is three-dimensional and that in addition to the actual container for liquids and the spout, the handle is also a water reservoir. That, in addition to the fact that everything is made of one piece, is what makes the watering can so magical.
More articles from the series
Because furniture fairs are often hectic, I sometimes have no choice but to be brief. That's why at this year's Salone I asked the designers just one question: "What would you take with you from your studio in the event of a fire?" - just to find out what they are particularly passionate about. Here you can find more articles from the series that have already been published:
---



«There are only two ways to live your life. One is as though nothing is a miracle. The other is as though everything is a miracle. I believe in the latter.»
– Albert Einstein
---
---
---
These articles might also interest you
Skeleton Loader

Skeleton Loader

Skeleton Loader

Skeleton Loader

Skeleton Loader

Skeleton Loader