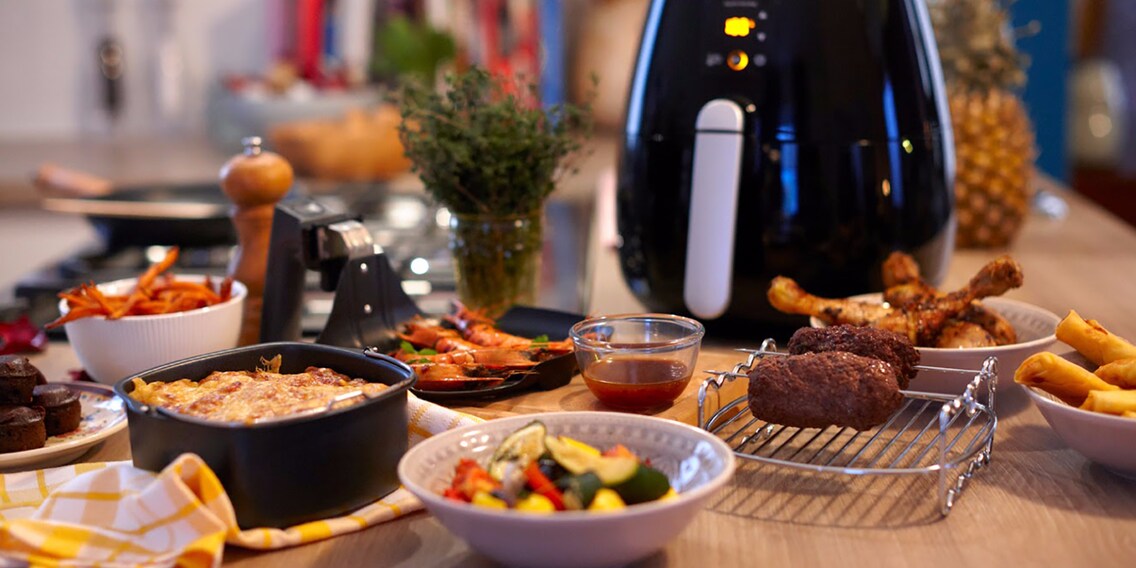 Cooking made easy: Appliances that work hard so you don't have to
Even if cooking is not exactly your strong suit, with these kitchen appliances you will find it easy to put the most delicious meals on the table.
Barbecueing without charcoal
The table barbecues of the Optigrill line will make you the "chef de barbecue" of your household! Regardless of whether you are looking to prepare burgers, poultry, sandwiches, sausages, steaks or fish – Optigrill+ has six different barbecue modes, making the sky the limit in terms of barbecueing. Depending on the thickness and type of food you are looking to prepare, temperature and barbecueing cycles will be adjusted automatically. The integrated indicator light lets you know when your sizzling delicacies will be ready. Acoustic and visual signals along with the "auto-off feature" ensure that burned steaks are a thing of the past. Vegetarians and vegans will not miss out on a thing either: The manual mode with four different temperature settings is perfect for preparing fruit and vegetables.
The larger version, Optigrill+ XL, not only has a bigger barbecueing surface but also offers you three additional barbecueing modes. So you can easily feed up to 8 people. Both models feature a detachable, dishwasher-safe barbecueing plate. There is only one disadvantage: You will have to prepare your suckling pig outdoors.

More than just hot air
So you like fried food but don't want the disadvantages of deep frying (greasy preparation, unpleasant odours, potential dangers)? Then hot-air deep fryers or rather air fryers are the perfect choice for you. By using hot air, food is fried healthily and without any unpleasant odours. The hot air ensures that your food will be crispy on the outside and tender on the inside. This Philips air fryer is also easy to clean: The frying basket, attachments and drawer are all dishwasher safe.

Even a soup hater couldn't resist
With Soupmaker by Philips, you won't be in the soup. This appliance has four automatic modes in which the temperature and time for your perfect soup have been saved. Its manual mixing feature, off timer and the progress indication are all very useful features. Making soup has never been this simple.

Good things come to those who wait
This relaxed way of cooking has become popular mainly in the USA and in England, where slow cookers have essentially become a standard item in people's kitchens. It is particularly well-suited for making soup, stews or braised meat but also for various fish and meat dishes. The advantages are obvious: Food is very gently cooked or simmered at low temperatures. Despite the fact that certain meals take eight hours to prepare in a slow cooker, they do not burn and stirring or checking up on them becomes obsolete. This can be very helpful, especially for professionals. Simply put your food into the slow cooker in the morning and by the evening, when you return home, your meal will be ready.

You may also be interested in these topics:
Skeleton Loader

Skeleton Loader

Skeleton Loader

Skeleton Loader

Skeleton Loader

Skeleton Loader
---
These articles might also interest you
Skeleton Loader

Skeleton Loader

Skeleton Loader

Skeleton Loader

Skeleton Loader

Skeleton Loader