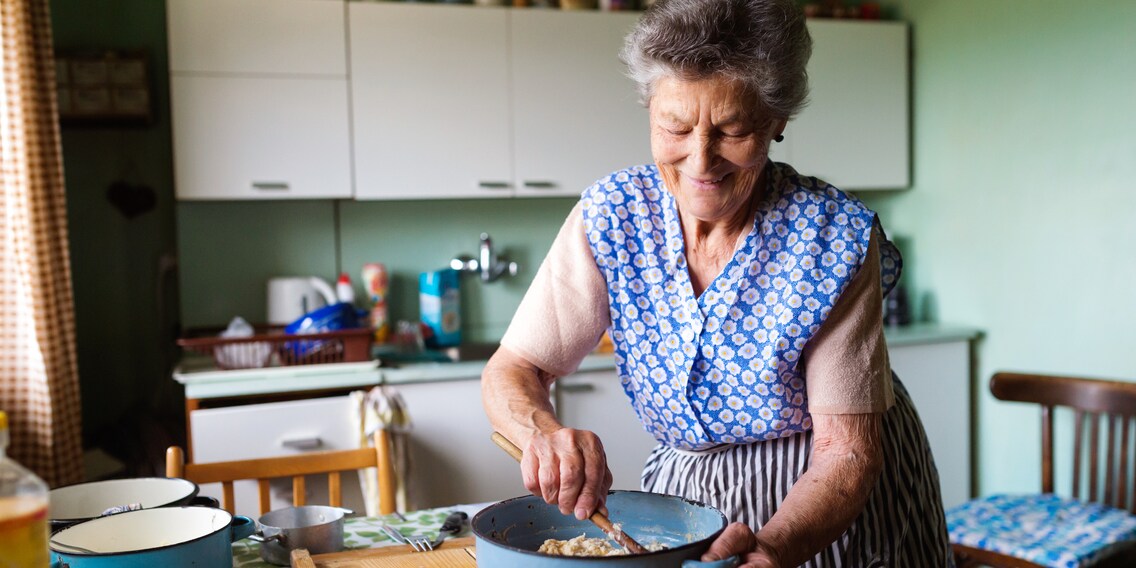 10 kitchen classics your gran swore by
I'm pretty sure your grandparents – and maybe even great grandparents – will have relied on at least a few of our ten kitchen classics. Nowadays, these resilient kitchen tools still have their place in a modern home. What unites them is sheer quality. They also add a touch of nostalgia to fully automated, app-controlled kitchens.
1. A kitchen mill doesn't turn its nose up at a bit of elbow grease
Kitchen mills are extremely robust passe-vites that make it easy to strain fruit, vegetables and other foods. Turning the crank sets the friction discs into action and presses food through the sieve-like bottom plate. Your gran and grandad probably used a kitchen mill to make apple purée, sauces, pureed vegetables, fruit juice, baby food and jam back in the day.
2. You're never in a pickle with these jars
Who doesn't start salivating when they think about pantries lined with shelf upon shelf of preserving jars? They're ideal for storing pickled and preserved food – and almost anything from your kitchen mill.
3. Get a bit of steam going under the hood
Everything took a more leisurely pace back in gran's day – everything apart from cooking, that is. Even if your granny didn't drive a Porsche, the steel fireball that was a pressure cooker built up enough steam under the hood (or rather, lid) to compensate. Pressure cookers are timeless classics that continue to claim their rightful place in kitchens around the country.
4. No bells, just whistles
Can you think of a more comforting picture than a kettle bubbling and whistling softly on the stove in front of you? It's arguably the best way to rekindle memories of the good old times. This classic steel kettle from Le Creuset even emits a high-pitched whistle on induction hobs.
5. How to avoid a beating
Having been a kitchen staple for centuries, drum graters have truly stood the test of time. The interchangeable drums make it easy to grate, grind and chop fruit, vegetables, nuts and chocolate just like your gran used to. It also saves your food from getting a beating in a blender.
6. No, these Romans aren't crazy
Your gran probably wouldn't agree with cartoon character Obelix's famous line: «These Romans are crazy.» As it happens, I doubt there's a better or easier way to cook a variety of dishes than in a classic Roman clay pot. You hardly have to add any liquid, and you don't lose flavours, aromas and nutrients in the cooking process. Other advantages: meat ends up more tender than in dishes that are in the oven a long time. This is in part thanks to the lid, which stops the meal from drying out and burning.
7. Even your gran is a «nonna»
Even if it's not made by the loving hands of an Italian granny, homemade pasta always tastes better than store bought. With a classic, manual pasta machine, you'll be transforming your dough into tagliatelle and fettuccine as though your nonna was looking over your shoulder the whole time.
8. Often copied, but never matched
A kitchen never used to be complete without a strong iron frying pan. This statement couldn't be more true today. An iron frying pan is just what you need for adding the perfect crust to Rösti, Switzerland's much-loved potato dish. Compared with many newer models, the de Buyer frying pan is almost indestructible. It comes with excellent thermal conductivity and is suitable for all hob types (including induction). If you're one of the few people who still has a fireplace in the kitchen, you can even use this pan on an open flame.
9. Little Red Riding Hood and the meat mincer
I bet you can still remember your gran telling you the story of Little Red Riding Hood and the big bad wolf. You might even have memories of her cranking the meat mincer. For years, this kitchen aid has been the perfect tool for chopping meat, fish, vegetables and… maybe even the odd fairytale wolf?
10. If it ain't broke, don't fix it
Not everything has to be completely automated and remotely controlled. Traditional kitchen tools worked in the past, so you don't always need to fix what isn't broken. A prime example is the old fashioned grater for Spätzli. This tool for making Swiss pasta still does a great job without a high-performance motor and app management. It's hard to believe how non-fault-prone and easy to use this appliance is.
Does any of this sound familiar? Let us know in the comments which kitchen tools your gran and grandad couldn't live without.
---
---
These articles might also interest you
Skeleton Loader

Skeleton Loader

Skeleton Loader

Skeleton Loader

Skeleton Loader

Skeleton Loader