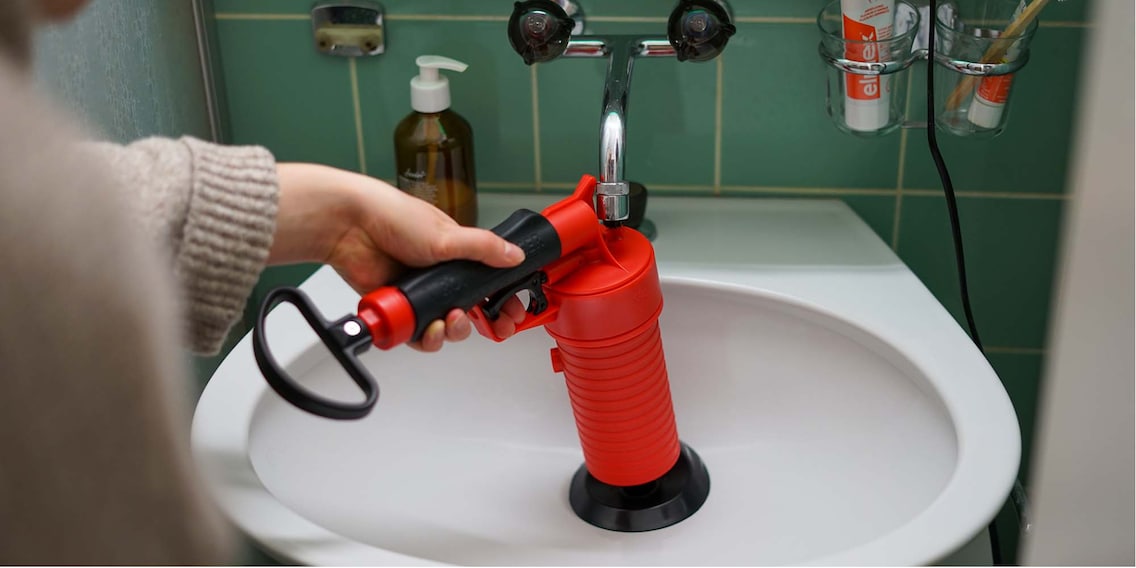 Compressed air: unexpected solution for a clogged drain

I never thought compressed air would help unclog a sink. And that it's simple, foolproof and chemical-free – even in my seemingly hopeless situation.
I saw the problem coming, as the water in my bathroom sink was going down slower and slower. I was ready to do the beechwood stick trick: take a stick, cut a few barbed hooks into it and get out all the hair that's clogging your drain. That's what I did. But it didn't work, as there was nothing there to get out. When I took a torch and looked down the drain, I realised it's not the drain that's clogged, but the part beyond the trap. No chance at reaching this part with a sustainable beechwood stick. Darn. As a completely untalented person when it comes to DIY, I have a problem.
I carried out some research on the Internet and read that I need to unscrew the drain piping to give it a good clean. Opening the drain in my 70s rented apartment might be possible, but I'm pretty sure I'd fail at putting it back together. Not only because I'm not good at DIY, but also because the seals are so brittle they look like they might crumble away any time.
What to do?
No chemistry and no pipe wrenches
I've already poured chemicals down the drain – but the environmental disaster didn't unclog my pipes. Meanwhile, they're so clogged that a pool of water remains every time I wash my hands. That's especially embarrassing when I have guests.
I need to haul out the big guns. In this case, this means asking my dad to drive from Thurgau to the city of Zurich to help me. Since I didn't inherit his talent for DIY, he has to do the job himself. In his treasure trove, he has all kinds of pliers, seals and screws – all helpful-looking material.
However, after taking a quick look at the problem area, my dad comes to the same conclusion I did: opening the pipes is more likely to end in disaster rather than success.
Compressed air – really?
But my dad wouldn't be an experienced amateur craftsman if he didn't have a solution for what I thought to be a situation beyond remedy: compressed air. I'm at the source, he says, and tells me to order one of those tools from Galaxus that blows air down the drain. It's pretty cheap too, he adds. So while my father is on his way home to Thurgau, I start browsing and quickly find what I'm looking for.
This strange red thing that looks like a toy drill for kids has great reviews indeed. «When everything is unclogged, unfortunately, you have to wait until it happens again...» user Deusmortuorum666 writes. Since I don't have any other tricks up my sleeve, I order the compressed air pipe cleaner.
Hopefully it won't blow away all my old pipes.
The next day, the red compressed air gun arrives. The instructions are minimal. I have to seal the overflow hole to make sure there will be a vacuum. I do this with a rag. To avoid damage, the trap needs to be supported – that's what the instructions tell me. I improvise and use a bucket and old books.
Then I place the right attachment – the one for sinks – onto the red pipe cleaner. My dad told me to have some water in the sink to help create the vacuum that's needed to push the air through the clogged pipes. This is followed by the last bit of advice, which is the most important one, in my opinion: «Watch out, some water may come splashing out». Getting pipe water in my face sounds horrible. Therefore, I equip myself with a face mask and an old pair of goggles.
Case solved; sink unclogged
I pump away and pull the trigger. Some water splashes up. Fortunately, only onto my mirror, not in my face. And suddenly, white smoke appears. Is it emerging from the drain? Is the air gun overheating? Has a new pope been elected? I don't have a clue. I'm slightly worried, but decide to ignore the smoke and keep going. I repeat the procedure a few times. There's no more smoke, so it can't be that bad. Only the mirror continues to suffer.
Then the test... bye-bye water!
And indeed, the water drains, as if there had never been a problem. The sink and I are freed. I can have people over again without giving the impression my life and sink are out of control.
---


Testing devices and gadgets is my thing. Some experiments lead to interesting insights, others to demolished phones. I'm hooked on series and can't imagine life without Netflix. In summer, you'll find me soaking up the sun by the lake or at a music festival.
---
---
---