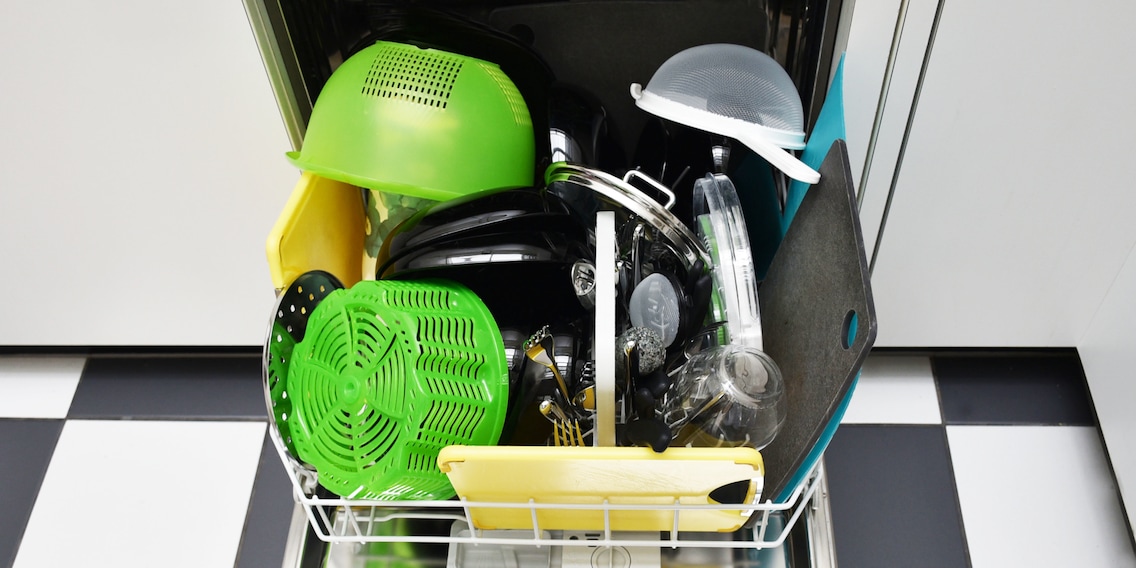 A facelift for Adora: one last attempt to get my dishwasher back in shape

My old dishwasher Adora N isn't cleaning my tableware properly anymore. With the help of V-ZUG, I wanted to give her a makeover. These are the results.
Adora N is old. Very old. If she were a human, she'd have an estimated 86 years of life under her belt. She's 13 in dishwasher years (she was installed in 2010). According to V-ZUG, that's already a year over life expectancy. No surprise then that Adora's youthfulness has faded. She can no longer clean soaked nor pre-rinsed dishes properly.
But what can I say? J'adore Adora. I'm grateful for what she has done all these years and I want to give one last push. I got some tips from Silvio Lehni, Global Product Manager Dishwashers at V-ZUG, and got started!
Spray arms
First I take a look at the pores on Adora's arms. «The holes can become clogged and lead to unsatisfactory rinsing,» says Silvio Lehni. When I twist the arms out of the attachment and hold them under the tap, the water doesn't pour out. So I decide to treat Adora's arms to a sink bath. I soak them in warm dishwashing liquid for half an hour and scrub them with a brush. I check under the tap whether the water is freely flowing through again. It worked!
Filter
Next, I take out Adora's filter. Although she has a brain like a sieve, some things get stuck. Once again, a bit of self care is required. I soak Adora's filter in warm dishwashing liquid and scrub off food residue with a brush. According to Silvio Lehni, it can disrupt the flow of dirty water and be a reason why the plates don't get clean.
Tabs or powder
Now I'm examining Adora's shower products. She usually lathers up with gel tabs. Since this doesn't give brilliant results, I fill the compartment with washing-up powder instead, as advised by Silvio Lehni. It's worth a try.
Regenerating salt, brightener, dishwasher cleaner
Now I check Adora's first-aid kit. First, she needs regular regenerating salt. It refreshes the ion exchange column, which decalcifies the water and makes the dishes clean. This is particularly important for me in Winterthur because the degree of hardness here is 28 to 38 fh (one degree corresponds to 10 milligrammes of lime per litre of water). According to a table from V-ZUG, the regenerating salt is sufficient for 90 to 125 rinses. Since I just refilled it, there should still be enough in there. When empty, Adora's emergency signal – the refill indicator – will light up.
In addition, Adora also needs regular shine. «It ensures that the rinse water flows off without dripping,» Silvio Lehni reveals to me. I recently filled this up too. 1.3 decilitres is enough for about 35 rinses. The refill indicator hasn't lit up yet.
Adora's third medication is dishwasher cleaner. She gets this once or twice a year – I did this just a few weeks ago. So she should be fine.
Dish racks
Finally, I fill Adora's wheeled walkers, i.e. her dish racks. I usually overload them mercilessly (note the cover image). I know that I'm putting Adora through a lot. But running a half-empty dishwasher feels to me like running a half-occupied airplane: as unecological as it gets! That being said, I do admittedly also enjoy playing dishwasher Tetris. Somewhere there's space to fit something else in. As per Silvio Lehni's advice, I pull myself together, don't stack bowls on top of each other, and leave some space between the glasses.
Let's go!
Adora is ready. The old lady sets off on another wash. I've implemented all the above tips from V-ZUG and set her to the most intensive washing program for pans. Adora seems to care little about this. She jiggles along leisurely.
I wonder how it will turn out.
After just under an hour and a half, Adora has finished. Carefully, I open her door and pull out a plate. A big spot, er, piece of spinach is stuck right in the middle, as if to taunt me. I can't believe it! What am I going to do with you Adora?
One for the pros
Silvio Lehni has one last tip for me: summon professional help. Perhaps the pros will have better luck with the general overhaul of Adora. You'll find out soon whether the old lady will shine in new splendour after all or whether she'll have to vacate the kitchen for a successor (for example Adora V). I'll count myself lucky if that happens this year, knowing the building management. Adora isn't the only one dragging her feet.
How do you get the best results from your dishwasher? Let me know in the comments!
---



A city kid who's returned from the countryside to live the urban life – only to turn her attic flat into a beach house dotted with aloes and lighthouses. She's an animal lover interested in psychology. Her harmless appearance comes with a dark sense of humour and a criminal taste in books. Someday, she'd like to be able to shoot an arrow like Mulan. 
---
---
---
---