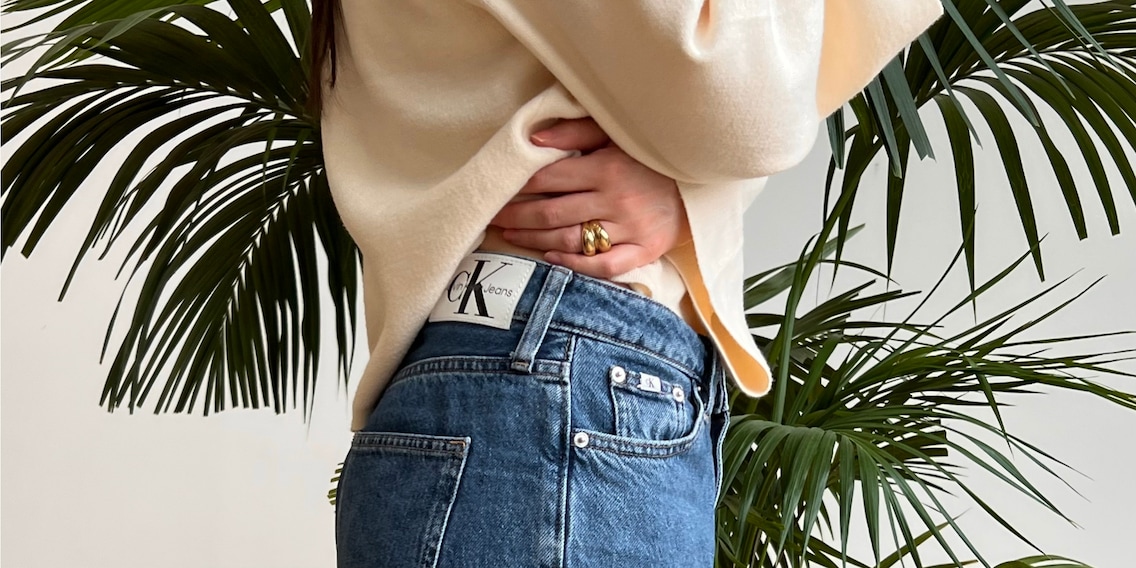 This article was translated automatically.
Comfortable, stylish, affordable: these are my absolute favourite jeans right now .
No item of clothing is as feverishly sought after as perfectly fitting jeans. I found mine - and I don't want to deprive you of this lucky find.
Actually, jeans are one of those items of clothing that I reflexively take off as soon as I enter my own four walls. But that's not the case with my new favourite jeans. I don't want to take off my "90s Straight" by Calvin Klein. Fellow editor Laura feels the same way. We've spent much of the last few weeks in the model we affectionately call "the best pants ever".
I first got my hands on the trousers last June due to work. Back then, I was looking for baggy jeans with a low waist for my article on the panty blitzer. They were perfect for that. Not so much for my other looks. At least I thought not.
The key? A smaller size
Although the piece felt great, it was a bit too low and big for me without a high-waist slip underneath. Still, I couldn't part with it. I didn't have any comparable jeans in my wardrobe - neither in terms of cut nor comfort. So I tried a size smaller than I would normally wear. Bull's eye. The size 25 fits loosely enough and is just as comfortable. So much so that I voluntarily keep them on to chill out at home, even preferring them to my tracksuit bottoms when I'm at the home office.
Unlike most other jeans, they don't cut into my crotch or stomach when I sit down. Colleague Laura also raves about the "super soft fabric". It's made of 100 per cent cotton, so there's no elastane or polyester at all.
The jeans are convincing.
It convinces with its inner and outer values
. But the comfortable feel is not the only reason for our obsession. We're totally smitten with the straight, subtly baggy-fitting silhouette. It's as trendy as it is timeless and can be combined in a variety of ways. One size smaller, the jeans also sit nicely between the hips and waist, making them a good compromise for fans of high-waisted trousers who want to get in on the low-waist trend. . I now own the model in two versions: "Medium Denim" and "Black Denim". The former is "the perfect medium blue" for my colleague. I like the wash best together with neutral tones like black, white or beige. The dark version in washed-out black, on the other hand, brings out bright colours especially well.
Laura swears by the combination with a crop top or tight-fitting long-sleeved shirt, an oversize blazer and sneakers. I also like to wear loose T-shirts, jumpers or shirts with jeans and heeled ankle boots. This makes the casual look a little more chic. By the way, the trousers don't look worn out after a few wears, they just look even more casual. So there really is such a thing as the perfect pair of jeans - at least if you ask us.
Here you'll find our denim favourite:
This model is also available in the men's department: .
---



Has endless love for shoulder pads, Stratocasters and sashimi, but a limited tolerance for bad impressions of her Eastern Swiss dialect.
---
---
These articles might also interest you
Skeleton Loader

Skeleton Loader

Skeleton Loader

Skeleton Loader

Skeleton Loader

Skeleton Loader