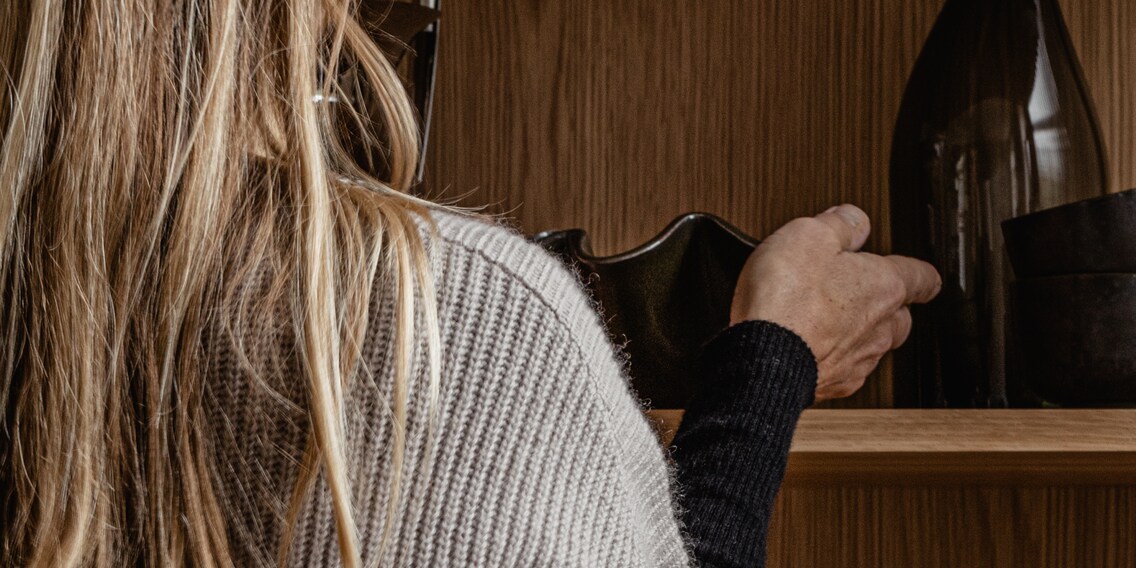 Coffee bar inspo: how to set up a drink station

People love staging cocktails in a decorative way, even in home bars. Coffee and tea, on the other hand, are usually relegated to a life as wallflowers. But it doesn't have to be that way.
If you prefer to slowly savour your drinks, making a conscious effort to design a bar area might just make your tipples all the more enjoyable. After all, whether it's matcha, cappuccino or water, drinks are an aesthetic pleasure as well as a gastronomic one. Check out these beautifully staged coffee machines and utensils for inspiration on how to incorporate a tea or coffee bar into your home or office.
1. How to store your drinks
Storage containers
Bottle coolers
Water dispensers
Whether it's matcha powder, black, green or white tea leaves, or coffee beans, the way you store your supplies will influence your drink station's aesthetic. That means getting rid of as much packaging from your bar area as possible. Instead, decant any produce into suitable containers. Sugar, for instance, could go in a ceramic jar, while coffee beans could go in a see-through container. This will enhance your station's overall appearance. The same goes for serving dishes: dig your teapots, carafes and pitchers out of the cupboard and pop them next to the utensils you use for your drinks. The more stylish their designs, the more interesting your drink station will look.
While we're on the topic of style, if you want to use your drink station for water, fruit juices or lemonade, you can go just as big as you would for cocktails. Just grab an ice cube tray for your ice, and go for carafes or glass bottles for water and juices. Accessories like these are great at turning pouring a glass of water into an exquisite-looking ritual.
2. ## How and where to set up
Trays
Cake stands
Shelves
Coat pegs
Kitchen counters
Matcha is made using three accessories that take up very little space: a chashaku (the small bamboo spoon used to measure out the powder), a kettle and a chasen (the traditional matcha whisk). Trays are perfect for putting these utensils in the limelight. Choose a marble, porcelain or wood variety, then arrange everything on it according to size: small items at the front, larger ones at the back. This way, the beautifully shaped whisk really comes into its own, and everything looks much tidier. You can achieve the same effect with a cake stand. Like mini stages, they throw the spotlight on matcha utensils or china, and make the set-up look organised.
If you fancy giving your drink station an even bigger stage, go for either a free-standing shelf or a wall shelf. That way, you'll have everything in one place; the shelf will give you space to store the things you use to prepare your drinks.
Tea or matcha equipment, as well as coffee drippers used in the [traditional method for brewing filter coffee],(/page/ideen-das-leben-zu-verbessern-selber-kaffee-machen-26881) are light and compact. This makes it easy to stage them in high places. Why not arrange them on a decorative wall shelf to turn them into real attention-grabbers? Add some coffee beans, mugs or sugar bowls to keep everything you need together.
Coffee machines are too heavy to get up onto a wall shelf, so your countertops will have to do. This can still look good, as long as you keep any surrounding mess at bay and are smart with your use of accessories. If you can't display the machine itself nicely, spruce up the ensemble with decorative mugs next to it instead.
Working with the shelves around coffee makers and high-end espresso machines will allow you to create a beautiful coffee bar. Sometimes, the machine itself can even set the stage for this. Take advantage of this and decorate them with classy porcelain.
As an alternative to shelving, you could install wall hooks or coat pegs directly above the machine. Again, this allows you to have everything within reach, and can create visual highlights.
Not impressed by any of these ideas? There's one last thing you could try: repurposing a drinks trolley. Turn it into a portable coffee or matcha bar and enjoy your hot drinks in any room of your home.
---



«There are only two ways to live your life. One is as though nothing is a miracle. The other is as though everything is a miracle. I believe in the latter.»
– Albert Einstein
---
---
---