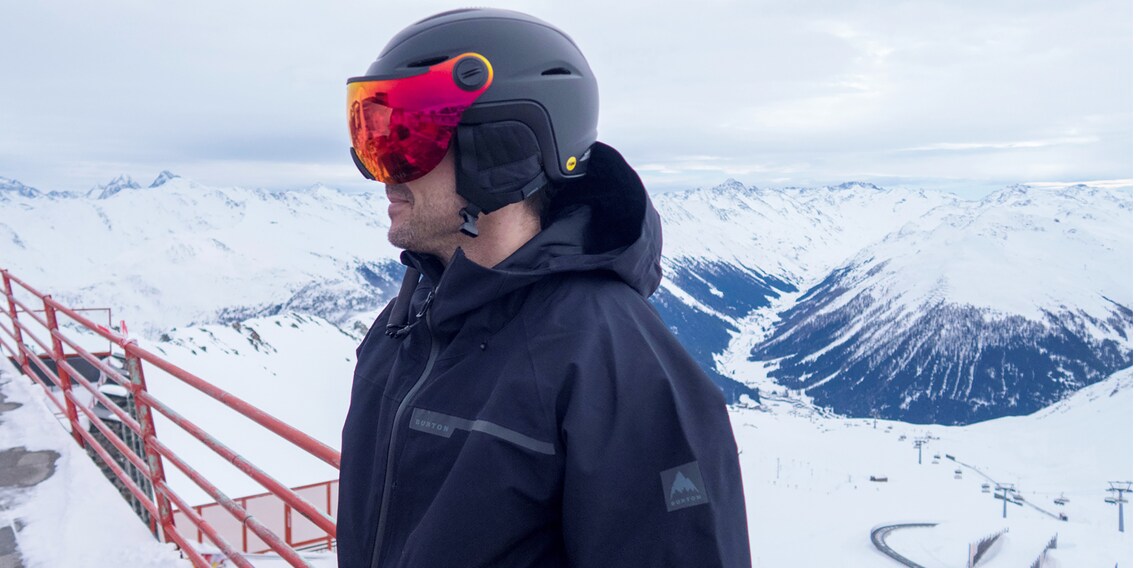 A Burton snow jacket review – or when you feel like a big black garbage bag on the slopes

Winter sportswear should be both stylish and comfortable. This jacket and these pants from Burton are neither one nor the other. Unfortunately.
I'm testing the black Burton Gore-Tex Pillowline snow jacket and Burton Gore-Tex Reserve Bib pants. Black contrasts the most to snow, so I should at the very least be easy to spot on the slopes. Something interesting about this snowboarding set is it was made in Bangladesh – a country not exactly famous for its cold weather.
Gore-Tex?
Burton has used Gore-Tex in both the jacket and pants. Gore-Tex is a waterproof membrane that consists of many small pores – over 1.4 million per square centimetre. These pores are too small to allow water droplets to pass through, but large enough for water vapour. This makes the material breathable, allowing said vapour to escape while simultaneously not allowing moisture in. Gore-Tex clothing is often produced in two layers. The outer layer is typically made from nylon or polyester, with the Gore-Tex membrane underneath. This holds true for the Burton Pillowline.
The black trash bag
The jacket has a hood and zipper, with the latter roughly reaching the navel. The feel and cut kind of make it feel like I'm pulling one of those black garbage bags over my head. I'd really prefer a full zipper. Burton remains true to itself with the jacket's interior, too – minimalism is everything. On either side, there's a chest pocket. Open concept seems to have made its way to clothing; the pockets have no zippers. It's probably not a great idea to stow cash, your ID or an expensive smartphone in them. The risk of losing your valuables is too high. There's also an outer chest pocket which does have a zipper, but I don't want to put my phone there either. I want to keep it as close to my body as possible to conserve battery. There's another closable pocket on the left sleeve, just above your hand. That one's big enough for your skiing ticket, ID and cash, but not your smartphone.
The zipper Burton skimped on when it comes to the front of the jacket and inner pockets was apparently put to use on the sides. On both the left and right, you have a zipper stretching from the hem all the way up to your armpit. This allows you to open up the jacket, effectively making a kind of cape out of it. Now, had Burton opted for a red back and a Superman emblem on the front, I at least could have given them points for creativity. Aside from that, I see no use for this function.
Hold my bib!
Surprisingly, the bib of the pants features two closable pockets. I assume these are supposed to compensate for the lack of secure storage space in the jacket. The front pockets also have a zipper, while the back pockets are equipped only with a Velcro closure. There are no further features; it looks as if the pants' only real purpose is to hold up the bib.
First impression: Burton, you can do better
Frankly, this set – in all its minimalistic glory – didn't knock my socks off. Thanks to the Gore-Tex membrane, it does fulfil its function, but that's about it. It has no inner lining or features such as a slot allowing you to pass a headset cable from the outside to the inside. The description that the regular fit is «just right – enough room to maneuver freely but yet not too baggy» is also a bit too vague for my taste. I'm not entirely sure what Burton means by that. All in all, being a black, non-functional trash bag on the slopes just didn't appeal to me much. I'm convinced Burton can do better.
---



Molecular and Muscular Biologist. Researcher at ETH Zurich. Strength athlete.
---
---
These articles might also interest you
Skeleton Loader

Skeleton Loader

Skeleton Loader

Skeleton Loader

Skeleton Loader

Skeleton Loader