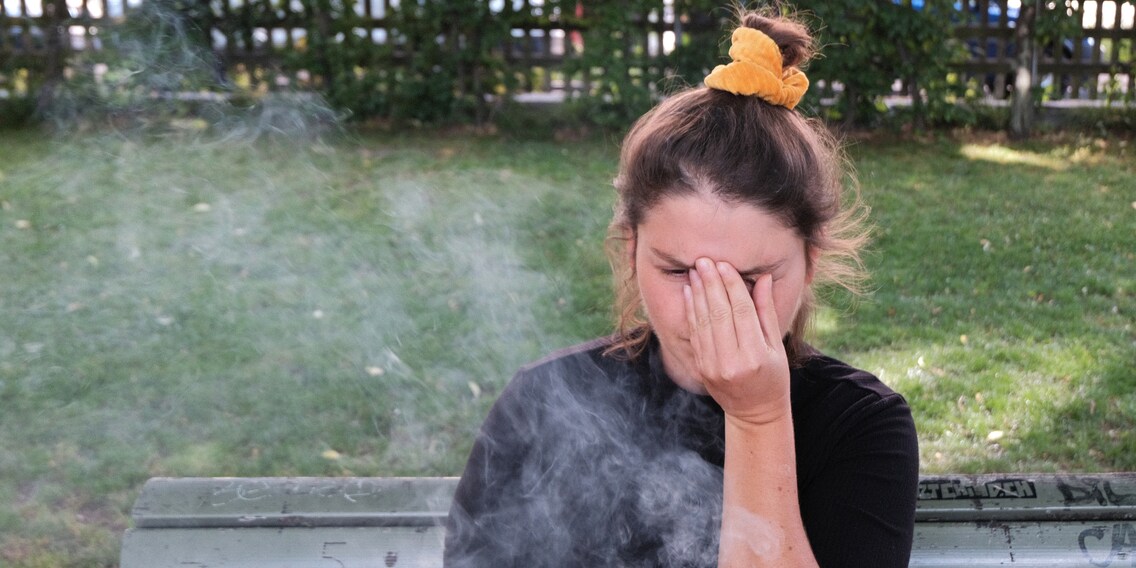 Why does smoke keep following you around a campfire?

Feel like you're always sitting right in the path of that stinging smog? It isn't your imagination or plain bad luck, just physics.
Fire is great. The crackling, the colour, the smell, the blazing flames. I could watch it burn for hours. Could – if I didn't have to squint my eyes all the time due to the clouds of smoke billowing into my face. Must be the wind, just sit down somewhere else. A minute later, however, the same fate occurs.
But why?
I'm not cursed, nor can the whole thing be blamed on Murphy's Law (anything that can go wrong will go wrong). Rather, it's all physics, as I recently found out through a YouTube video from channel «SciShow».
Warm air rises, cold air sinks. Even I remember that from physics class. Hot air is less dense than cold air, the forces of buoyancy top gravity. Meaning: air around the fire is heated and rises, where it cools down again, compresses and sinks down. The fire heats it up again until it rises and cools down once more. This circulation is called convection.
Convection causes the smoke from a fire to rise straight up into the sky on a windless day. And that's where you come in. If you now sit by the fire, you disturb the air circulation. Cold air on the ground will be blocked by you and won't warm up at the same rate, causing it to take longer to rise, slowing convection. On the other side of the fire, however, air circulates freely and is therefore stronger. The more people sit together, the greater the effect.
Or as my former High School physics teacher, Karl Haab, explained to me recently on request: «A person blocks the cold air that would flow into the fire at ground level, as warm air from the fire rises to the top. Cold air emerges from the opposite side as there's no one there. This cold air then pushes smoke towards the individual.»
Want to avoid watery eyes around a campfire? If there are several people, they must all spread out evenly around the fire so that the convection is equally disturbed from all sides and thus becomes regular again. If you're alone at a fire, this becomes more difficult, but at least the effect lessened too.
Why does the hand of a station clock usually stop short? Why do they serve popcorn at the movies? And why is glass not allowed with other waste? Everyday life holds many puzzles in store, which I try to solve at irregular intervals. If you have a burning question but no time to research it, send it to me by mail. I like to do the dirty work.
---


My life in a nutshell? On a quest to broaden my horizon. I love discovering and learning new skills and I see a chance to experience something new in everything – be it travelling, reading, cooking, movies or DIY.
---
---
These articles might also interest you
Skeleton Loader

Skeleton Loader

Skeleton Loader

Skeleton Loader

Skeleton Loader

Skeleton Loader