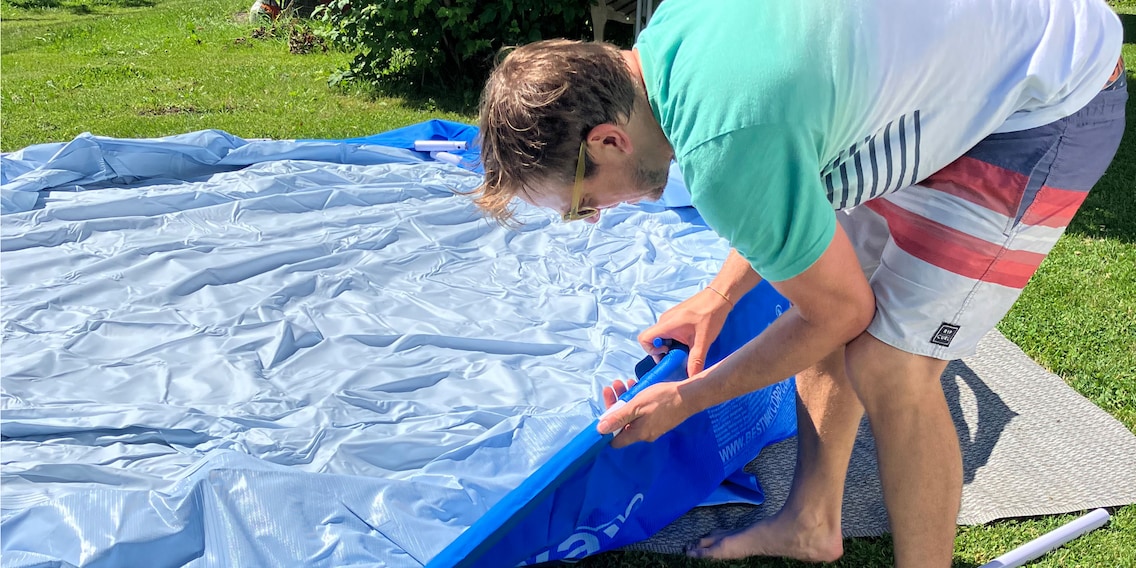 When you've got this pool, you don't need to go on holiday

Translation:
Julia Graham
I tested a swimming pool and pushed the limits of the law. The pool is fun, even if it's too big for my garden. Thank goodness for my brother.
«Honey, can I test out a pool in our garden for Galaxus?» I asked my wife recently. The answer was fired back quickly: «Absolutely not!» She was right (as she almost always is). For one thing, the Bestway pool I'm meant to be testing is almost four metres in diameter and so would've taken up our entire garden. What's more, I'd (once again) just finished seeding the lawn to pimp up our green space. Which begs the question, what on earth should I do?
I soon landed on a solution. Why not just set the pool up at my brother's place and road test it there? He's a fruit farmer at Lake Constance. It's not just that he has a site to write home about; he also has a sizeable garden. Admittedly, the nearest beach is just a 15-minute walk away. But having a pool of this size slap bang in your garden is a whole other ball game. So I travelled with my son and the other 30 kg monster to the place where I'd helped my brother put an end to the spring frost just shy of three months ago.
Setting the pool up is easy, even for me
After it had been chucking it down the day before, the sun showed its face on our test day – basically, the perfect conditions. The components are quick to unpack. There's a large PVC tarpaulin, 26 metal rods and all kinds of small parts.
I don't exactly have prowess when it comes to setting up and installing furniture or technical equipment. Nope, you could go as far to say that I always make life unnecessarily difficult for myself. Because although a lot would be self-explanatory, I always want to do it precisely and follow every point in the instructions. I often get bogged down in unnecessary details. But that's not the case with this pool, which is really very easy to set up. Because once the rods are in the right place and the pool is positioned correctly, all that's left to do is fill it up. Which we manage with two garden hoses. And yet it still takes almost an hour to reach the top. No wonder really, given that the pool holds almost 10,000 litres of water.
High time to dig out the formula for calculating cylindrical volume
Want to know how I get this value, especially as it's not listed anywhere? Here's a reminder of the formula for calculating cylindrical volume: pi times radius squared times the height. So, in this instance, 3.14 times 1.98 m squared times 0.87 cm height. This gives you just over 10 cubic metres. For reference, 1 cubic metre is the equivalent of 1,000 litres of water. In other words, if you fill the pool to the top, you get the aforementioned 10,000 litres – in theory. But for one thing, the pool shouldn't normally be filled to the top and secondly, it's not actually possible. Given it takes up such a large area, the pool won't be filled evenly, because the slightest slope will prevent it – as happened with us.
The water depth even means you can jump in from a self-made diving tower
Slowly but surely, the water level in the pool starts to rise. But before you get that far, here's my insider tip: pull the plastic bottom tightly from the outside right at the start. Because once the bottom is under a few 100 litres of water, you won't be able to move anything. As the water rises, so does the anticipation of my son and both of his cousins. We've already got the first chairs placed at the edge so they can skilfully jump into the water, which is only about 20 cm deep. It's also awakened my construction fever. While the pool is filling up, I build a small diving tower out of pallets and boxes. This will be heaps of fun. Apart from that, there's not much left to do. Just that from time to time, we have to pull the supports into a proper vertical position.
Not even an hour has gone by and the pool is filled to the top. We're proud of the result (and I'm glad I listened to my wife). The pool not only looks huge, but is huge. With a water depth of 80 cm, it really is a pool and nothing like a pathetic paddling pool. The depth also means we can use the diving tower properly – it's just as well our wives aren't around. But the diving tower quickly gets boring, which is why we come up with a new challenge. Taking a good run-up to the pool, slickly springing over the edge and displacing as much water as possible when we land.
No bombing, no diving. We break all the rules that God and the warnings on the pool have set out.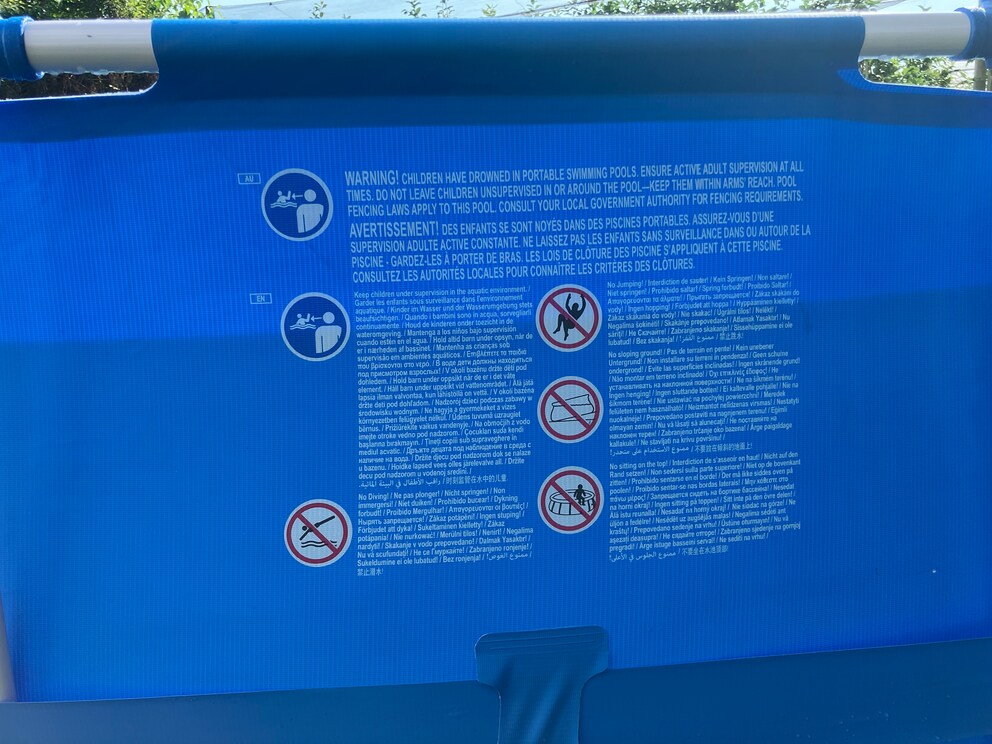 Installing the filter system is worth it
But we're not quite done with setting up the pool. There's still the question of whether, and, above all, how we install the filter system for cleaning the water. I give up after just a few minutes because I'm under the impression some of the parts are missing. So we close the two inputs and drains, where the plastic tubes for the filter system are actually meant to go, with plugs the pool comes with.
Laziness reigns. And possibly also a dose of selfishness on my part. After all, I knew I'd be leaving the pool with my brother for a few days for testing purposes. During that time, one thing becomes clear – ironically, not clear in the literal sense. If the water doesn't get cleaned and circulated regularly in such a large pool that's exposed to the blazing sun, a kind of mucus soon forms on the base of the pool and at the edges. That's something that anyone who has a paddling pool knows.
A day after we'd left, my brother's wife wanted to prove how limited my technical skills are. So she installed the filter system in under ten minutes. Ever since then, the electric system has been doing its job.
An alternative to cleaning the water would be to replace it regularly. In terms of cost, it wouldn't even be that horrendous. A cubic metre of water costs 1.50 francs, so filling the pool would come out at just over ten francs. And yet a filter system has to take precedence over the option to change the water regularly. Firstly, draining 10,000 litres of water is an awful lot and secondly, it feels like filling the pool takes an eternity.
Verdict: it's heaps of fun, but I'll carry on using smaller paddling pools
The verdict of my pool test draws me to the conclusion that these things are so much fun and make you forget you're not splashing about in a huge hotel pool in Greece, Italy or southern France.
I find it easy and simple to set up and handle the pool. When it comes down to it, it's probably a question of space, how often you plan to use it, if you want such a big pool and if that's even feasible. I'll stick with smaller paddling pools for my kids in the near future and carry on using public swimming pools in the height of summer. The good thing is that you can find a huge selection of different pools and paddling pools in our shop. There's a model for everyone and their different requirements.
In the next few weeks, it's possible I'll look back on my first pool review with longing when the mercury reaches 30 degrees at Lake Constance. That's because we'll be spending the summer holidays on a beach in Denmark where it's 18 degrees and drizzling, as we wish for pool weather. But maybe we'll be in luck and the test pool will still be in my brother's garden at the start of August. Let's wait and see.
---



Half-Danish dad of two and third child of the family, mushroom picker, angler, dedicated public viewer and world champion of putting my foot in it.
---
---
---
---
These articles might also interest you
Skeleton Loader

Skeleton Loader

Skeleton Loader

Skeleton Loader

Skeleton Loader

Skeleton Loader