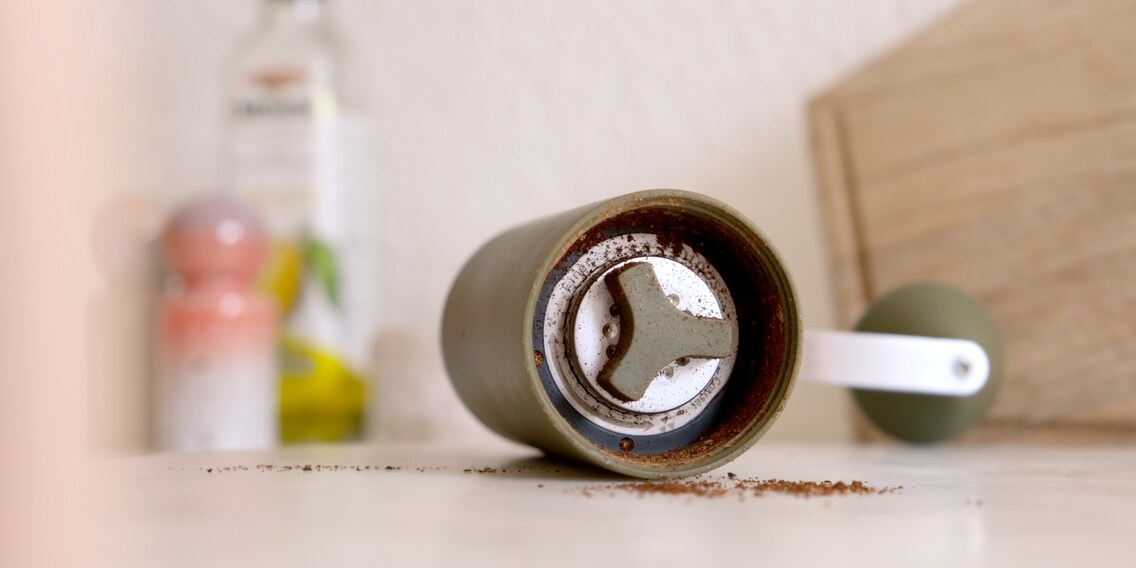 Ways to Improve Your Life: brewing your own coffee

I've always doubted the claim that my attention span is shrinking. Similarly, I'm sceptical that the convenience that comes with simply pressing a button is a threat to do-it-yourself culture. But if there really is any truth to these theories, it's high time we did something about it.
In a bid to reinforce my point, I'm teaching myself new things. Things guaranteed to stop me from looking at a screen while I'm doing them. One example is the traditional filter brewing method used by the Hario V60. This filter coffee is in a totally different league to the dishwater coffee your granny might have served up. It involves using a ceramic filter cone and matching paper at a 60-degree angle. Since the filter paper doesn't let any solids through, it removes most of the oils from the coffee, leaving only very clean flavours that resemble tea.
Although the idea of dedicating myself to «slow coffee» had something hopeful about it, I was a little apprehensive at first. Having parted ways with my espresso machine after several years together, I was forced to dip my toe in unfamiliar waters and order new equipment. Now familiar with the rules of the game, I wish someone had revealed them to me right from the get-go. If you pay attention to them, you'll end up with more than just a clearer, more aromatic coffee.
1. Think of your motivation
You need to be sick of the taste of espresso, irked by the clunky look of coffee machines or tired of cleaning the milk nozzles on your portafilter. Because you need a solid reason to decide to brew filter coffee by hand. A reason that'll motivate you to keep going. After all, this method of brewing requires perseverance and skill.
Getting a good cup is challenging because the devil's in the detail. Whether it's the type of coffee beans, the size of the grounds, time, water quality, temperature or the ratio of coffee to brewing water, every variable plays its part. There are numerous filter types and recipes, each with pros and cons, so I was sometimes tempted to give up. However, my resolve to learn something new stopped me from doing so. At the same time, it taught me the importance of the journey rather than the destination.
2. It's good to make mistakes
Don't ask the internet. Though it may abound with tips and tricks, the sheer number of them can be overwhelming. Since so many of the variables are interlinked, there's no such thing as the «ultimate» recipe. With this in mind, I took a masterclass at Zurich's Café Miró, where coffee is brewed using the classic Hario V60 equipment.
As well as the different methods, there's one thing in particular I remember from the course: making mistakes on purpose. It allowed me to taste the difference whenever one variable was off, and to judge what constituted a good result in the first place. If, for instance, the beans are ground too finely, the water seeps through the filter too slowly.
3. Don't worry about having a set plan
Brace yourself for a haze of numbers. Even after you've mastered the brewing technique, you'll be tested by each new variety of coffee you encounter and forced to alter your recipe. Since my brain can't even momentarily retain numbers, I started writing down which recipe produced the best result for each bean and taping it to the bag. I also made a note of when I should start using the beans. It's recommended to wait until two weeks after the beans have been roasted so that they lose some of the CO₂ gained during the roasting process. This improves their taste. After that, they should be sealed airtight and used within months.
4. Lose yourself in the moment
Once you get the hang of it, lose yourself in the moment. Weighing and grinding the beans, folding the filter paper, breathing in the aroma of the coffee all comes together as a sensory experience. The prettiest thing to catch my eye is the way the coffee «blooms».
During the pouring stage, it's typical to wet the coffee grounds before brewing. This way, the ground coffee begins to release carbon dioxide and rise like dough. As you need to wait thirty seconds before adding the rest of the water, you have time to watch the process unfold.
5. Enjoy things more
Since every gramme, every bean and every step counts, I appreciate the result more with every brew. Bear in mind that this is also why hand-brewed coffee tastes better than the stuff that comes out of a machine. It's like how a homemade dish tastes better than an oven pizza.
6. Share your newfound skill
Don't just make coffee for yourself. Think of it like cooking. You can turn prep work into a social event, though you don't have to. I'm certainly enjoying inviting people to my place for coffee more since I started hand brewing it. Maybe because there's more charm in handing your visitor a filter coffee you've prepared yourself instead of just pressing a button. Or maybe it's because people seem surprised by the fact that their coffee tastes mild, even if it isn't topped with barista-style foam art.
7. Outdoor brewing and more
Making filter coffee takes even more skill than making a perfect espresso. This considered, you can assume that baristas working in cafés that serve pour-over coffee know their stuff. Exchange ideas with them and other coffee snobs and ask them for a good recipe.
My neighbour (a trained barista) and I have started making two batches and comparing them to find out which flavours we like best. When the weather's good, we move our brewing set-up out onto the terrace.
A nuanced argument for more optimism
Even way back when, Kylie Minogue was galvanising us to skip a beat and dance «slow». I now understand what she meant by that. Ditching the convenience offered by the click of a button, changing the behaviour forged by an efficiency-driven society and trying something new works wonders. Provided you're willing to face new ideas with an open mind, occasionally put your dignity on the line and learn from other people, that is. Doing those things means even someone with a memory as sieve-like as mine can find joy in something as simple as brewing a filter coffee.
In the «Ways to Improve Your Life» series, I search for joy in the simpler things in life – the most difficult, yet rewarding skill to master.
---



«There are only two ways to live your life. One is as though nothing is a miracle. The other is as though everything is a miracle. I believe in the latter.»
– Albert Einstein
---
---