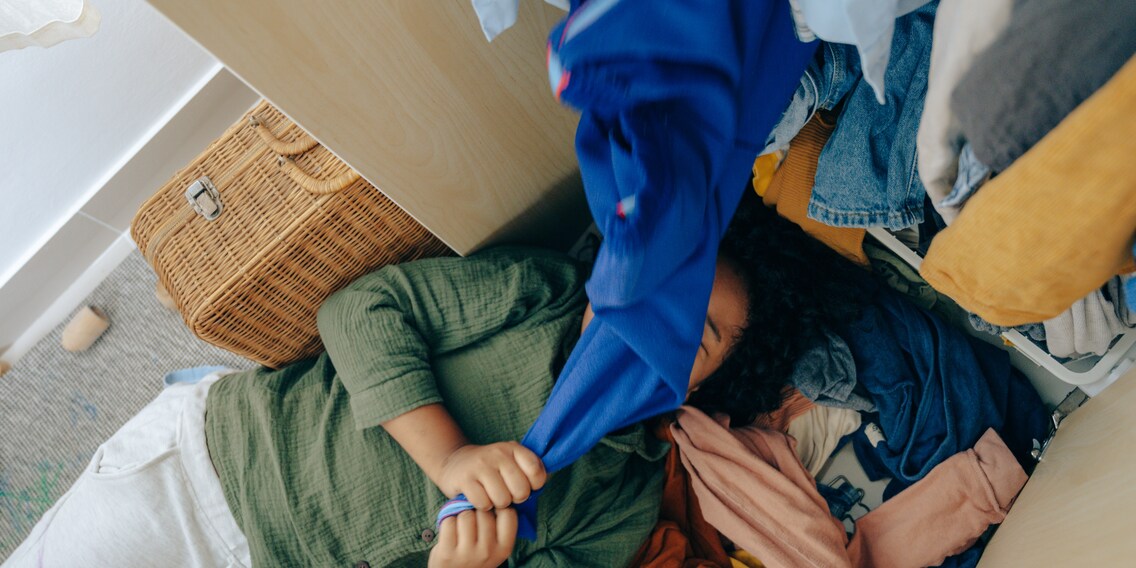 Tidying Up January: Six articles that make cleaning out fun

Translation:
machine translated
The new year is here - and with it the resolution to tidy up your own home. These six products make it easier.
The month of January stands for new beginnings like no other. For many, now is the ideal time to implement long-cherished sorting and tidying projects. The advantages of a clear-out campaign: you make room for new things and leave behind things you no longer need. The latter is especially good for the soul.
And to make clearing out really fun, we'll show you six great products that you didn't even know could be helpful for your decluttering project.
Sort with Post-its in pop culture colours
Studies conducted by the author of this text have shown: Sorting out is twice as much fun with the right accessory - namely colourful Post-its that you can label with, for example, 'Get rid of it', 'Well maybe' and 'Keep'. For this method, you need three boxes:
Number 1: These products can really go, you don't need them anymore, they can be disposed of, sold or given away.
Number 2: The box for things that still deserve a second chance. Ideally, the box goes into the attic for six months and then you reassess whether you want to keep the things or not.
Number 3 is for things you definitely want to keep.
Start with the wardrobe
. Whether the Post-its will stick to textiles remains to be seen. Regardless of this, it has proven successful for many people to start cleaning out their wardrobe. It is well known that one or the other item of clothing that you no longer wear quickly accumulates there. So if you're already in the process of preparing a donation for the old clothes container, why not think about buying a piece of furniture like the wardrobe from Relaxdays that will prevent you from accumulating too many items of clothing in future - for example, because there's no wardrobe door that you could simply close so that you don't have to see the mess any more.
Multiple hangers make for a better overview
. If you want your clothing collection not only to be minimised, but also to be much tidier and more space-saving in the future, think about multiple hangers. One hanger can hold several items of clothing - the Relaxdays multiple hanger can hold four pairs of trousers, according to the manufacturer.
Storage boxes - but in beautiful
. Once the wardrobe has been cleared out, it's time to get down to the nitty-gritty. When it comes to the question of whether you really need to keep the sixteenth biros, the no may not cross your lips quite as quickly as with the T-shirt that no longer fits anyway. After all, you can always use pens. And not only pens, but also other everyday objects such as notebooks, tools or boxes pile up. The good news: storage boxes like the "Organizer" by Zeller Present organise the chaos of everyday items on the desk.
A total of three boxes and a chic storage tray are included and offer plenty of storage space for things you don't want to part with.
Vacuum bag
What doesn't fit into storage boxes and still takes up a lot of space can be stored in special vacuum bags. Guest bed linen, winter jumpers or Christmas decorations - vacuum storage bags are perfect for everything you only bring out at certain times.
The system is simple: you put the things in the vacuum bag, then the hoover sucks the container as flat as possible and the whole thing goes airtight and watertight under the bed or in places that are rather unsuitable for conventional cardboard boxes, such as the garage. It doesn't get any more space-saving than that. By the way, if you don't have a hoover, you can alternatively sit on the filled bags and squeeze out the air - similar to the way you rolled up a sleeping mat in camp.
Memories in a digital picture frame
Now that things are looking pretty tidy in cupboards and on shelves, let's move on to the wall: here, too, you can create calm and order by radically removing all picture frames and opting instead for a single, prominently placed digital picture frame in your home. You can upload as many photos as you like and the frame will display them in turn.
The Digi Frame from Braun, for example, works via Wi-Fi and can be operated with the help of a free app for Android. It's not cheap, but you'll never have to buy individual picture frames again.
Titelfoto: Unsplash/Cornelius Ventures
---



A true local journalist with a secret soft spot for German pop music. Mum of two boys, a dog and about 400 toy cars in all shapes and colours. I always enjoy travelling, reading and go to concerts, too.
---
These articles might also interest you