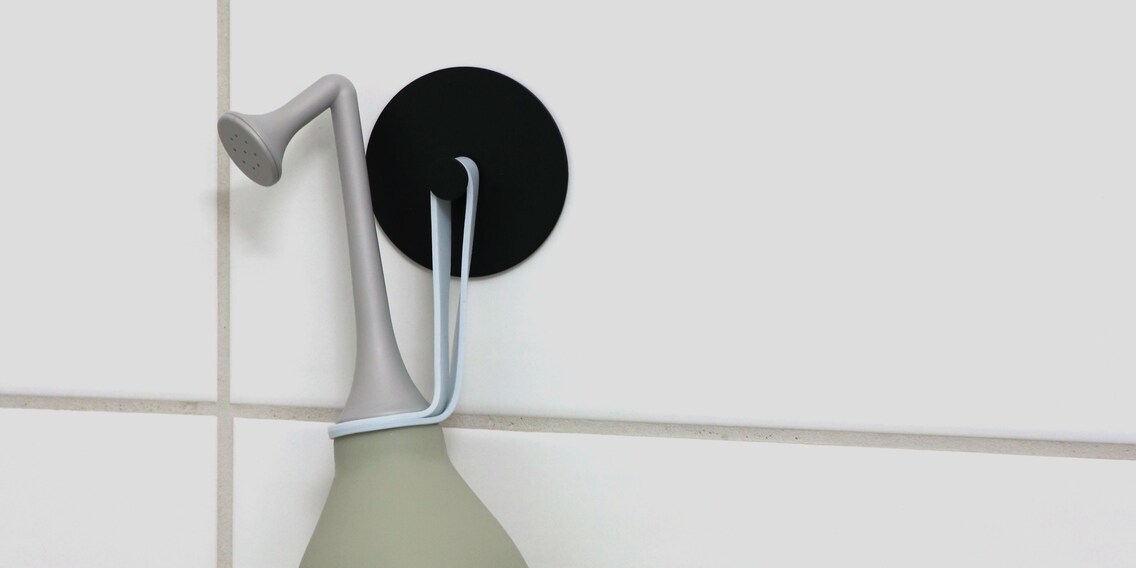 Three-week experiment: can a handheld bidet cut down my toilet paper consumption?

The toilet rolls in my home live out a short, thankless existence. With my bog roll consumption at excessive levels, it's time to commence Project Butt Shower.
My first experience with a handheld bidet was a little on the aggressive side. We'd been travelling through Thailand, where these bathroom gizmos are a basic part of toilet inventory. Buoyed by all these new experiences, I was darned if I was going to let this one pass me by. Feeling brave one evening, I grabbed the mini shower head instead of toilet paper. I yelped. The water jet hit me unexpectedly hard before splashing all over the place. At least then it dawned on me why the device was informally known as a «bum gun».
Bidetlity's portable bidet, on the other hand, is supposedly gentle. I can work with that. With this in mind, I decide to give the concept another chance within my own four walls. After all, it'd be nice if I could reduce my toilet paper consumption. But that's not all the butt shower has going for it. Water is less prone to irritating sensitive skin than the friction generated by toilet paper. According to the manufacturer, this benefits people with irritable bowel syndrome or haemorrhoids, as well as anyone who menstruates or has recently given birth.
What's included
The handheld bidet consists of three elements. There's the bottle-shaped belly made of PVC (BPA-free). Then there's the bio-plastic showerhead, which has a removable silicone band attached to it. Included alongside all this, there's a canvas bag for storing the product. Incidentally, you can flatten the empty bottle, tie it up with the band and pack it into a suitcase without taking up too much space.
Accessories such as a hanger, replacement showerheads and cleaning utensils aren't included, but can be purchased separately if you need them.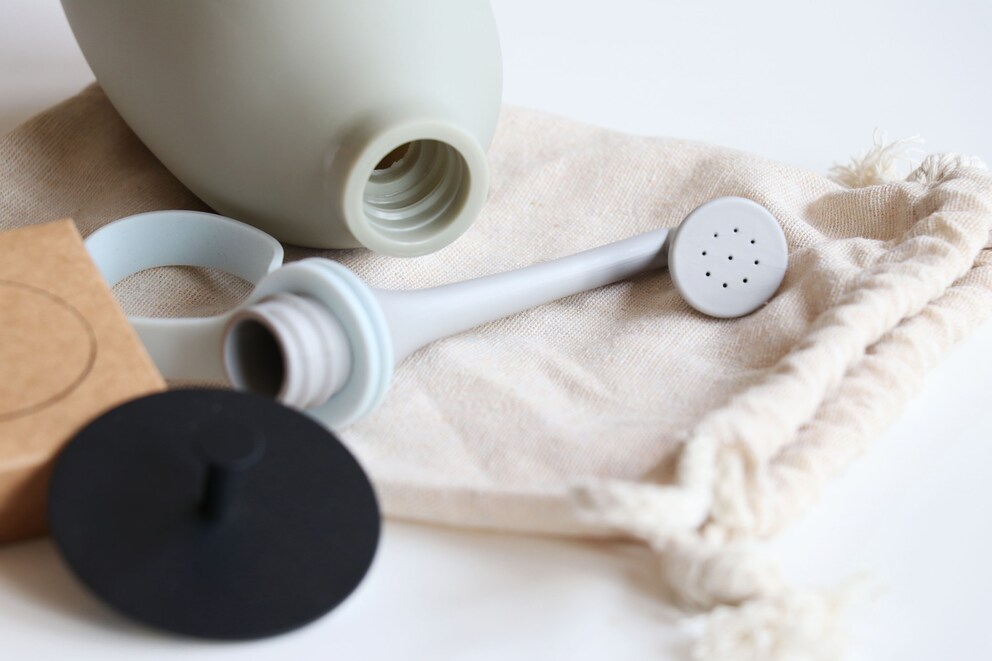 The bottle can hold 450 millilitres of water, which, as recommended by Bidetlity, should be lukewarm. This is all well and good, but by my third use of the handheld bidet, this advice is next to useless. After all, it's not like I refill it after every «butt shower». After filling the bottle, I screw on the showerhead. The self-adhesive wall hook sticks in no time, and holds the weight of the bidet when filled with water. It's ready to rock. The question is: am I?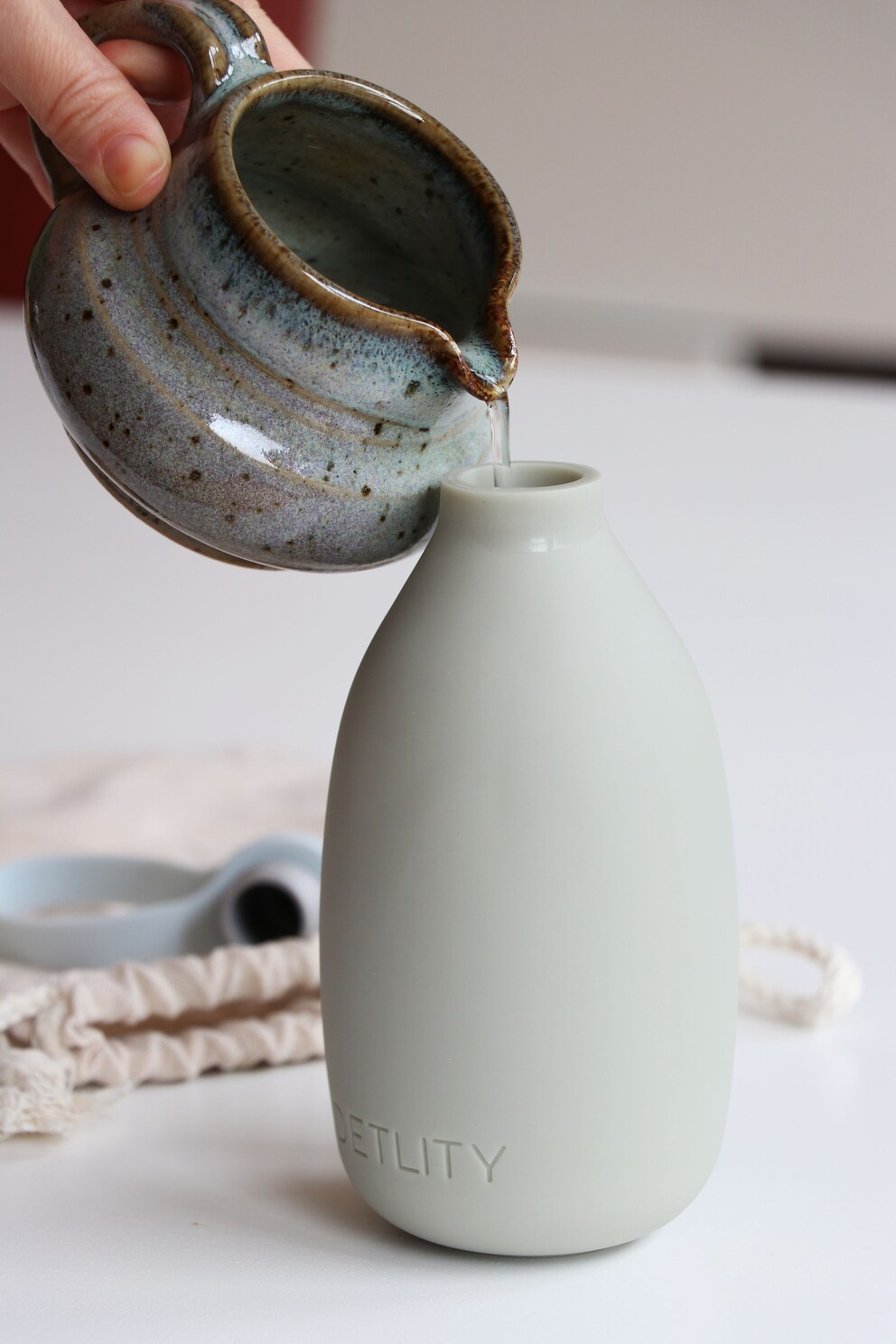 Putting it to the test
Having gained some wisdom from my first clumsy attempts and three weeks of testing, here's a summary of my learnings:
Getting the right balance of water pressure, distance and aim is really not that easy, so the angle is key. I need to hold the showerhead so that the water bouncing off me doesn't drip right back onto the shower head. At times, this requires acrobatic contortions.
The band is as impractical as it is practical. Although it allows you to hang up the bottle, it gets in the way during use if I don't pinch it between my fingers. Because of this, it's almost more convenient to remove the band and keep the bottle on the floor.
I often need even more toilet paper than usual to get myself dry. Theoretically, if it's a number one, a hand towel would do the job. However, I don't think that's especially hygienic. Not to mention the fact I'd need a second wall hook and a little sign to warn against the dangers of confusing the two bathroom towels.
After a number two, you definitely need to do a couple of «review wipes» with toilet paper. The water pressure isn't strong enough to spray me completely clean.
A few splashes of water turn (tear-resistant) multi-ply toilet paper into a wet wipe. In my book, this is genius. Ready-made wet wipes dry out quickly and usually contain preservatives, which I prefer to avoid.
I use the intimate shower much more often during my period, because it makes me feel fresher. When it's that time of the month, it's successful in allaying that feeling of needing to shower after every trip to the loo.
One refill is enough for three to five toilet trips. This is more time-consuming than changing the toilet paper roll every two or three days.
Verdict
For me, a person who doesn't have any health issues, the product is a good addition to toilet paper – but not a replacement. At times, my toilet paper consumption actually shot up instead of reducing. Mind you, I probably wouldn't have managed to ditch toilet paper altogether anyway; for the same reason I don't just splash water all over my dining room table without wiping it down with a cloth. Stains of a, let's say, hardened nature, can't be removed without mechanical intervention. Even if it's a number one, the water jet doesn't cut it. After all, I want to be dry before I pull my knickers back up. This considered, I'll be keeping Bidetlity on the wall, but only using it occasionally, such as when I have my period or when I want to create a wet wipe out of my toilet paper.
---



As a massive Disney fan, I see the world through rose-tinted glasses. I worship series from the 90s and consider mermaids a religion. When I'm not dancing in glitter rain, I'm either hanging out at pyjama parties or sitting at my make-up table. P.S. I love you, bacon, garlic and onions. 
---
---
---