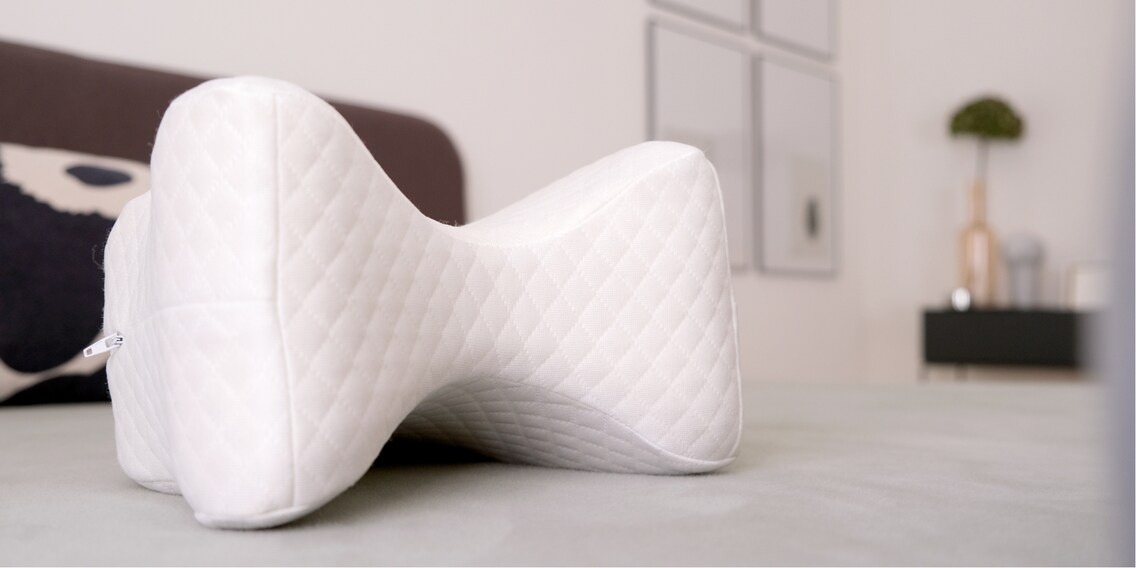 This side sleeper pillow has turned me into a back sleeper

My new bedmate is heart-shaped and feels great. The only thing is he never stays with me for long. Granted, he's just a knee pillow. But I still want more.
I've been a side sleeper for years. Which wasn't an issue until a few months ago, when it started to cause pain in my knees. Especially on walking-filled days or after a workout, my upper leg feels twice as heavy as usual. To take the pressure off, I want to try a knee pillow designed specifically for lying on your side. I rely on the Community's opinion to make my choice: a cushion from Maxxmee is currently the best seller in our range. And so I ask the manufacturer for a sample to review.
How it works
The ergonomic heart-shaped knee cushion with a washable polyester cover is designed to take the load off my body. It creates 13.5 centimetres of space between the legs. This is supposed to prevent the knees from rubbing against each other, as well as ergonomically align the spine and pelvis. To find out if the height of the pillow was suitable for me, I stacked a few books to the same height and put them between my legs. The pillow is available in several thicknesses.
Knee pillows are most commonly used to relieve back and hip pain during pregnancy or after surgery. I mainly hope it'll offer more comfort to my tired legs. And the pillow's filling sounds promising: it's made of resilient memory foam, which was originally developed by a NASA spin-off. Unlike down, it returns to its original shape by itself. It responds to body heat and pressure and adapts to the unique contours of the body. I can't quite wrap my head around how this is supposed to work. Will it really be comfortable?
The first nights
Despite my initial doubts, I actually find the knee cushion soft, and my new side position natural. The pressure on my lower knee is considerably lower. But I have another problem: I keep losing my new bedmate! Our bodies move while we sleep to maintain metabolism. I, on the other hand, lie awake and move in an effort to readjust my pillow. Sometimes I find it at the end of the bed; sometimes it's on the carpet. Not exactly the sleeping comfort I had in mind.
In addition to that, a certain distance remains between me and my new bedmate, because I just don't find him that attractive. He could use a little more colour. That gives me an idea for my own start-up: I could design beautiful knee pillow covers from natural fibres, which seem to be unavailable anywhere else at the moment. We'll see how high demand is.
Most knee pillow covers on the market are made of a polyester fabric that feels uncomfortable on bare legs. And it'll probably make me sweat more than linen in the summer. The only pro of the artificial fibre is that the cover and any lint are easy to remove. Here's what my bedmate looks like after a good wash – just like back when I first met him. And even after weeks of use, it retains its shape.
Better than down pillows?
I tested the knee pillow for a total of three months in various sleeping positions. My preference is to put it between my legs or just prop my top leg on it. I rarely put it between my calves or use it as a neck pillow, but you can use it that way. For comparison, I also sleep a few days with either a conventional pillow or my blanket tucked between my legs. Neither is as comfortable as the Maxxmee pillow.
If only it stayed put ... Maybe I need to tie the pillow to me from now on? Other manufacturers like Sissel or Erwin Müller do offer models with straps. But I prefer to take off everything I can when I sleep: any necklaces, bracelets – and, in the summer, even my clothes. It's liberating. I'm not sure I'd enjoy having something strapped to my leg. More and more often, I find myself simply lying on my back because I can't be bothered to comb the room for the pillow. This offers my legs relief without any props. Maybe this is the solution to my woes?
Verdict: it's not the pillow, it's me
At just under 30 francs, my new bedmate is a snag – unlike many a down pillow. The Maxxmee pillow does get rid of the pain in my knees and hips, but only for a limited time. The relief stops as soon as I'm in deep sleep and move. When I wake up, the pillow is lying dejected on the other side of the bed or has left me entirely for the carpet. Sure, I could fetch it every time, but that would disturb my slumber way too much. I long for more devotion and sensuality in bed – read: a knee pillow that stays put and is visually appealing. Like a pretty side sleeper nursing pillow that, with triple the size, is bound to stay still. But for now, I'll stick to using the Maxxmee pillow for short naps and will try to sleep on my back more often instead.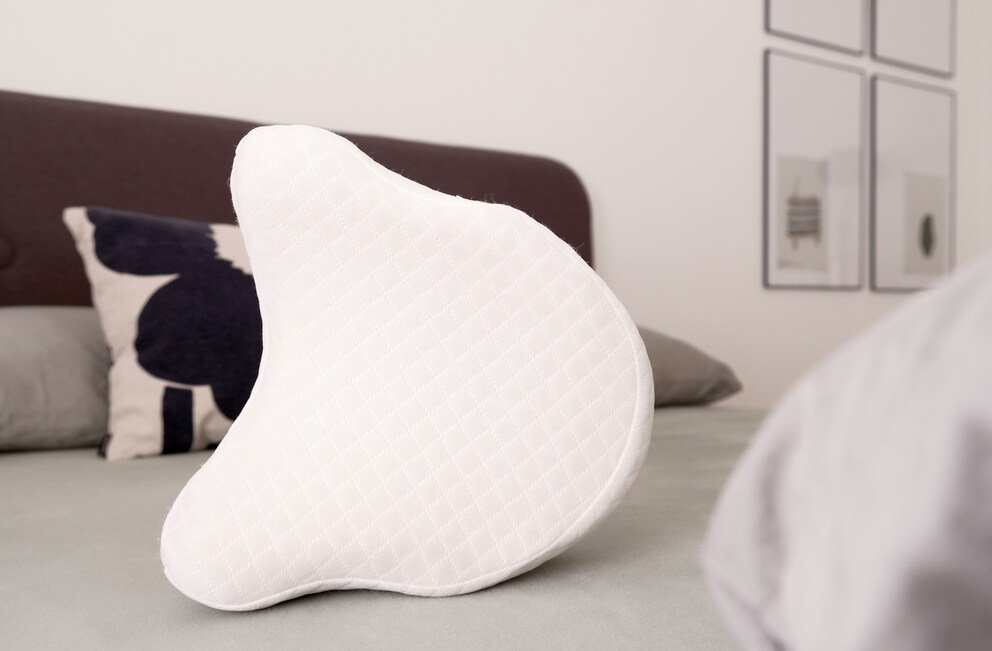 ---



«There are only two ways to live your life. One is as though nothing is a miracle. The other is as though everything is a miracle. I believe in the latter.»
– Albert Einstein
---
---
These articles might also interest you
Skeleton Loader

Skeleton Loader

Skeleton Loader

Skeleton Loader

Skeleton Loader

Skeleton Loader