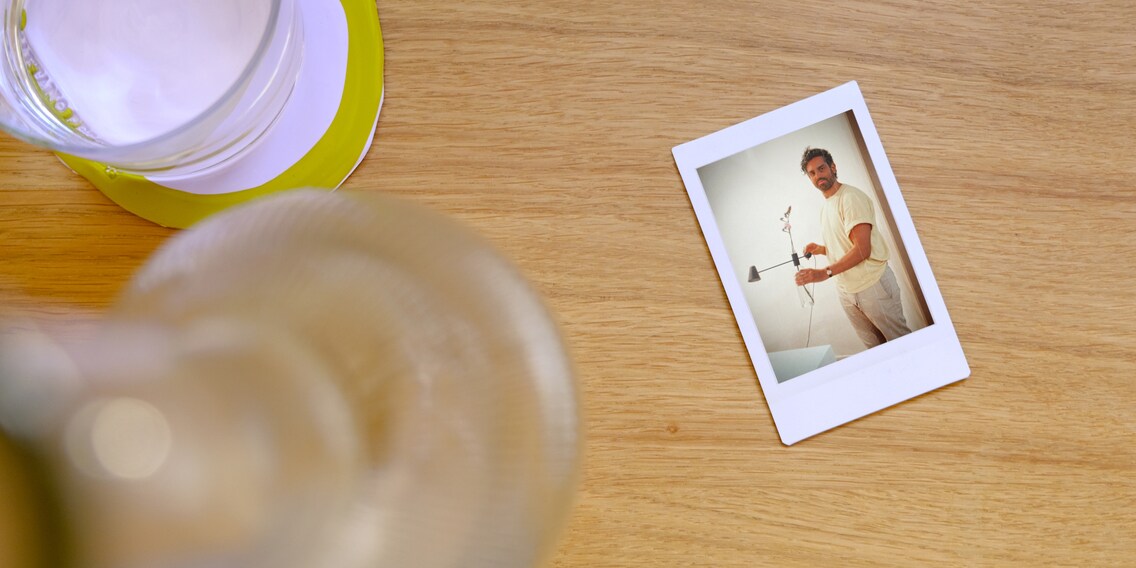 This article was translated automatically.
This is what designer Gal Bulka takes with him when there's a fire

"There's a fire in your studio, all the people and animals are saved. Which of your designs do you take with you?" I recently asked the creative mind Gal Bulka, who even lights up wine bottles with his designs.
Gal Bulka treats his home a little differently than most. The Tel Aviv-based product designer sees it "as a playground full of happy objects and furniture". He earned his bachelor's degree at the Bezalel Academy of Arts and Design in Jerusalem and his master's at ECAL in Lausanne. Today, the designer lives and works in Tel-Aviv, where he is always looking for new ways to live out his love of colours, shapes and materials. Most recently in product design. He presented his first collection at the Milan Furniture Fair. It is not yet available, but is already meant to invite people to question objects and their function. Even quite ordinary ones, like a wine bottle.
When I ask him which of his designs he would take to a fire in his studio, his answer is: "Marvin" - a lamp attachment that lights up any bottle. The prototype has a light source at one end and a round weight at the other for balance. It fits on top of full or empty wine bottles and can be used as a vase at the same time.
This multi-functionality is something Gal particularly appreciates: "I certainly love all my objects, but there's something about the Marvin lamp that feels innocent and playful to me, and somehow I feel like it symbolises a simple being that doesn't need much more than any bottle to exist. She turns everyday objects into unique objects in an instant. This diversity is undoubtedly a character of a surviving object."
More posts from the series
Because furniture fairs are often hectic, I sometimes have no choice but to be brief. That's why, at this year's Salone, I asked the designers:inside just the one hypothetical question: "What would you take with you from your studio in the event of a fire?" - just to find out what they are particularly passionate about. Here you can find other previously published articles from the series:
News + TrendsInterior

This object saves designer Kei Kato when there's a fire
---



«There are only two ways to live your life. One is as though nothing is a miracle. The other is as though everything is a miracle. I believe in the latter.»
– Albert Einstein
---
---
These articles might also interest you
Skeleton Loader

Skeleton Loader

Skeleton Loader

Skeleton Loader

Skeleton Loader

Skeleton Loader