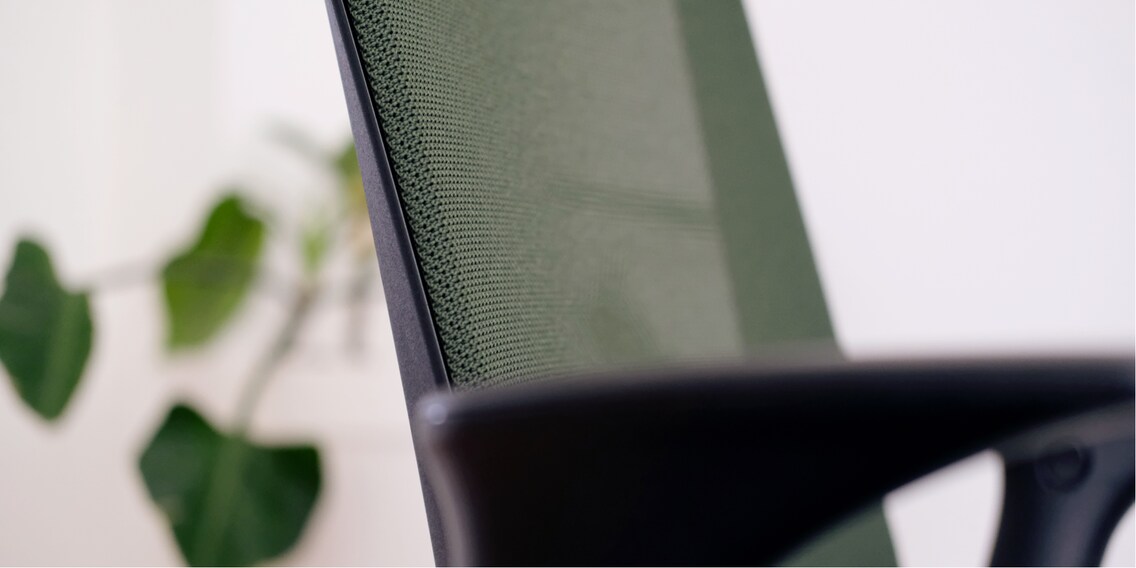 The Håg Futu Mesh office chair has got me going

Movement is good for the back, even when sitting. The «Håg Futu Mesh» office chair makes that possible. And not only because of its ergonomic properties.
I don't have any back problems. Yet. I'd like it to stay that way. That's why I'm trading my dining room chair for a decent office chair. I'd like one that fits the style of my apartment and allows for fidgeting. Nothing is worse for the back than sitting stiffly.
I recently tested the «Håg Capisco Puls» office chair. It won me over both looks-wise and because it allowed for ample movement. But there was a catch: at over 1,200 francs, the design icon was out of my budget – and yours. «I'm not saying the price-performance ratio is off,» user mglavas81 commented on my review of the Capisco. «But, as a family of four, other urgent purchases inevitably come up . . . There must be an office chair for 600 to 700 francs that's good for your health and will last you 6 years... Or am I wrong?»
The Håg Futu Mesh promises to be precisely that chair. That's why I'm testing it over a period of four weeks. Although this chair is – like the Capisco – from the brand «Håg», the Futu Mesh is very different both in terms of looks and function. But I immediately took a liking to it. Thanks to its translucent back, it offers a much-needed break from standard clunky office furniture.
Like last time, I've borrowed a sample chair from the company Flokk. I got one with armrests, but you can opt for the armrest-free model if you prefer. I still have the Capisco at home for comparison. Like last time, I'm first and foremost judging the design and how it affects my habits. Whether it's good for my health is something only an orthopaedic specialist could judge after many months. So keep in mind that these are my first impressions, not a scientific paper.
Assembly and first look
«The fact that you also have to assemble it yourself is more reminiscent of IKEA than quality furniture,» commented user joe231253 on my Capisco review. I have to disagree. It speaks for its quality. Håg chairs are packaged efficiently to be as eco-friendly as possible. The Futu Mesh arrives in a box, with protective sleeves for the individual parts, the required tools and instructions. To attach the backrest, I place the seat on a table cushion-side down and tighten the single screw required. The armrests and base just snap into place. Done. You can also check out this video on how to set up your chair.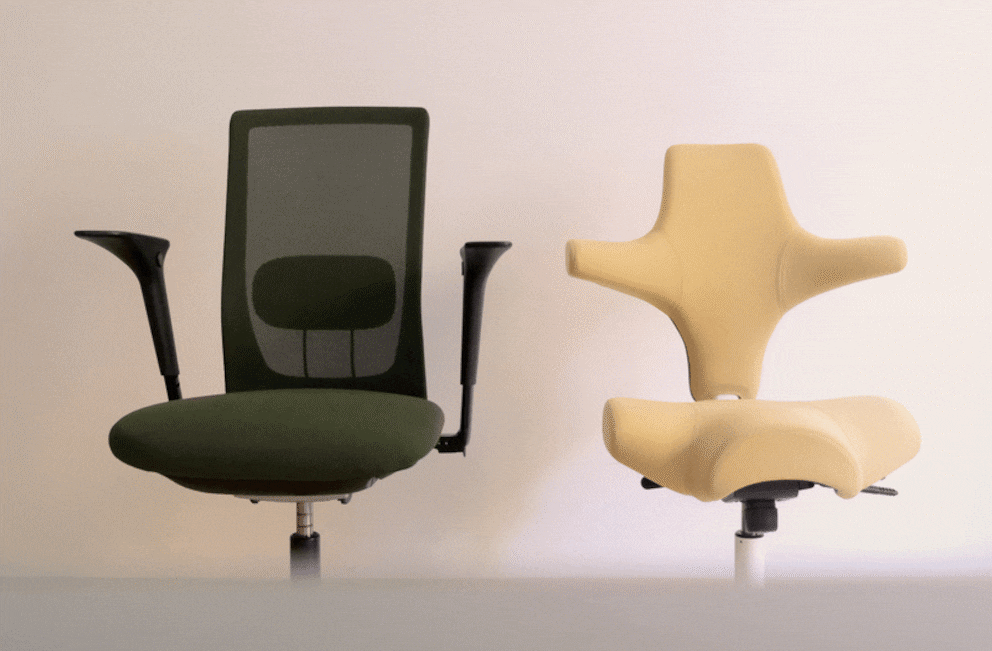 The «Futu Mesh» and «Capisco» from Håg are as different as chairs get
Immediately, the rich green colour stands out to me. It goes perfectly with my grey «Journal» desk. The armrests look elegant thanks to their slight curve and rounded edges. Because of its wide backrest, the Håg Futu Mesh resembles conventional office chairs – like the Dauphin «Stilo ES», which my colleague Martin Jungfer recently reviewed.
But it does stand out from the crowd thanks to its mesh back. It doesn't look quite as heavy in the room. For an even more lightweight look, you can go for a white base and a lighter colour like grey, light blue or yellow.
Functionality
I use the office chair mainly at my desk. Every now and then, I also use it at maximum height as a bar stool in combination with my Upstaa laptop stand. It's my way of getting some much-needed change of scenery when working from home. The standard version has a 165-millimetre lift, which allows for a seat height between 398 and 551 millimetres. If you need more, the gas spring can be replaced at a speciality store. There's also a version for taller people that offers 200 millimetres of lift. The seat height is then 450 to 640 millimetres.
With my height of 1.74 metres, I sit comfortably on the Håg Futu Mesh. Not so in the case of my colleague Natalie Hemengül, on the other hand. She's 1.5 metres tall. The seat is too deep for her; the recommended distance of one hand length between the knee and the seat isn't there. All this to say my chair model is only suitable for people between 165 and 185 centimetres in height.
The Håg Futu Mesh has a special mechanism – the «Håg in Balance» – that allows me to rock on the chair and actively keep my balance. It also comes with height-adjustable lumbar support.
In addition to the seat height and seat depth, I can lock the 'balance' mechanism and determine the strength of the resistance. The backrest, on the other hand, is fixed in place. This video shows you how to use each feature. I particularly like the fact that, unlike in most chairs, the levers and buttons are unobtrusively integrated into the side of the seat to save space. And I'm also enjoying the armrests; their width can be adjusted. When writing, I like to move them away from my body. For reading and meetings, I pull them back in so I can lean against them. The Capisco Puls didn't have this feature. Its armrests were integrated into the backrest and therefore not adjustable. With the Futu Mesh, I can lower them and slide the chair under my desk after work to save space.
Stay poised
I fall into old patterns faster than I'd care to admit and start doing the unhealthy leg-crossing thing again. The shorter, raised saddle-style seat of the Capisco Puls prevented this. Or at least made it supremely uncomfortable. But the deeper seat of the Håg Futu leaves the door wide open. The only thing that keeps me from it is the fact that I can lean against the armrests and rock back and forth. Otherwise, there's no way I'd keep proper posture with both feet on the base (it has a built-in footrest!) or the floor.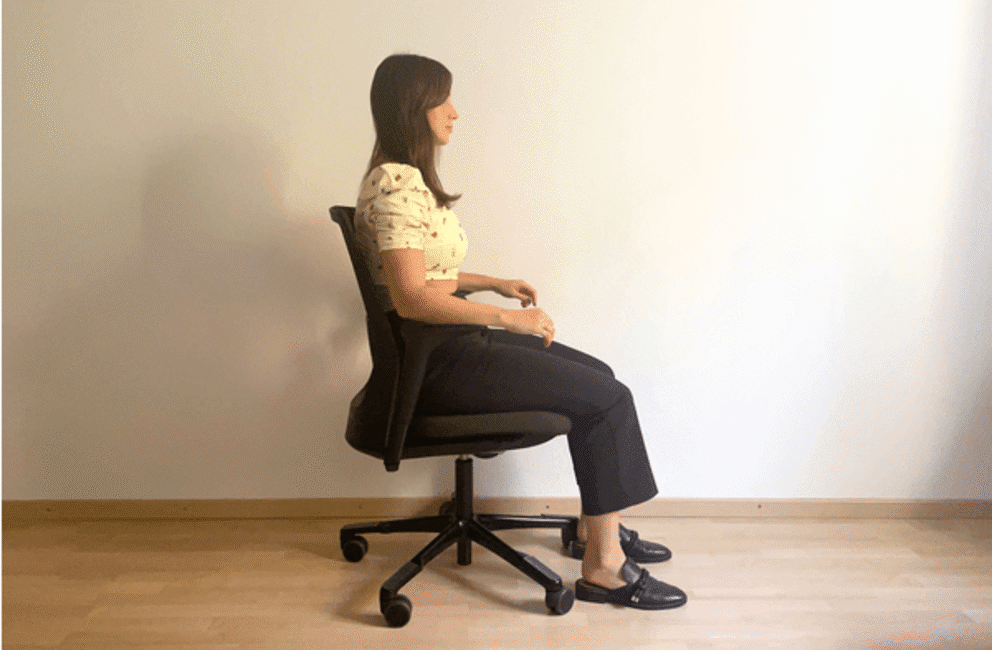 They see me rollin': the different rocking and seating options on the Håg Futu Mesh.
I suppose the slightly sloped floor in my office also serves as a friendly reminder to maintain good posture. How so? Well, if I keep just one foot on the ground, I inevitably start rolling away. Turns out even the rubber casters, which are suitable for both soft and hard floors, can't quite conjure away the uneven flooring of an old building. It pretty much forces me to stay balanced and sit properly.
Materials and care
Like on the Håg Capisco Puls, the aluminium base of the Futu Mesh is just as painful when I accidentally bump into it. But it does contribute to stability and a chic look. The footrests look good in silver and provide the necessary support. Their only shortcoming: the little ridges are a serious dust magnet. With time, though, I figured out it can easily be cleaned off with a brush.
According to the manufacturer, the mesh fabric should remain resilient even with continuous use. Since I'm only testing the chair for a few weeks, all I can say is that, like the seat cushion, it's water-resistant and feels nice. If you tend to put more weight on the backrest, go for the «1200-S» variant with a fully upholstered back. In this version, the lumbar support is hidden inside the backrest.
Local manufacturing
Under my Capisco review, user keepcoding commented that I had neglected to mention where the chair was manufactured. «It's a bit strange that this is an over 1,000-franc chair, yet there's no declaration of origin. For all we know, it could be made in China...» the comment read. So this time I'm making sure to mention the fine print: all Håg parts are produced in Røros, Norway. The company attaches great importance to sustainable and local production. Each part of the office chair is replaceable and recyclable, meaning the entire chair never has to land in the trash.
Verdict: a little lazier, but keeps me upright
The Håg Futu Mesh office chair promotes my mobility a little less than the Håg Capisco Puls because it lacks the reverse sitting option. But it makes up for this with its 'balance' mode and adjustable armrests, which the Capisco doesn't have. The Futu's lumbar support promotes an upright sitting posture, and the seat is a lot more comfortable than the Capisco saddle. The problem is I end up lounging around more often than I should. The Futu requires discipline. Only the integrated footrests make it easier for me to abstain from crossing my legs. In terms of aesthetics, my highlight is the mesh back. It lets both light and air through – a plus if you sweat easily and want the chair to match your room decor. Price-wise, the Håg Futu Mesh lies somewhere in the middle while still offering a high-quality finish. You can get spare parts from Håg, and the fabric can be replaced by the specialist if necessary. Best-case scenario: this chair is the first and last office chair you buy.
---



«There are only two ways to live your life. One is as though nothing is a miracle. The other is as though everything is a miracle. I believe in the latter.»
– Albert Einstein
---
---
---
---
These articles might also interest you