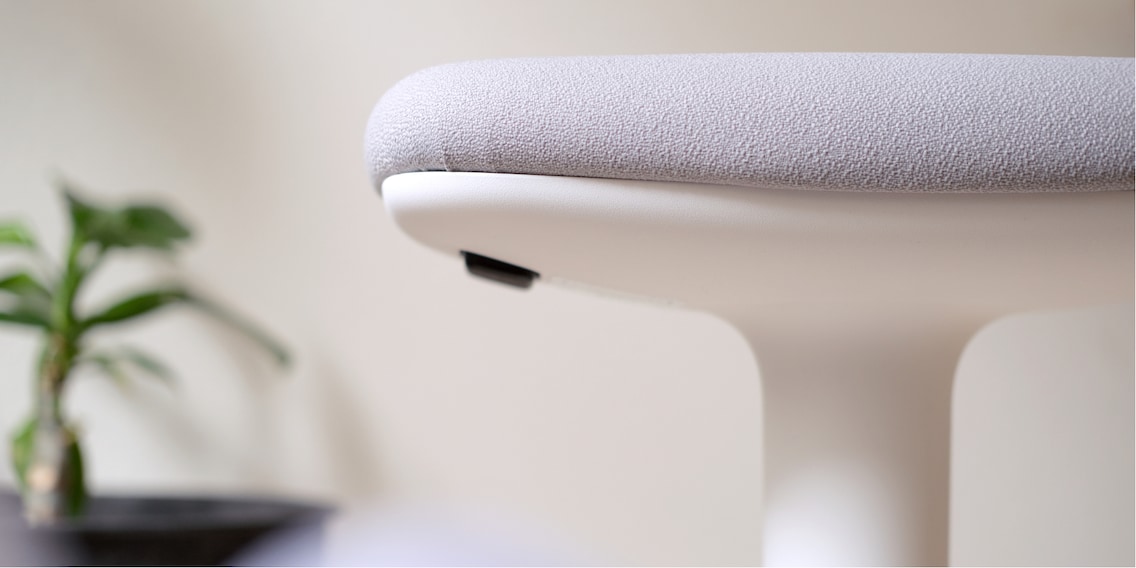 The «To-swift» office chair has got me moving – without leaving my house

«To-swift» from the brand Trendoffice is something between a standing seat and a stool. It's designed to help you sit less rigidly. But I do hope it won't make me sit crookedly. The question is: how long can I go without a backrest?
Come to think of it, I've already tested two quite good office chairs. But both of them had their shortcomings. With the Håg «Capisco 8106», I frankly lacked the pocket money to buy it. And on the Håg «Futu Mesh», I missed the saddle seat of the «Capisco» which stopped my unhealthy leg crossing.
The «To-swift» rocking stool from Trendoffice could solve both issues. It comes at a reasonable price and has a rotatable seat. It's also more compact than most models on the market because it doesn't have a backrest. Being something between a standing seat and a stool, I can adjust the height from 50 to 70 centimetres.
The manufacturer provided me with one of these hybrid chairs so I could test it over three weeks while working from home. I don't take a scientific approach in my review. Instead, I zoom in on design and what effect the chair had on my habits.
Assembly and first impressions
The stool comes ready-to-use in minimal packaging. It's delivered in a custom-cut cardboard box and a plastic cover. Its user manual comes in DIN A5 format. I immediately liked it.
I didn't have to assemble the «To-swift». I simply set the seat to the right height using the two buttons – one on the right and one on the left – and I was good to go. The «Futu» office chair, for instance, is made for people between 1.65 and 1.85 metres tall. The «To-swift», on the other hand, is made for people between 1.50 and 2 metres tall – and for a kind of hybrid body position between standing and sitting.
Its exterior is essentially defined by two elements: first, the rectangular seat covered by «Tonal fabric» and made from 99 per cent recycled PET bottles; second, the convex polypropylene plate base and, underneath it, the rubber-coated bottom plate. The latter is supposed to prevent you from losing your balance while moving around.
Thanks to its understated shape and colour, the stool fit seamlessly into my interior decor. It went perfectly with my grey desk. And even if it didn't, I could easily hide it when not in use. At the lowest height setting, it fit right under my desk. This gave me not just a physical, but also visual sense of distance from my job.
Still, I wouldn't be me if I didn't pay attention to details. I do like white, but this shade was too cool for my taste. It looked too sterile in my living room – it'd be more fitting in a dental office. Should I decide to buy a «To-swift» in the future, I'd go for a sandy or yellow tone. The main thing is I'd like a warmer colour.
In addition, I'm not a fan of in-your-face labels – especially when they're not exactly pretty. What I liked about the «Capisco» and «Futu» office chairs from Håg is that – instead of a logo – striped footrests make for brand recognition.
Functionality: day one
Before sitting on the «To-swift» for the first time, I was concerned it might tip over on my smooth hardwood floor as I swayed back and forth. But thanks to the profiled base, this proved not to be a problem. Instead, it's the sitting itself that I was more worried about. I felt about as comfortable while sitting down as I did jumping over the vaulting horse in gym class. With the chair at a low height, I could easily get on it without feeling wobbly or landing with a thud. However, when using the «To-swift» at a taller height as a sit-stand seat, I found it difficult to gauge if I'd land right on target or would have to wiggle around.
Sat correctly, I had fun swinging around on the chair. By changing the position of the base, I was able to lean not only sideways, but also backwards and forwards. This wouldn't be possible on a chair with casters. But to get from position A to position B, I had to stand up every time.
The design of the «To-swift» is simple. Only the height is adjustable: two black buttons are inconspicuously integrated into the underside of the seat. On the «Capisco», I could set the strength of the «wobble», i.e. the resistance. On with the «Futu», I could adjust the lumbar support. The «To-swift» offered me neither of these options – after all, there's no backrest. This has some advantages: I found myself turning from side to side more often because I wasn't worried about ramming into the table.
Three weeks later
After three weeks, I settled into a rhythm that worked well for me. Lowered to sitting height, I used the chair at my desk. Raised to standing height, I used it at my dinner table alongside the Upstaa desk stand. I really enjoyed the flexibility this offered. The fact that there's neither an armrest nor backrest like on the Håg «Futu» didn't bother me at all. My back muscles seem strong enough to take it. I could keep good posture effortlessly and only missed the back support when I got tired. In these instances, a break or a coffee was typically enough to wake me up again.
Every now and then, I did catch myself wanting to cross my legs. But then I immediately changed position to sit sideways. With that, the «To-swift» achieved the same effect as the «Capisco» saddle seat. However, it's not quite as comfortable. The seat feels harder than that of the Håg office chairs. Especially when saddling the «To-swift» between my legs, I found that the edges pressed into my thighs. As a result, I'd get up voluntarily and switch to working standing up freely.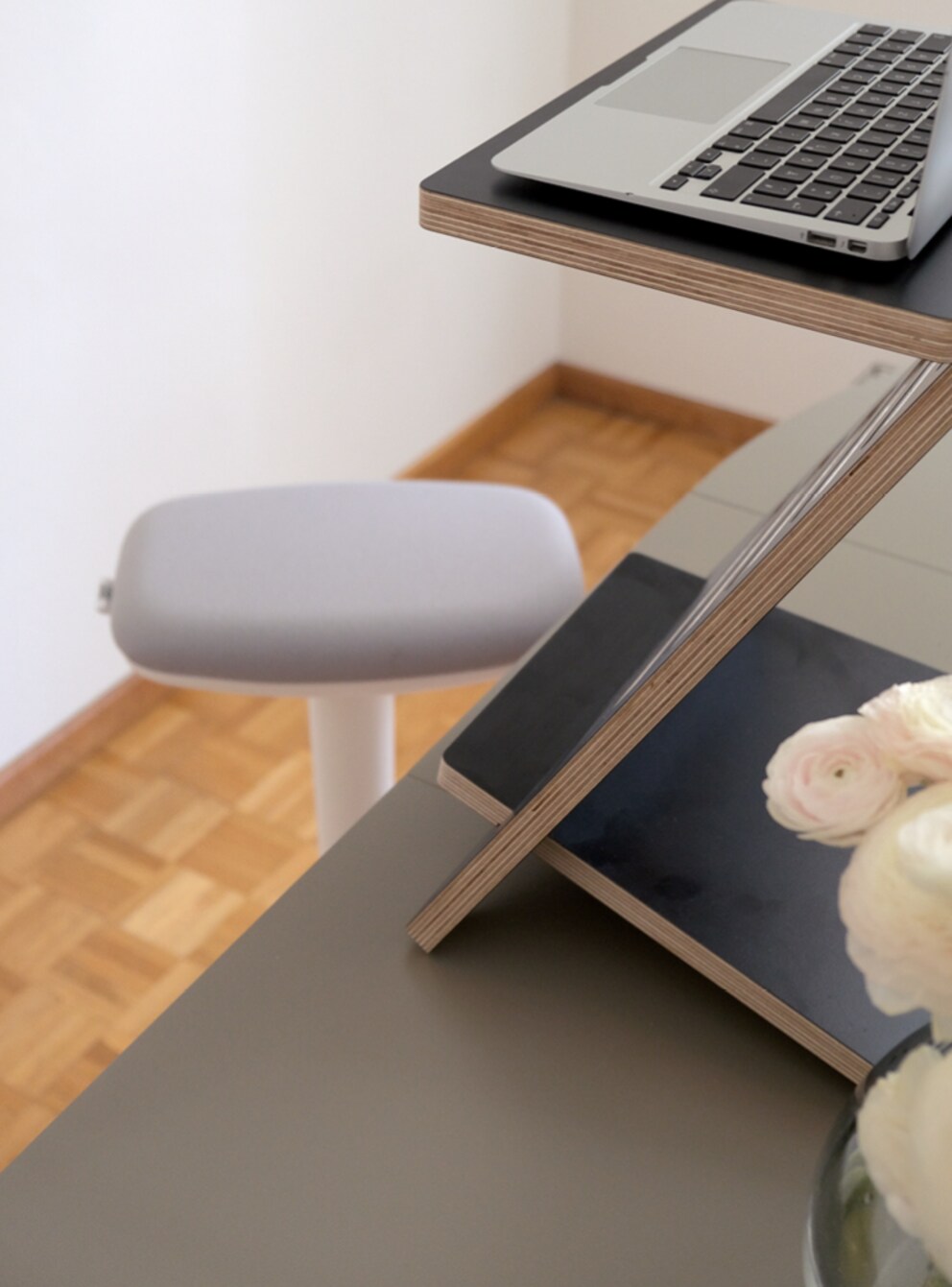 Material, care and production
Besides the design, what I like about the stool is that it's made in Europe. «To-swift» is designed in Germany and produced in Italy. The Trendoffice brand is just a year old, but it's owned by office seating manufacturer Dauphin, which has been making ergonomic furniture for over 50 years. In my eyes, this established know-how shows in the clean workmanship of the «To-swift». In my short time testing it, I didn't notice any discolouration or disfiguring in the fabric. Still, I can already tell how low maintenance the office chair is: a damp cloth to wipe off dust on the base is enough to make the super-white white shine again. And should something happen to it, the manufacturer offers spare parts.
My verdict: more momentum, but no soft landing
I swung and rotated more on «To-swift» than the Håg «Futu» because there were no armrests and no backrests in the way. The latter, however, can prove a challenge for your back. If you don't have a strong back, you should be careful about using this chair. After all, there's nothing there to support your back – it's all up to your muscles. I enjoyed it because it forced me to optimise my posture and stay moving, and I felt more awake as a result. If you're someone who gets hot easily, the lack of a backrest is an advantage. Your back is permanently nice and breezy. And the best part? The chair is space saving. You can stow it away under the table, out of your field of vision. This allows you to draw a clearer line between your work and private life, especially when working from home.
The upper part is rotatable, and both right- and left-handed people will have no trouble using the buttons to adjust the height. Another plus is that sitting sideways on the stool keeps me from crossing my legs – like the «Capisco» saddle seat, but less expensive. At around 200 francs, the Trendoffice chair is cheaper than any of the Håg models (which come in at just under 600 and 1,300 francs, respectively). It's perfect for those who only want to use it for working from home occasionally. The seat cushion could be a bit softer for moving around.
I've returned my sample chair to test some more models. I'll keep you posted on which one earns a permanent stay in my home.
---



«There are only two ways to live your life. One is as though nothing is a miracle. The other is as though everything is a miracle. I believe in the latter.»
– Albert Einstein
---
---
---
---
These articles might also interest you