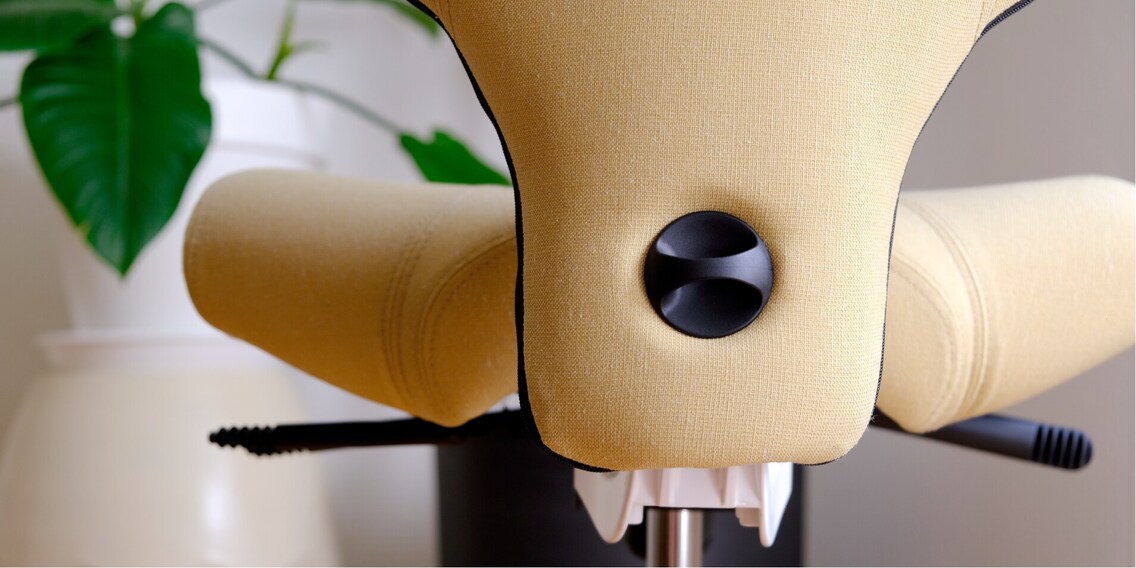 The uncomfortable truth: the Capisco office chair is better

Håg's office chair «Capisco 8106» is the office equivalent of a saddle on a horse. Why this makes it more ergonomic and better than conventional models? After testing it for three weeks, I know the answer to this.
I think office chairs are ugly. There's not a single model that's ever found its ways into my heart, home or even onto my Pinterest board. Still, I'd like to make my workplace ergonomic and stop sitting with crossed legs once and for all. I find the ergonomic alternative to a chair, an exercise ball, even uglier than an office chair, so I opted for the more than thirty-year-old design icon Capisco 8106 by the brand Håg. And now there's no way back.
It's the only office chair that isn't bulky and features a curvy design that looks inviting to me. On top of that, it's supposed to get me moving, as its designer, Peter Opsvik, believes that «any posture is wrong after ten minutes». Studies have also shown that prolonged sitting is bad for your health. Capisco offers several ways to encourage changing your position. I've tried it out for three weeks to see if it works. The company Flokk, which also sells office chairs by the brand Giroflex, kindly provided me with a model for this review.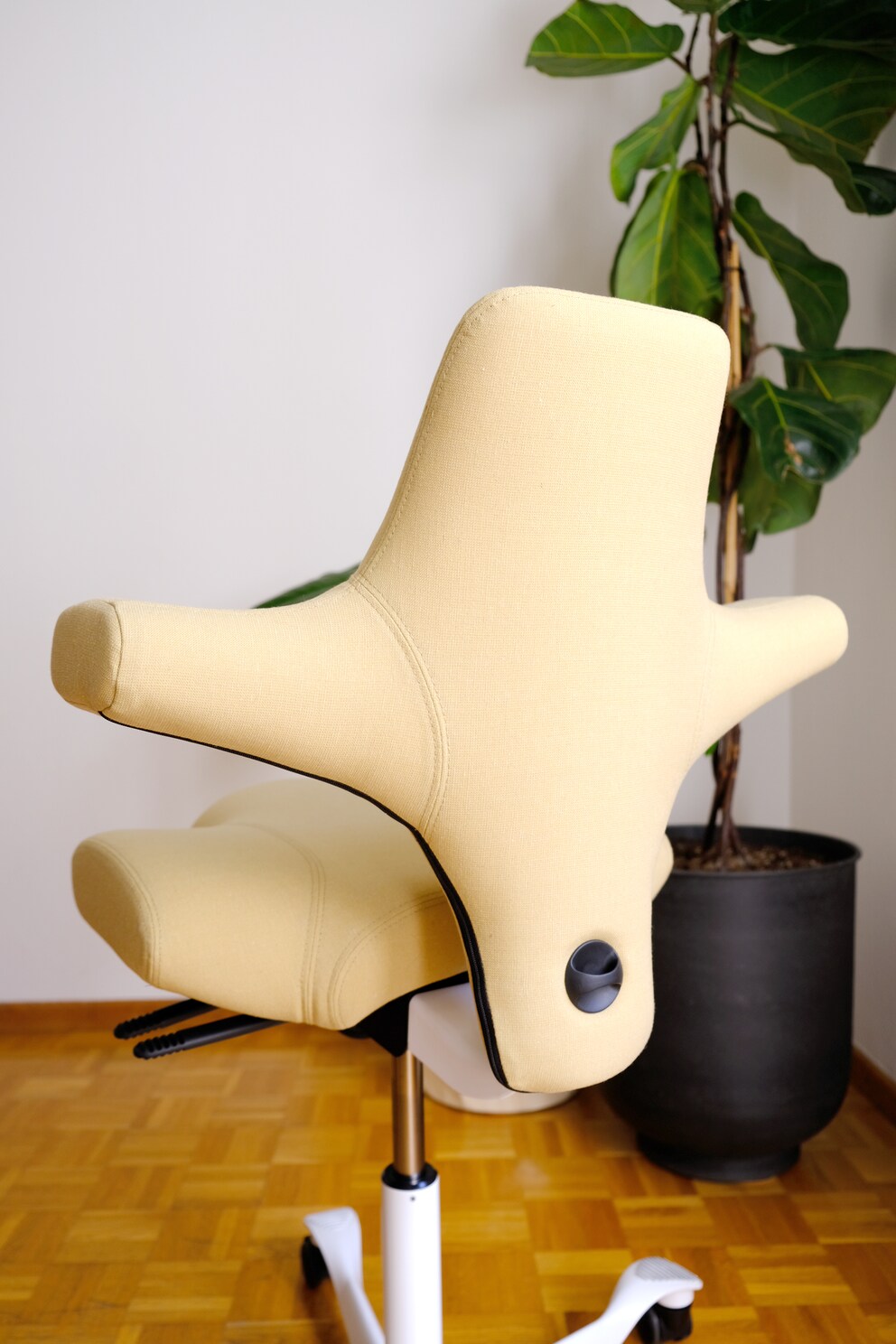 I don't have a bad back (yet) and don't want to have one in the future, so I'm evaluating the ergonomic design and what impact it has on my everyday work in this review – hoping this chair will help me keep my back healthy. A few months ago, I started to align my home office setup with the Suva recommendations. The first thing I got was the «Upstaa» table attachment that allows me to work standing up whenever I want to.
Because some tasks are easier to do sitting down, I later added the «Journal» desk. So now I'm not sitting at my dining table any more, but still using a dining chair, which is anything but ergonomic.
Assembly and first impression
Capisco arrived with only the most necessary packaging material: a large cardboard box and protective covers for the individual parts. All I needed to do was attach the backrest to the seat. I placed the seat upside down on the table and used the tools that were provided. It was easy to see how this chair is inspired by a saddle, as the middle part of the seat is elevated.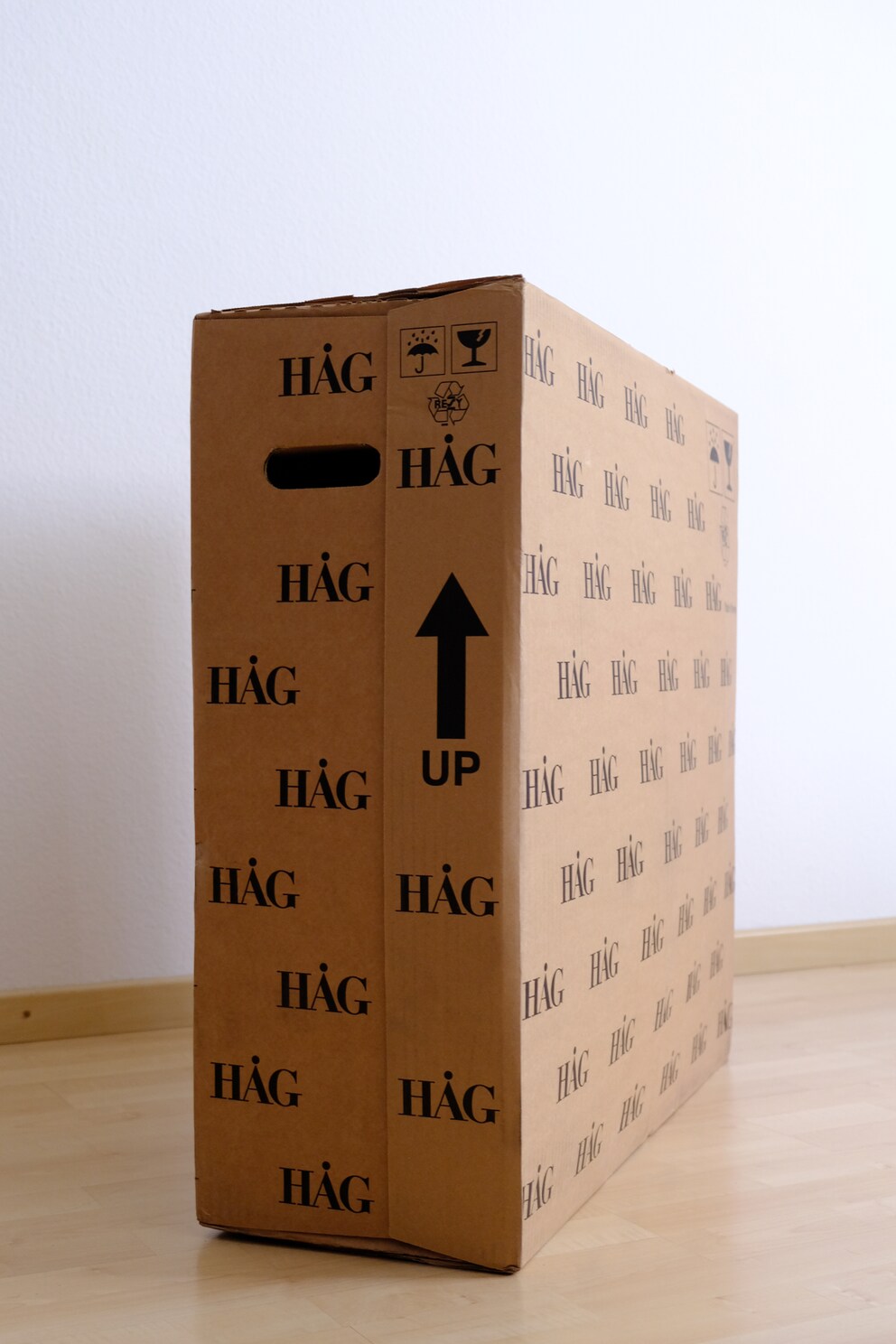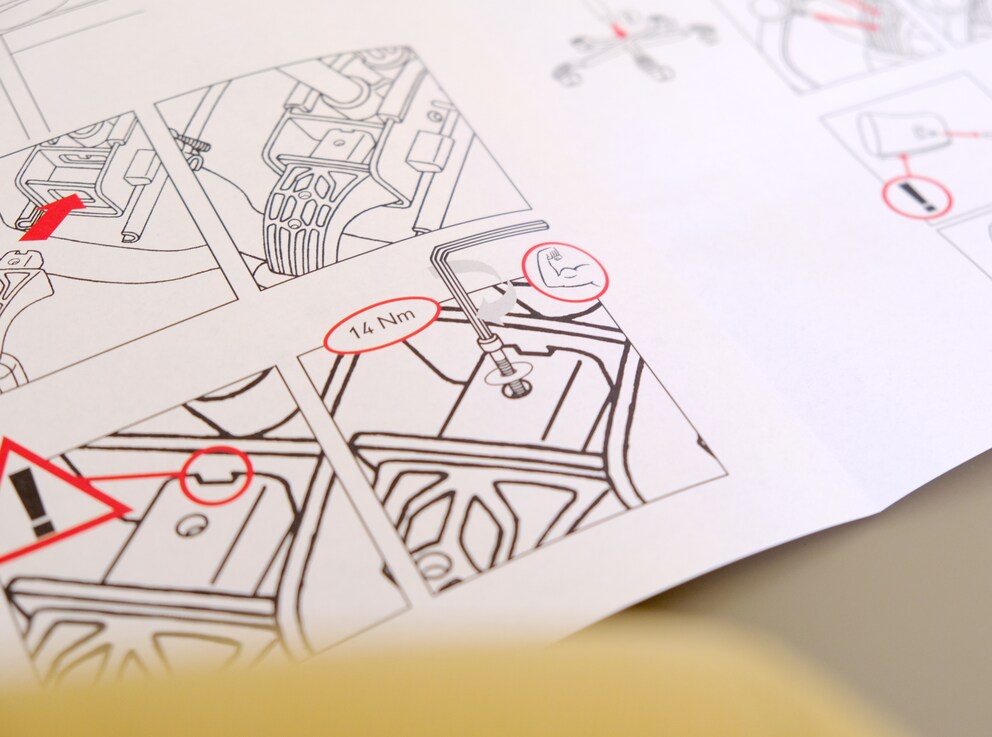 According to the Popeye's drawing, screwing it together is hard work. But I managed without eating spinach. After less than five minutes, I turned the «saddle» around, placed it on the aluminium base with support surfaces and hopped on. There's a brochure that describes the options for sitting and moving around – or this video.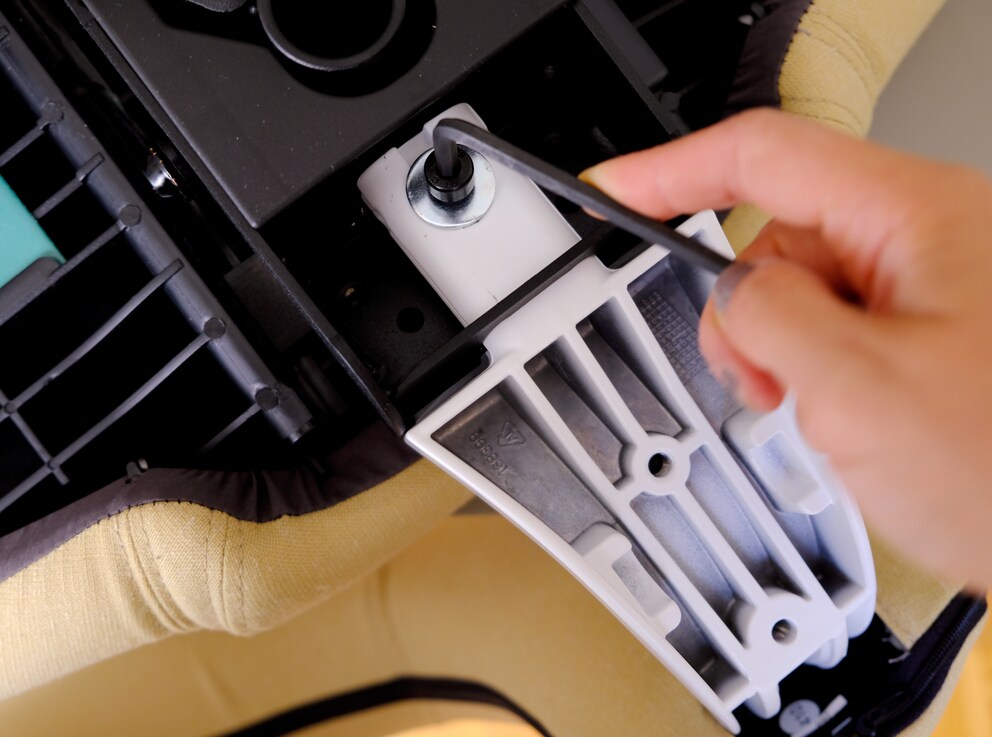 Capisco's functionality exceeds that of conventional desk chair models I've used. It lets me adjust and lock the seat height, seat depth, backrest height and seat tilt. Not only does the backrest rock along, but the armrests also move back and forth. They're positioned so that I can move my arms freely when using a computer mouse and support them when I'm resting. The backrest isn't flat like with most office chairs, but shaped to support the natural curve of the spine. To make this work, I adjusted the height to my height using the knob on the back. It's also possible to add a headrest to the chair if needed. It can be extended in height to make it work with a standing desk. For this purpose, «Stepup», an intermediate level for the feet is available.
Capisco's elegant lines make it a lot more visually appealing than other office chairs, which are usually bulky. Its bright colour and delicate shape bridge the gap between living and working environments in my home. This desk chair is rather small and its white legs blend in with the floor. Depending on how high your table is, the chair might fit underneath it once you've lowered the backrest as much as possible. This saves you even more space. Thus, with 75 centimetres to the armrest, Capisco doesn't take up much more space than a dining chair.
One chair, many sitting positions
The saddle shape felt unusual, but not uncomfortable. It made it almost impossible to cross my legs. I tried it, because I'm so used to it, but didn't even stay in this position for ten minutes. That's a good thing, as it helps you get rid of that old bad habit. Sitting on the saddle as if on a horse is only one of the sitting positions this chair allows. I can also either sit actively at the front or comfortably at the back. Along with my table attachment, I can also be half standing, sideways or backwards – that's with the backrest in front of the chest. Just remember to lock the backrest by pulling the emergency brake on the right side of the seat. This makes sure you can't rock and tip forward.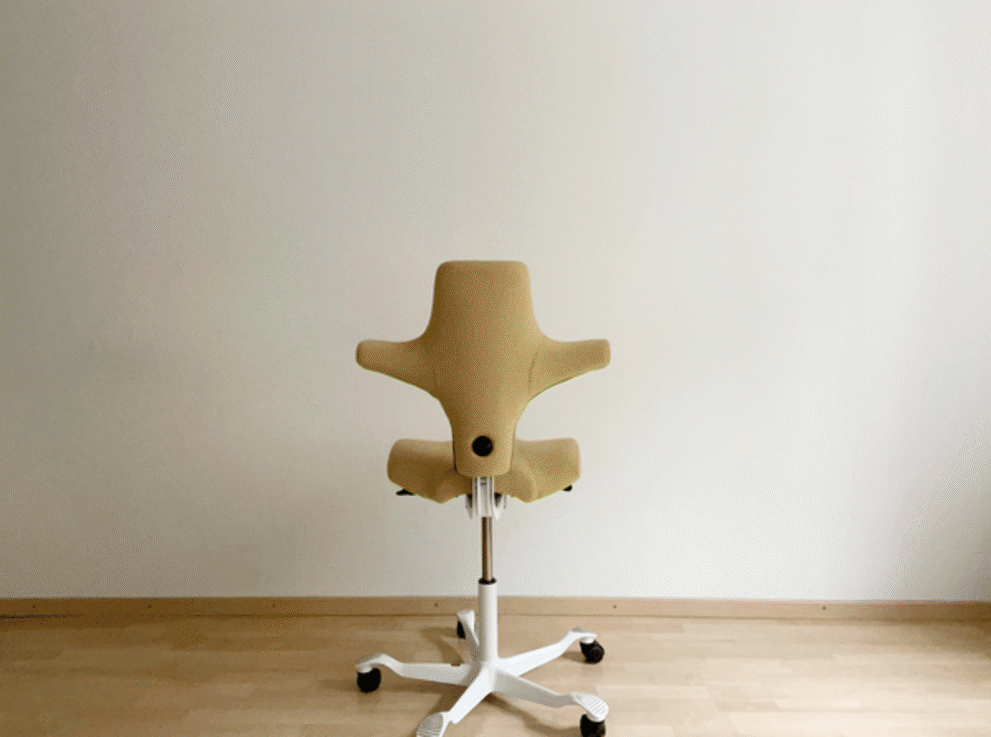 Another posture is to lean sideways onto the backrest with your arms – to the right or to the left. At the highest level, I used Capisco as a bar stool in combination with my Upstaa table attachment. For better support, I rested my feet on the supports, which have silver aluminium strips. That's a clever detail, as the grooves prevented my feet from slipping – in socks and in slippers. At the same time, they're not without their dangers for clumsy people like me. It really hurts if you hit your ankle against the metal foot. This happened to me three times and then I'd learned my lesson and stopped making hasty movements. Alternatively, a plastic base is available, which probably hurts less, but also offers less stability.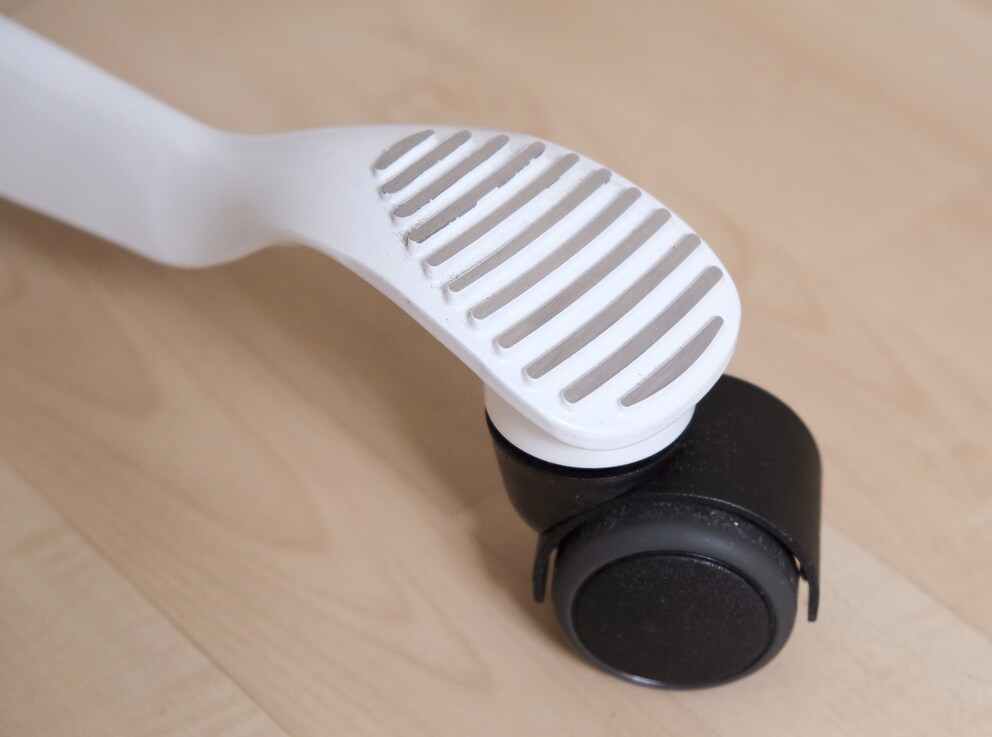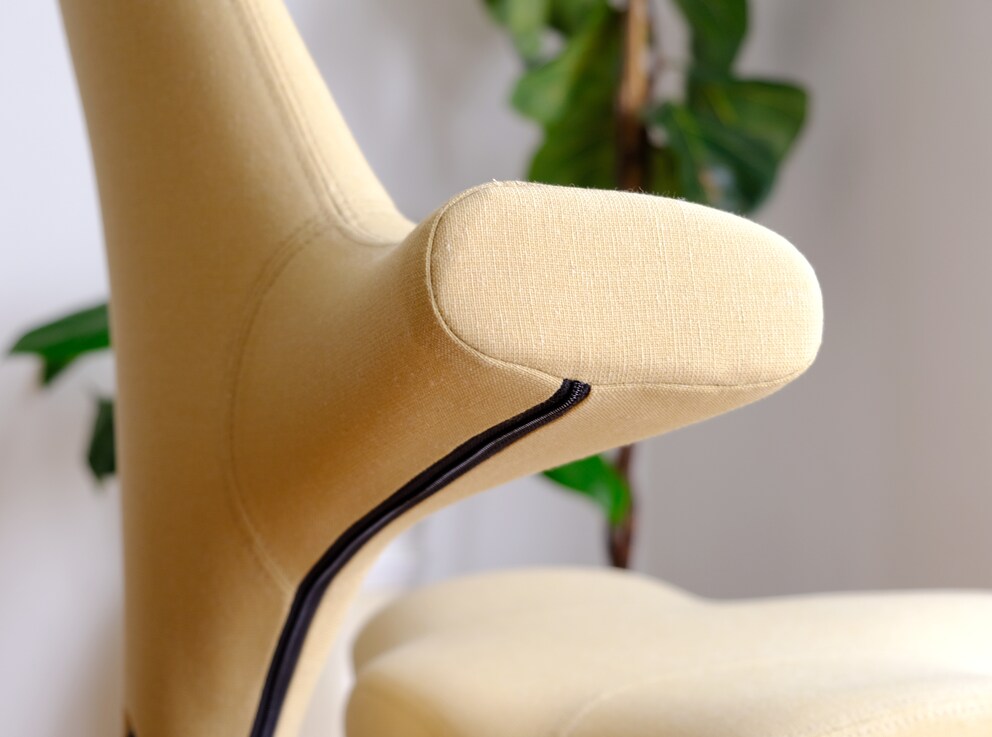 New habits
At first, the options for sitting overwhelmed me. And my back, too. I could feel it in the first few days. Yet, this might also be because I started focusing more on core exercises when I did strength training. After a while, I got the hang of it and my muscles got used to the new activity. I found a perfect position for every task. For reading, I liked sitting with the backrest in front of my chest; for writing and editing, I sat straight as if on a horse; and for meetings, I liked leaning sideways onto the backrest with my arms. I used the bar stool function with the table attachment mainly when I was working at the dining table. I like moving from my office to my dining room when I work from home, because the change of posture and location keeps me awake. With time, I even found another position to read or look at something that I liked – one that was certainly not planned by the manufacturer. I turned the backrest by 180 degrees, adjusted the seat depth and rested my legs on the armrests. But only for a short time!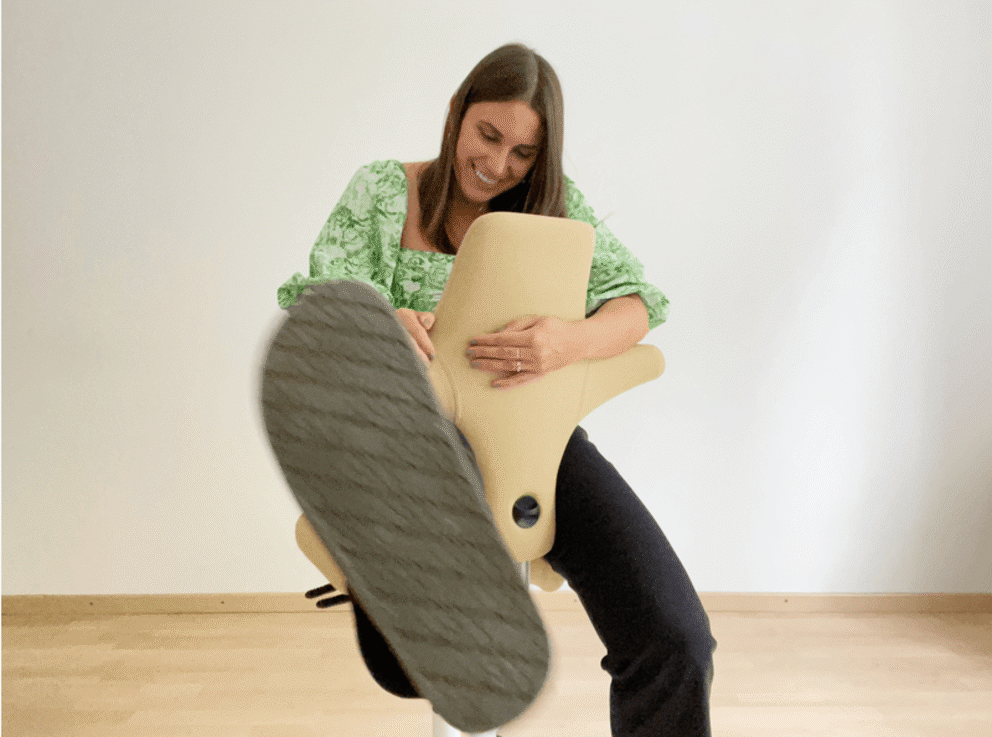 Recycled material
Håg leads by example when it comes to ergonomics and sustainability. The Capisco chair is made mainly from recycled materials, all components can be recycled and are reduced to a minimum. When the backrest was first designed, it was made of nine parts. Today, it's made of six. On top of this, the armrest is part of the backrest. Therefore, no glue or additional connectors are needed. And if something should happen to your chair, the manufacturer offers on-site maintenance service.
My test model was made of a fabric named Gabriel. According to the manufacturer, this is supposed to be a classic woven upholstery fabric with stretch that is durable. As I only used the chair for three weeks, I can't judge how durable the fabric is. What I do know is that it was pleasantly soft and water repellent. When I accidentally spilled water on it, the drops rolled off the fabric. The Capisco Puls 8010 and 8001 versions are even easier to maintain and even less expensive. They're made of plastic. If you're looking for a more elegant solution, the Capisco 8106 made of leather is a great choice.
My verdict: more freedom of movement is good for me and my back
Be aware that once you've experienced the Capisco, you might never want to use another office chair again. I've fallen in love with moving around and after just one day, I already wondered how I managed to be so immobile before I had this chair. As promised, this flexible office chair kept me moving and helped me keep my upper body upright. However, it was also tiring at the beginning because I could no longer lounge around and had to use the chair consciously to make the most of its ergonomics features. Having said that, my back and ab muscles quickly got used to sitting without a backrest. Taking short breaks with Capisco at my height-adjustable desk helped me spend more time working in a standing position. The Capisco 8106 costs more than twice as much as the current Galaxus bestseller by Giroflex. But it allows me to sit with the backrest in front of me, which means my hip joint angles are open and the muscles can relax. The more affordable variant, Capisco Puls 8010, also allows for this position. The largest surprise, however, was how much movement this office chair brought to my daily work routine. I adopted a new sitting position for each task and finally got rid of my old habit of sitting with crossed legs.
---



«There are only two ways to live your life. One is as though nothing is a miracle. The other is as though everything is a miracle. I believe in the latter.»
– Albert Einstein
---
---
---
---
These articles might also interest you