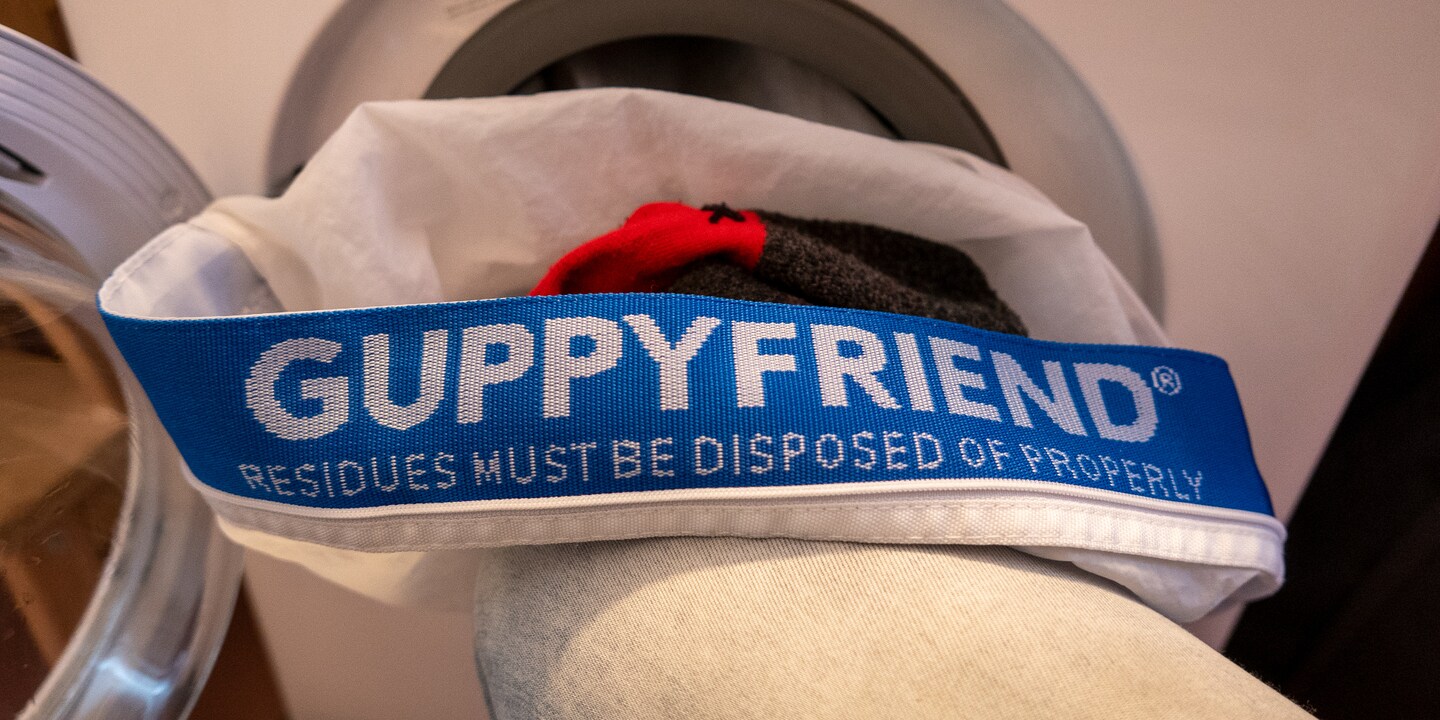 The «Guppyfriend» laundry bag filters microplastics

Every time you wash synthetic textiles, microplastics are released into the environment. The «Guppyfriend» washing bag combats this by preventing the insidious fibres from entering our waste water.
Microplastics have long been everywhere: in our clothing, water and on our plates. In fact, we chow down on so much plastic each month that the amount is equivalent to about one Lego brick. A large one, at that, with eight studs, as illustrated by the Thompson Reuters Foundation. But we're causing even more damage to nature, in particular to bodies of water, with the flood of plastic. When Lycra, elastane and the like are washed, they shed synthetic fibres containing microplastics.
Even those who consider themselves nature lovers don't have a clear conscience if their closet is stuffed with functional clothing made of synthetic fibres. Alternatives are slowly emerging. But as long as we still use these textiles, pragmatic solutions are also needed. The other day, my wife drew my attention to one such solution: a washing bag designed to retain microplastics, which I can then dispose of in the residual waste.
A small contribution with each wash
The polyester laundry bag measures 50 x 74 cm. It's made of monofilaments – a special fabric that doesn't shed fibres. A monofilament consists of one endless thread. According to the manufacturer, its structure is more like that of a stable stick. The Guppyfriend protects your clothes during the wash cycle; in turn, they shed fewer plastic particles. According to the Fraunhofer Institute Umsicht, fibre breakage is reduced by 86 per cent. Despite the extra layer of protection, the laundry comes out of the bag clean. I, at least, haven't noticed any difference.
It's a small contribution I can make with each wash, and it costs me virtually no effort. Not to mention it really does make a change in the long run, provided I stick to the clearly visible notice on the opening and dispose of the trapped fibres in the residual waste. In doing so, the topic of microplastics stays present in my mind. It challenges us all to take a closer look at the matter.
I certainly do – every time I remove the fibre deposit from my Guppyfriend. Mind you, there's no Lego-sized collection of plastic awaiting me, just a fingertip full of lint. But the aim is to release as few microplastics as possible into the environment and to filter what little does make it through as well as possible. Under my daughter's microscope, the catch immediately looks much more impressive.
Greenwashing done differently
I use the Guppyfriend alongside the washing strips from «Bluu». In my eyes, this is a good kind of greenwashing – a beginning that bridges the time until the big closet transition. The Guppyfriend can be used at up to 40 degrees Celsius and is made in Europe. The filter fabric and fibres are manufactured in France and Italy. The sewing factories are in Poland and Portugal, while the packaging is from Germany, which is where the bag was developed. In the article below, my colleague Vanessa Kim goes over other things to keep in mind when doing laundry.
KnowhowHaushalt

Mikroplastik: So reduzierst du den «unsichtbaren» Feind
The Guppyfriend did, in fact, quickly become my friend. Although it is a bit ironic that a large, synthetic fibre bag acts as the filter for microplastics. In any case, the bag is fully recyclable and doesn't disintegrate down the drain. Our waste water is anything but green, and so much is thoughtlessly flushed away. This is something I haven't been able to forget since my trip into our waste water canals. Waste water is a world of its own.
---

Sports scientist, high-performance dad and remote worker in the service of Her Majesty the Turtle.
---
---
---
These articles might also interest you
Skeleton Loader

Skeleton Loader

Skeleton Loader

Skeleton Loader

Skeleton Loader

Skeleton Loader