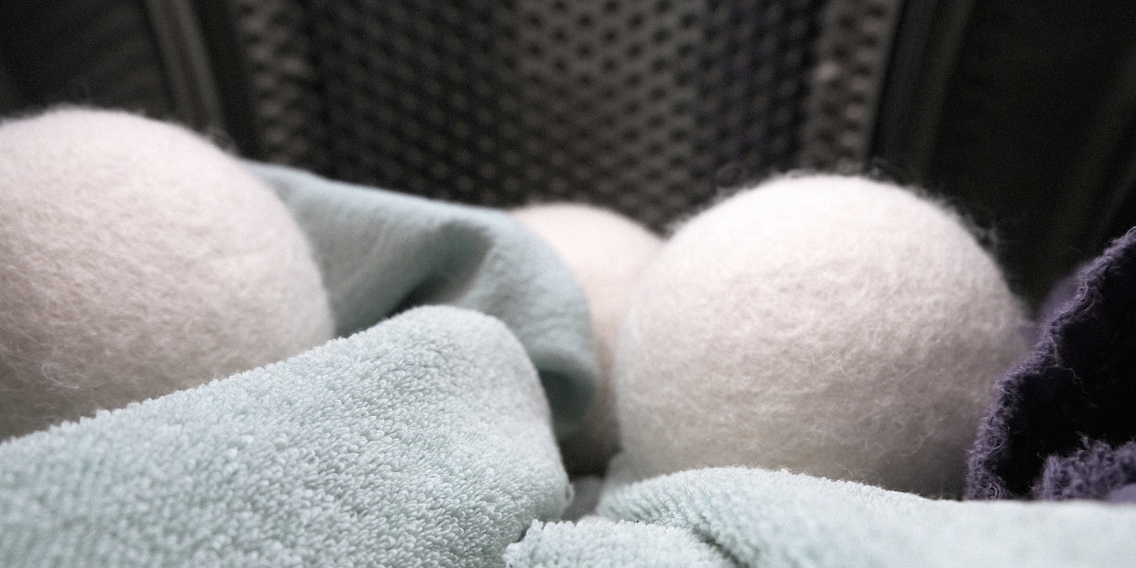 Can felt balls help with damp clothes?

The tumble dryer gets your laundry dry quickly – and makes it soft. On the other hand, it's energy-intensive, especially at my house. My 2-in-1 machine does such a rubbish job, that two drying cycles are usually necessary. Can felt balls help?
I have a washing machine in the kitchen. What a luxury. It saves me from going down four floors to the basement and flapping around for coins. It even has an integrated dryer, although it's pretty mediocre. One 70-minute cycle isn't enough to get your towels cupboard dry. Three 23-minute ones generate a better result, as I'm able to briefly air out the drum between cycles. This is neither time-saving nor ecological, and drives up the utility bills. Because of this, I usually let my towels air dry – just like I do with the rest of my laundry. But even with fabric softener, they never get properly soft.
Wool balls, not fabric softener
Dryer balls are supposed to help. When they're in the machine, they slacken the clothes, making them dry faster. Forty percent faster, if the manufacturers are to be believed. At the same time, the felt balls are designed to replace fabric softener. That's because the fibres of your clothes have more room to stand on end instead of getting tangled up in each other. As a result, the laundry's static charge is supposedly reduced, too. And all this using zero chemicals, only felted wool. So, does it work?
Fortunately, I've just washed and spin-dried three hand towels. Instead of draping them over my tower-like drying rack as usual, I leave them in the machine and throw in the required minimum of three balls too. I set the dial on the machine to «dry, strong», which immediately causes a red «20» to appear in the «duration» display window. As I've been promised a time saving of forty percent, I just decide to set it to «40». As soon as I start the drying cycle, the «40» morphs into a «43». Magic.
And the less magic thing? The drying balls. Although, that's not to say they don't work. After the machine beeps, my clothes are still damp, but are nevertheless about as dry as they would be after a 70-minute cycle minus the balls. So as not to put more pressure on the environment, or a natural gas market that's complicated to say the least (yep, everything at my place runs on gas: the heating, the stove and the washing machine), I hang the towels on the rack for the final stretch after all. The balls, on the other, can just be left to dry on top of the washing machine – they're not noticeably damp.
After two hours in front of the open balcony door (21 degrees, a mix of sunshine and clouds, sometimes even a few raindrops), the towels are dry and ready for a snuggle test. They're much smoother than towels that have only been air-dried, but less fluffy than after the kind of heavy tumble-dryer stints I remember from days gone by.
Personal stance: positive
Now, these are all subjective observations from a woman who has a mediocre dryer mode on her washing machine. It'd be desirable at this point to have a modern dryer that measures the degree of moisture in the laundry and stops spinning automatically once a certain level of dryness has been reached. That way, I'd have the stats to back up my comparison. But I don't. There's no tumble dryer in our shared basement. So, you'll have to bite the bullet and trust the way I feel about them (or the 70-odd favourable product reviews). And my own feeling is a positive one.
Thanks to the dryer balls, my hand towels have been coming out of the machine after a 43-minute cycle noticeably less damp than they normally would. Not only that, but my three cotton towels are softer than when they're exposed to the usual combination of fabric softener and drying rack. Since the durable balls are made of pure virgin wool, they don't release any toxins which would then be carried around on your skin. The only thing that might be different is the scent. My clean laundry doesn't smell of anything now. However, the internet says a few drops of essential oils on the balls should improve this. I'll give it a go.
---


My life in a nutshell? On a quest to broaden my horizon. I love discovering and learning new skills and I see a chance to experience something new in everything – be it travelling, reading, cooking, movies or DIY.
---
---
These articles might also interest you
Skeleton Loader

Skeleton Loader

Skeleton Loader

Skeleton Loader

Skeleton Loader

Skeleton Loader