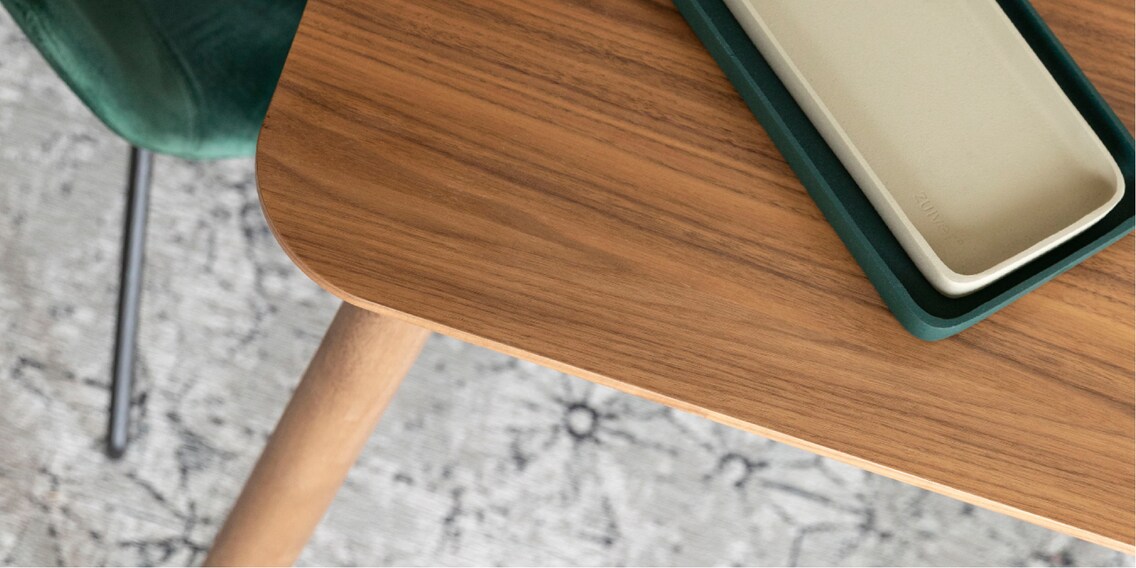 Ten well-made desks for working from home

Pack up that makeshift working-from-home set-up and start afresh with a proper desk. Check out these 10 examples, which come up trumps with their practical features and visual appeal.
This is the third instalment of the «Form Follows Function» series, where I give you a comprehensive intro to particularly well-designed furniture.
At the very least, desks need to suitable for writing, drawing or working at a screen. And for anyone who – like me – places a lot of importance on good interior design in their home, they need to look good, too. A selection of the desks in our range tick all of my boxes when it comes to form and function.
1. Desk
Simple and yet different from most of its counterparts, Lucia Kriva's aptly named «Desk» by the German brand Jankurtz has a winning combination of clear lines and splayed legs. The latter seem to connect seamlessly with the underside of the desktop, which consists of black linoleum framed by solid, oiled oak. This choice of material doesn't just create a colour contrast – it's easy to maintain, too. Since linoleum is anti-static, it stays dust-free and, for the most part, hides finger prints. Big enough to accommodate one or two large monitors, at a depth of 65 centimetres, the «Desk» is still narrow enough to fit into a small room. And thanks to its simple design, it doubles as a beautiful dining table if you ever stop needing it for work. However, because its legs protrude beyond the edge of the table, it takes up a little more space.
2. Evo Split
The children's desk «Evo Split» by Danish brand Flexa can be a trusty companion for children for years. But it also serves adults at maximum height. At 70 centimetres, it's deeper than the «Desk» and is even two centimetres higher. The powder-coated-metal frame can be adjusted to your height, as can the angle of the front part of the desktop. From the frame to the surface, the desk is completely white. There are, however, four sets of different coloured plastic feet which come with it. And you can also get matching accessories like hooks or colourful organisers to bring a splash of colour into the equation. The tabletop's melamine coating makes its surface anti-static, waterproof and greaseproof. The only fly in the ointment is: the taller the person using it, the more the crossbar underneath could become a nuisance.
3. Move Style Lift
Technically, the «Move Style Lift» is unmatched by any other desk: you can either use it at its normal height of 74 centimetres, or turn it into a 123-centimetre standing desk by way of the electronic control panel. Understated in form and colour, «Move Style Lift» blends into any colour concept. The only thing is, it has a colder look than a wooden desk. Its work surface is coated with melamine and comes either in black or anthracite – the latter of which matches the frame. The cold look can prove to be a downside in the bedroom, which often doubles as an office when working from home. However, a clear plus point of the desk is the addition of slots on the side which are suitable for stowing cables away.
4. Bureau
A so-called emerald of the desk world, «Bureau» is the brainwave of designer Rachel Friffin, founder of Earnest Studios, for the German brand Schönbuch. With its curves, «Bureau» can be placed in the centre of the room and serve as either a desk or a dining table. You can stash your office supplies on a second level underneath the table top, creating distance between your work and private life in an instant. Because it comes head to toe in green, «Bureau» is a rarity on the office furniture market. The tabletop comes in MDF wood or walnut, while the frame consists of solid oak, walnut or maple. Both parts are available in black – good news if you're not daring enough to go green, or if you simply dislike the colour. To compensate for an uneven floor, one of the table legs has an adjustable, plastic foot, which, being black, blends in inconspicuously. The only question is, what if it's uneven at the other leg? However, given the desktop's oval shape, I'd rather work on it with a laptop than a chunky monitor. Otherwise, the design loses all of its chicness.
5. Freistell
And now for the monolith of the list: the «Freistell» by German furniture company Tojo. The sides of the coated MDF wooden worktop can bend 90 degrees and become a supporting element. If you set it up diagonally with the supporting element facing the wall, the desk will protrude further into the room. On the other hand, it'll allow two people to work at it. That's down to there being no crossbar in the way – and at 160 centimetres, the desk is particularly wide. Not only do you have a clear spot for an office chair with armrests, but there's room for more than one monitor. «Freistell» is available in black and anthracite – and if you don't have much space, there's also a smaller version. There's also the option of adding matching storage components, such as shelving or drawer units.
6. Finn
«Finn» is a design by Danish brand Dutchbone – and it's really something. It's adorned with a green, velvet panel which protects your privacy – and looks good doing it. The green lends the otherwise dark-looking ash a splash of colour. Like the panel, «Finn» is organically shaped and reminiscent of a kidney table. While this 20s look certainly has pizazz, it wouldn't match every interior. The desk doesn't provide enough room for large monitors, but it's perfect for writing and for giving your room a glow-up.
7. Nalu
«Nalu» might be a slim, modern desk, but it's light-coloured Mindi wood is treated to look older and more natural. Two handwoven rattan compartments make for a beautiful detail, serving as both decor and as a storage area for your nick-nacks. Books and stationery can go on the small shelf above the compartments, which frees up space on the desktop. You'll certainly need it, given that «Nalu» is a paltry 30.5 metres deep. With this in mind, the desk can also masquerade as a console table in small rooms.
8. Mason
Mason's second shelf provides space for a monitor or other office equipment, which keeps the work surface clear. The kicker is, at just 100 centimetres wide, the table doesn't give you much legroom. Most desks start at 110 centimetres. That said, its compactness could be a boon if you live in a small apartment. One thing's for certain: the easy-to-clean melamine coating fends off finger prints and scratches.
9. Flow
Designed by Nadia Soares of the French-Portugese manufacturer Temahome, «Flow» gives you free rein over the organisation of your desk. When it comes to the desktop, anyway. There's room for at least one monitor. Underneath, however, the legs take up more room than most other table legs do. They're each composed of a rather space-hungry wire frame. On the other hand, their transparency gives them a light look, while the elegant pattern sets «Flow» apart from standard desks with four legs. The design blurs the distinction between work and leisure areas of your home. And if you find the wood to be too rustic, you can go for the lacquered oak version in concrete-grey.
10. Barbier
Last but not least, the «Barbier» by Dutch brand Zuiver is a convincing piece. It's able to hide its true nature as a desk and pass itself off as a console table. That's down to the wooden cover which houses a pull-out table top. When the work day's done and dusted, you can simply hide the work surface away and concentrate on more fun stuff. It's so slinky and shapely, it'd be inconspicuous in any room. The only issue with the slimness of the design is that it's not the greatest work companion if you need an extra monitor. As a result, it's been dubbed a laptop table. «Barbier Black» is available in black oak, naturally finished ash or solid walnut.
Poll
What kind of furniture should I introduce you to next?
Sofas
Shoe racks
Wardrobes
The competition has ended.
*PS I regularly showcase 10 pieces of furniture which have been particularly well designed. Follow my author profile so you never miss another «Form Follows Function» article.
Header image: Zuiver.
---



«There are only two ways to live your life. One is as though nothing is a miracle. The other is as though everything is a miracle. I believe in the latter.»
– Albert Einstein
---
---
---
These articles might also interest you
Skeleton Loader

Skeleton Loader

Skeleton Loader

Skeleton Loader

Skeleton Loader

Skeleton Loader