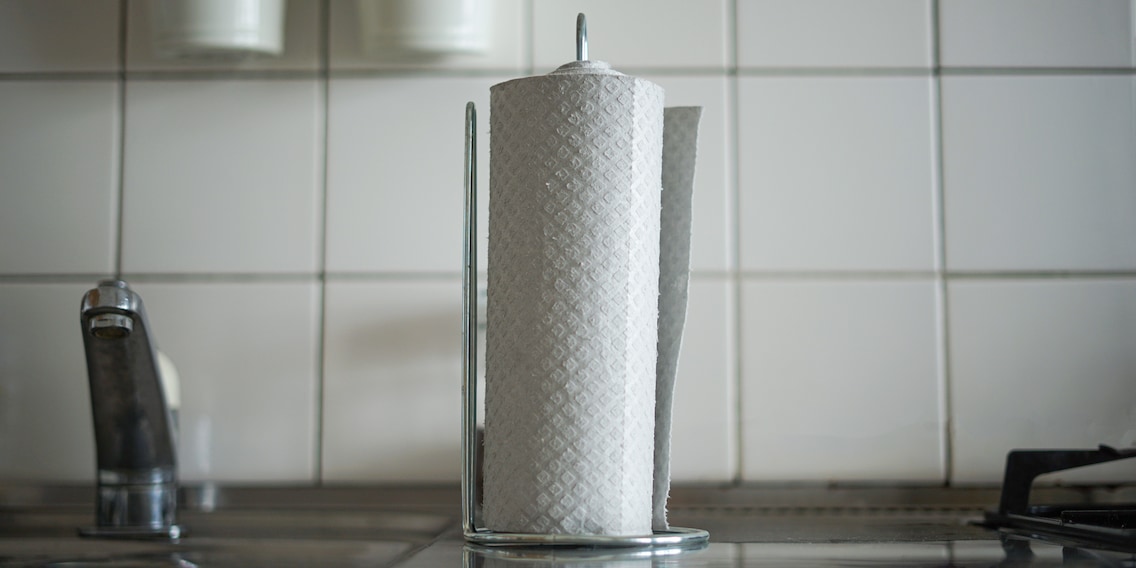 Sustainable kitchen towels: not quite ready to roll

I've stepped into a product trap. Chinchilla's reusable paper towels have been sitting in my kitchen for a month now. Sadly, they've failed to prove themselves. In fact, all that's left of the roll are individual sheets.
The Swiss Federal Council has called on people to save energy. They're saying it'll be a hard winter, meaning we all have to live more sustainably. Seeing as I don't have the capital for a self-sufficient, single-family house complete with solar panels and an electric car, I'm starting small – true to the motto «every little helps». It's why I'm always trying to swap everyday items for more sustainable alternatives.
With this in mind, sheets of kitchen roll that get binned after a single use have been a thorn in my side for a while now. Not that I want to forego kitchen towels entirely. In fact, I think using the same kitchen cloth for spillages on the worktops and the floor is gross. Having a second kitchen cloth isn't an option either, because the people coming in and out of my kitchen would mix them up – as would I. Yuck!
So, there has to be another solution. As a set of reusable paper towels, the Chinchilla kitchen roll promises to be exactly that.
Is sustainable kitchen roll worthwhile?
The sustainable roll fits perfectly on my standard kitchen roll holder. According to the manufacturer, the twelve washable kitchen towels are a substitute for up to 2,700 paper towels.
An everyday roll of kitchen towels usually contains 50 sheets, meaning the grey roll now in my kitchen should provide the equivalent of 54 standard kitchen rolls. I typically go through a regular kitchen roll in about a month and a half. That means 54 rolls would last me the best part of 7 years. At CHF 3.60 for a pack of four that makes CHF 48.60 for 54 rolls (not including inflation costs). Once the initial cost of the Chinchilla roll (CHF 19.10) is deducted, I'm left with a saving of CHF 29.50 over the roughly seven-year period. That's if it lasts, anyway.
Tear resistant and absorbent
Chinchilla says the tear-off wipes are manufactured in Germany. They're vegan and made of cellulose wood fibre. Barely settled into its new home in my kitchen, the roll immediately got the chance to prove itself at a small party I was throwing for friends. It wasn't long before the first glass of wine tipped over, fortunately not on the carpet.
Compared to conventional paper towels, Chinchilla kitchen roll absorbs more liquid during cleaning. What's more, I was able to wash the wipe and use it again. However, there was a clearly noticeable scent of white wine wafting through my kitchen as it was drying.
While I was using them, I also noticed that the texture of the wipes makes them not just more absorbent than regular kitchen towels, but much more resistant to tearing. It's only when I'm grabbing a new sheet that I have to make sure I'm pulling at the perforated area, and not simply ripping into the middle of the wipe.
It takes about a month before I rip off the final sheet – it's likely the roll would've lasted longer if I hadn't thrown a party.
Not every sheet can be reused
With the roll now finished, it's time to give the sheets a wash. They survive the 60-degree wash specified by the manufacturer and come out looking almost as clean as new. However, they're not quite as soft and pliable after they've been air dried.
After washing, however, I'm left with twelve individual wipes. Sure, it was clear this is what would happen once I started tearing off the individual sheets. Even so, the reusable roll isn't what I'd imagined it to be. For instance, I thought it might've had a snap fastener allowing the individual wipes to be joined back together again. In this respect, it's not the roll that's reusable, it's just the individual wipes.
With my kitchen roll holder now out of use, I'm faced with the same problem once again. I could've just bought twenty single cloths. Two packs of Miobrill all-purpose spongy cloths, for example, would have cost me only 6.80 francs.
In spite of this, I'm not going to buy any more standard kitchen roll. Instead, I'll stash the grey wipes individually at the top of a drawer so that I can grab them as quickly as I would a standard paper towel. Hopefully nobody – myself included – mixes them up with the actual kitchen cloth. I'll also continue my search for a truly reusable kitchen roll.
---


Testing devices and gadgets is my thing. Some experiments lead to interesting insights, others to demolished phones. I'm hooked on series and can't imagine life without Netflix. In summer, you'll find me soaking up the sun by the lake or at a music festival.
---
---
---
These articles might also interest you
Skeleton Loader

Skeleton Loader

Skeleton Loader

Skeleton Loader

Skeleton Loader

Skeleton Loader