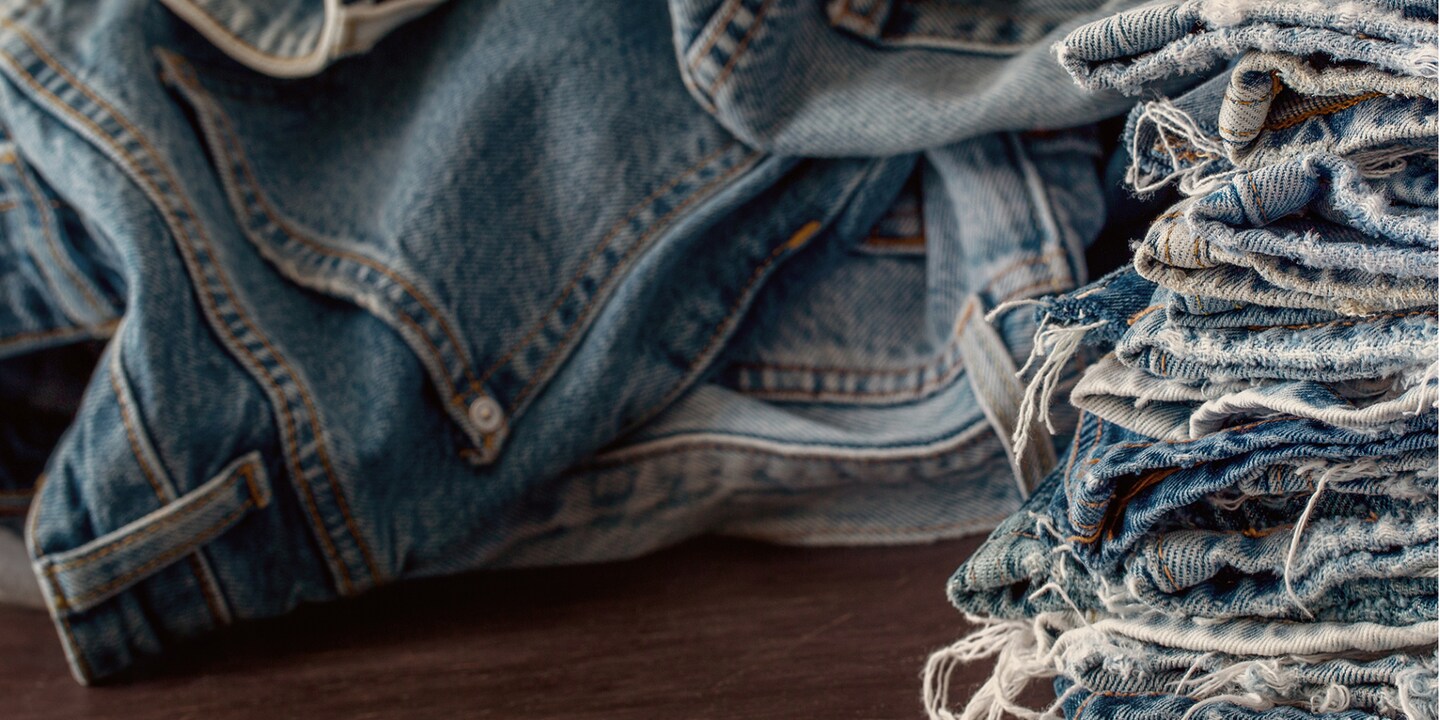 Sustainability pledge in the denim industry

As well as being one of the most popular types of clothing, jeans are also one of the most harmful. The textile industry wants to use alternative production methods to improve denim's image.
Denim has the worst ecological footprint of all garments. The use of chemicals in cotton farming and jeans production alone has a sustained negative impact on the environment. Add to that the large quantities of water involved – you need around 8,000 litres (article in German) to make a single pair of trousers. To put that in perspective, it takes about 2,500 litres to make a cotton shirt.
Yip, the fashion industry is thirsty. But not just for water – also for ways to make denim more sustainable. Given that more than 1.8 billion (article in German) pairs of jeans are sold each year, fashion labels and designers are working flat out to uncover environmentally friendly alternatives and materials.
Is there such a thing as guilt-free consumption?
The advantages of organic jeans don't stop at the fact they're made from organic cotton. They're also produced in a fair and sustainable way that benefits the people involved, in terms of wages and working conditions. Organic cotton comes from chemically untreated seeds. To help keep the plants as pest-resistant as possible, they're grown in mixed crops. This also removes the need for pesticides. Instead, farmers rely on natural methods, such as manure from plants or humus.
Sustainable denim is about more than just the type of cotton. It also means no harmful substances are used in later production stages, such as bleaching, dyeing and finishing. What specifically is wrong with traditional denim making? One negative example that will hopefully soon be a thing of the past is the technique of finishing trousers with sandblasting. This gives regular jeans a stonewashed look so they seem second-hand or threadbare. The fading process involves firing sand onto trousers at high pressure. The problem is, this fine dust contains quartz that's harmful to the health of employees, who work without masks and in places with no proper ventilation.
So, how can you make sure the jeans you've got your eye on are, in fact, sustainable? The best way is to check for certification labels or ask the manufacturer. Green labels are transparent about the production process. However, Greenpeace (article in German) recommends erring on the side of caution with organic quality labels created by fashion chains, as these can often be examples of greenwashing. By contrast, Greenpeace endorses the International Association of Natural Textile Industry seal (IVN Best), «Made in Green» by Oeko-Tex and the Global Organic Textile Standard (GOTS).
The latter also certifies the organic cotton used by Swedish brand Nudie Jeans. The jeans company produces its whole range under fair conditions and places strong emphasis on transparent production processes. Denim is such a timeless piece that there's no reason to get rid of it ahead of time. To help your jeans last as long as possible, Nudie Jeans provide free repairs in designated repair shops. But as these aren't in every country yet, where required, the company also sends out free repair kits along with a sewing instructions booklet. If you still feel like you've had enough of your Nudie Jeans or they just don't fit anymore, you can hand them in at one of its stores. Then they'll either be professionally recycled or resold as second-hand.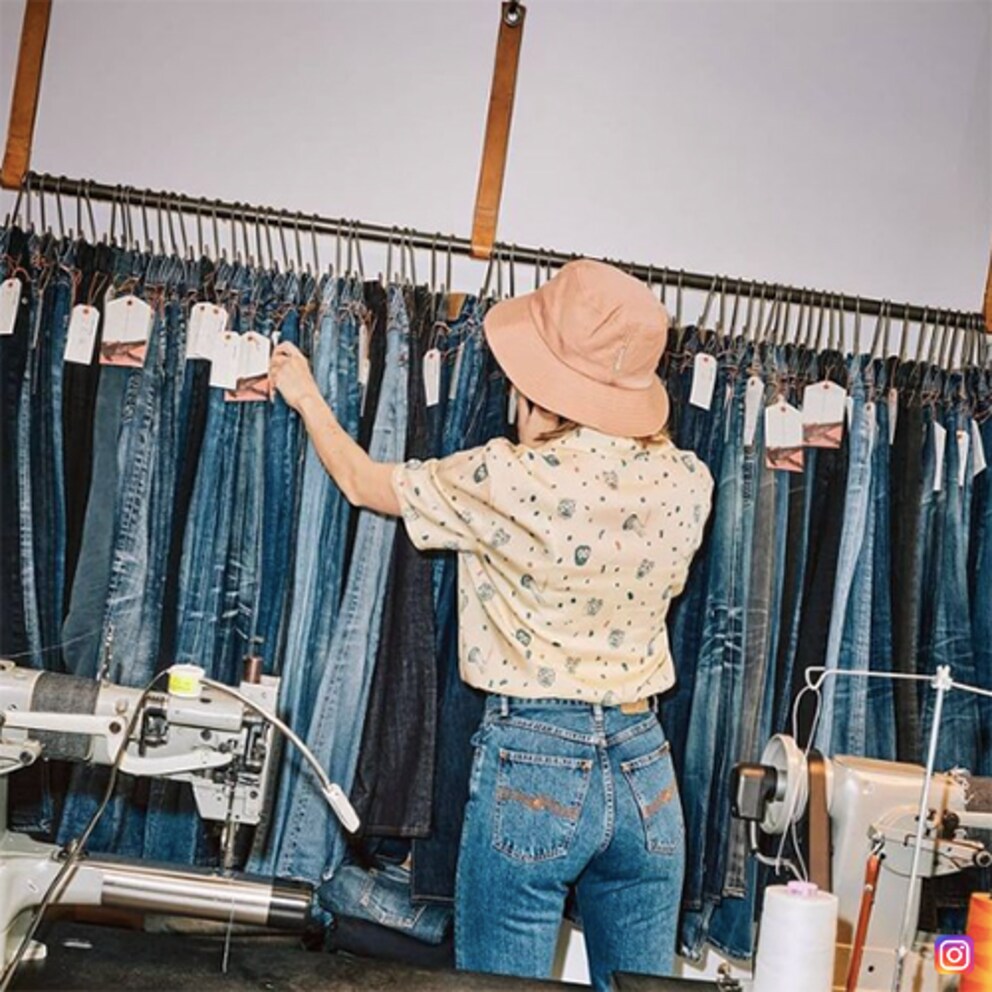 The Dutch slow fashion brand Mud Jeans even goes a step further by offering trousers for hire. The concept is called «Lease a Jeans», and for about 11 francs per month, you can rent out your own pair of jeans. After 12 months, you decide if you want to keep them or exchange them for another pair of rental trousers for about 10 francs per month. Approximately 25% of all Mud Jeans orders are rentals. The scheme is both a clever and sustainable move on the part of the Dutch brand. By renting out its trousers, the company retains ownership of its jeans. And ensures that instead of trousers ending up incinerated, the garments go on to lead another life as a different kind of denim. It's such a well-thought out recycling concept. At the moment, Mud Jeans and Saxion University in the Netherlands are puzzling over ways to create a pair of jeans from 100% recycled cotton. At the moment, they're maxing out at 40% per design.
Recycling vs. upcycling
Alongside the concepts mentioned above, upcycling is also popular with denim. Old garments that should have ended up in landfill are given an upcycling upgrade so they can go back to being old, new favourite pieces again. For instance, a pair of jeans can be given a new lease of life as a bag. The fashion industry has also cottoned on to this trend. And an increasing number of designers are jumping on the bandwagon by releasing upcycled collections.
One such example is Geneva-born designer Mikael Vilchez, who expertly deconstructs garments and focusses on recycling materials. He uses his fashion label «Forbidden Denimeries» to highlight the shortcomings in denim production. Jeans have become a symbol of irresponsible fashion consumption. That's why the 30-year-old designer decided to turn the problem into the solution with the help of his garments and accessories made of sustainable denim. The cotton he uses is produced sustainably in Brazil under fair conditions and irrigated by rainwater.
At the beginning of March, Mikael showcased his current collection, which focusses on sustainable denim creations. It includes a blazer made of alpaca wool and upcycled denim as well as a jeans suit, which is adorned with portraits of powerful women of the likes of Marlene Dietrich. But there wasn't any colour printing in sight. Instead, the designer used laser engraving, which meant the motifs were fired onto the textile with a laser beam. Rather than just using sustainable denim, Mikael also relies on repurposing recycled denim and remnants. Alongside his timeless collections – this designer does not pander to trends – he also designs new creations made from former favourite pieces upon request. Mikael births something new by deconstructing old denim pieces, thereby creating a garment people will want to wear again.
Innovations to dye for
To give jeans their customary shade of blue, cotton thread is coloured with synthetic indigo powder. Indigo is one of the so-called vat dyes(article in German). These can't be attached to textile fibres; rather they adhere to the fibre surface in the form of an insoluble pigment. As these dye molecules don't dissolve in water, they need to be «linked» or made water-soluble. Here's where chemicals such as hydrosulphide and heavy metals like lead or mercury come in. And that's how indigo becomes a liquid dye that can be used on cotton thread. But the crux of the matter is, in this process, chemicals get on your jeans and then on to your skin. Not only that, vast amounts of contaminated water are released into nature.
Switzerland shows its green side when it comes to upcycling and sustainable dyeing methods. The company Sedo Engineering, which is based in Valais, relies on electricity rather than chemicals to dye its jeans. This technology is reported to emit 90% less CO2 and reduce water consumption by 30%. «Smart Leuco-Indigo is produced in an electrochemical process using only indigo pigment, caustic soda, water and electricity. In a fully automated process, the clean Leuco-Indigo is produced, metered and fed directly to the dye bath,» explains Werner Volkaert, Managing Director of Sedo Engineering SA.
Tinctorium offers an alternative dyeing process. The American biotech company SOSV dyes denim using genetically modified bacteria and microorganisms. This mimics the way the Japanese indigo plant «polygonum tinctorium» creates its colour and retains it. In the process, naturally occurring bacteria is cultivated and programmed in such a way that it separates from an indigo precursor. This is mixed with an enzyme, which results in a fluid indigo solution. In turn, the solution is applied to cotton threads directly and doesn't have to be liquefied with poisonous substances beforehand.
Dyeing cotton threads is one thing. But finishing a pair of jeans that is meant to have a used or ripped look means adding more chemicals into the mix. That's why there's also clamouring for sustainable approaches for these kind of finishing techniques. One firm stepping up with a solution is American technology innovator Clean Kore, which joined forces with Swiss chemical company Archroma at the end of February 2021. Their common goal is making dyeing processes more sustainable going forward. Clean Kore has developed a patented technique for lightening denim cotton. In future, chemicals like potassium permanganate, chlorine or sandblasting shouldn't be needed to create light or white wear marks of the kind you see in used-look denim. It's yet to be seen how that will work. But what Clean Kore is clear about is its intention to save up to 15 litres of water per garment thanks to this innovation. At first, that doesn't sound like much, but it actually represents the daily water consumption of five people.
As a consumer, you've got the upper hand. After all, it's your purchasing behaviour that determines the size of your ecological footprint – now and in the future. By shopping more consciously, wearing your jeans to death and not getting rid of them before you need to, you can do your own little, but important, bit for the planet.
---

When I'm not exploring the depths of the sea as an open water diver, I enjoy plunging into the world of fashion. On the streets of Paris, Milan and New York is where I keep my eyes peeled for the latest trends. And I'll show you how to take them from the catwalk to your everyday life.
---
---
These articles might also interest you
Skeleton Loader

Skeleton Loader

Skeleton Loader

Skeleton Loader

Skeleton Loader

Skeleton Loader