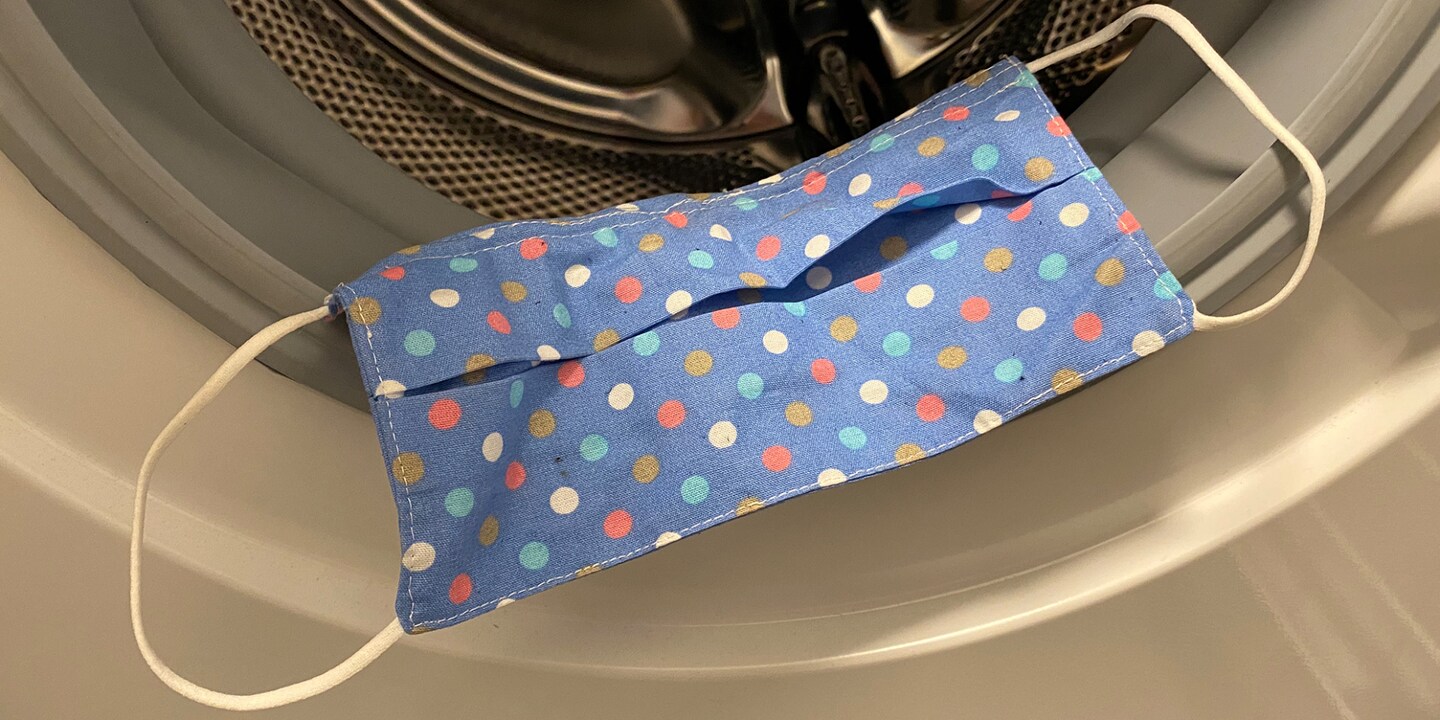 Safety through suds: how to wash your cloth mask

When using a reusable cloth mask, correct cleaning is key. Here are some do's and don'ts to get your face protection looking and feeling brand new.
When used correctly, cloth masks not only protect others, but can also be reused – unlike typical face and surgical masks. To guarantee protection with repeated wear, you should stick to certain ground rules and clean your mask regularly. For starters: the more often you wear it, the more often you should clean it.
Mask-washing 101
Many cloth masks can be thrown in the washing machine. Some, however, demand the gentleness of a hand-wash. So, be sure to always check the label. If you wash your mask incorrectly, it may lose its protective properties and fall apart. As soon as you notice any tearing or holes, it's time for that mask to hit the road (and don't it come back no more). If you don't have access to a washing machine, hand-washing will do just fine. Your mask will also come out squeaky clean, smelling fresh and ready for action.
If possible, stick to liquid laundry detergents. This will prevent any powder residue from remaining in the mask, which could irritate your airways or skin. If a certain laundry detergent doesn't work for you, or if you're washing a child's mask, laundry detergents for sensitive skin are your best bet.
If you're planning on washing your mask in a load with other clothing – which you can do confidently – I recommend using a laundry net. It will protect your mask from being damaged by zippers or buttons and keeps the ear loops from getting tangled and tearing. If you want to save on work and electricity, use a larger laundry net to wash several masks in one cycle.
Air-drying your mask is the way to go. Though you can also throw it in the dryer, it will show signs of wear and tear more quickly. Instead of hanging your mask up, lay it flat on your drying rack to get it dry faster. Importantly, be sure to only wear the mask once it's completely dry. The moister it is, the less it protects you.
Laundry detergent and soap do the virus in
Wash the mask before wearing it for the first time. This will remove any potentially skin-irritating chemical residue remaining from the manufacturing process. It's important that you keep washing it regularly afterwards, too. Regularly means, at a minimum, at the end of each day you wear it. But if the mask is heavily soiled or moist, wash it around noon at the latest, and use a different mask for the remainder of the day.
If your mask has a prolypolene or paper filter, don't forget to remove it or throw it out. Some filters can also be reused or may need to be correctly disposed of. Always check the tag or the manufacturer's instructions for information on how to properly care for the mask. If you don't follow these instructions, it may lose its protective properties and become totally useless – without your noticing it.
Avoid using hot water unless it's really necessary or the manufacturer says to do so. This also holds true if washing the mask by hand. Science has shown that soap or a detergent alone will do the new coronavirus in. In fact, it doesn't matter at all how hot or cold the water you use is. But hot water may shrink and wear out the mask faster, especially if it's made of synthetic fibres.
Instead of washing it, you could also give your mask a 30-minute (or longer) spa treatment in the oven at 70 degrees. This will kill off the virus, but won't wash out any of the filth and may, in fact, further bake it in. Small particles can also get trapped in the fabric, and the mask will come out looking anything but freshly cleaned. Many masks can't even withstand such high temperatures anyway. For the reasons mentioned above, it's not a great idea to clean your mask in the microwave either. Masks made of synthetic fibres or containing metal parts are not suited to this method.
Is that all?
It sounds silly, but it's true: how you take off your mask also matters. Wash and disinfect your hands before touching the mask. Be careful to only touch the elastics or fabric ties that you use to fasten the mask behind your ears or around your head. As soon as you put it in the laundry net, washing machine or sink, wash and disinfect your hands again.
You can use a hair dryer in addition to a drying rack. Just switch it to the cool setting and your mask will be ready-to-wear in no time. You can also put it in the dryer if it has a heatless function.
When hand washing, it's important to submerge the mask completely. Use soap or laundry detergent, fill the sink with water, submerge the mask and swish it back and forth. Then, let the water drain and rinse the mask thoroughly in running water to clear out any remaining grime and soap residue. Finally, wring out the mask and lay it flat on the drying rack.
Some masks can get wrinkly and look shrivelled after being washed. To avoid this, pull the mask back into shape before drying, or (steam) iron it. If you do decide to iron it, avoid touching any synthetic or elastic material with the iron – it could damage the mask.
---

When I'm not stuffing my face with sweets, you'll catch me running around in the gym hall. I'm a passionate floorball player and coach. On rainy days, I tinker with my homebuilt PCs, robots or other gadgets. Music is always my trusted companion. I also enjoy tackling hilly terrain on my road bike and criss-crossing the country on my cross-country skis.
---
---
---
These articles might also interest you
Skeleton Loader

Skeleton Loader

Skeleton Loader

Skeleton Loader

Skeleton Loader

Skeleton Loader