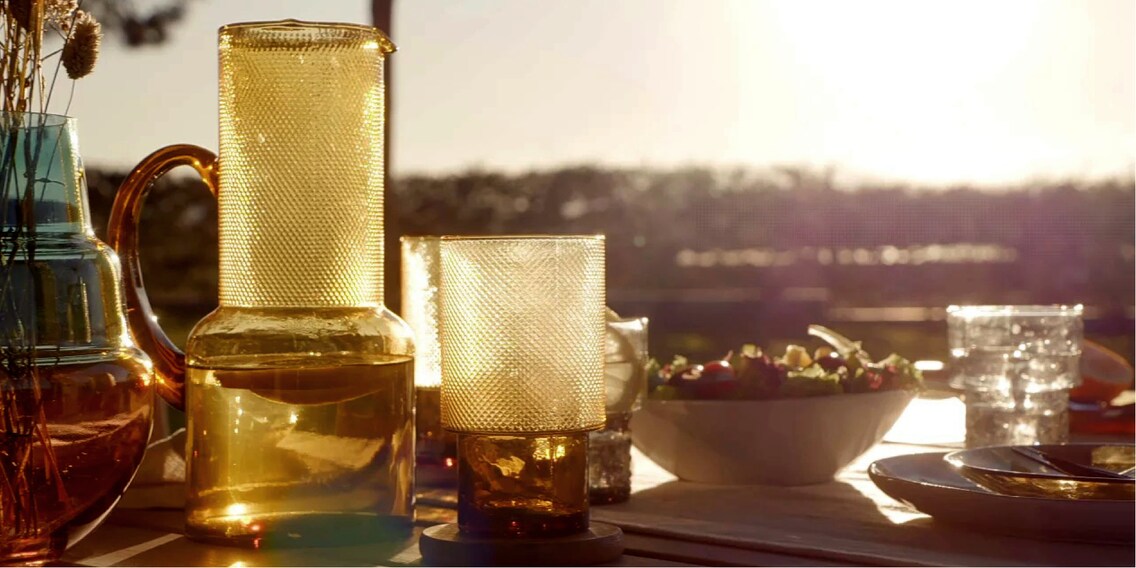 Pia's Picks: dreamy rooms

I like many things, but my apartment can't fit them all. So, many products end up in my watch list instead of my shopping cart. This week it's ombré designs.
I'm sensitive to bright colours. I feel nauseous seeing stark contrasts. That's why I like colour gradients. They're soft and already hint at what colour will follow. A light colour blends into the dark and vice versa. Just like a sunset, whose soft colour gradient isn't disrupted by anything. There's something dreamy about it. The effect is perfect for dreamy people such as me who can't decide on a single colour.
In design circles the colour gradients are referred to as «ombré», which comes from the French word for shadow. While ombré hairstyles were at their height in the 2000s, gradients went unnoticed in interior design. Until today, because I'm putting them in the limelight. Gradients come in many forms, be it on walls and floors or on textiles that look dip-dyed. An easy way to bring some colour gradients into your home is to arrange things in rainbow order. I took inspiration from the Blazed Wax candle designers, who sorted their collection by colour on the shelf. By doing so, the candles turn into an eye-catcher and everything looks tidier. Arrange flowers into a colourful fan. You can find inspiration among the bouquets by the label Bluemlisex. Even the simplest flowers stand out like this. And it's also worth a trip to the nearest stationery store: the blogger of Beautiful Mess hung up pictures in a colour gradient on her wall. If that's too much effort for you, opt for ombré-coloured products instead.
Gradient dinnerware, such as Kave Home's, looks instantly chic – regardless of shape or material. If it's made of glass, you'll see a play of light and shadow on the table.
The pendant lamp «Ombre» by Frandsen plays with transparency and light. At the same time, the gradient camouflages the light bulb and accentuates the simple shape of the overall lamp.
Play peek-a-boo with the shower curtain «Ombre» by Juniqe. Its colour palette blends from white to pink. The Oyoy tea towel, on the other hand, has darker tones. It blends from pink to rust red. It adds a pop of colour to any kitchen wall. However, ombré is most impressive in larger format. To avoid time-consuming painting, there are wallpapers or wall tattoos by brands like Trenddeko. With shades ranging from pink to yellow, they beautify any empty space and can be hung everywhere.
Thanks to the many shades, ombré designs quickly adapt to any room, no matter how you use them. Maybe that's why there's no big hype about them in interior design. Colour gradients are subtle patterns. Thanks to that, they don't have an expiration date.
«Pia's Picks» is a regular feature. Tune in for more items from my watch list that you can use to spruce up your home. Follow me as an author to stay up to date.
---



«There are only two ways to live your life. One is as though nothing is a miracle. The other is as though everything is a miracle. I believe in the latter.»
– Albert Einstein
---
---
These articles might also interest you
Skeleton Loader

Skeleton Loader

Skeleton Loader

Skeleton Loader

Skeleton Loader

Skeleton Loader