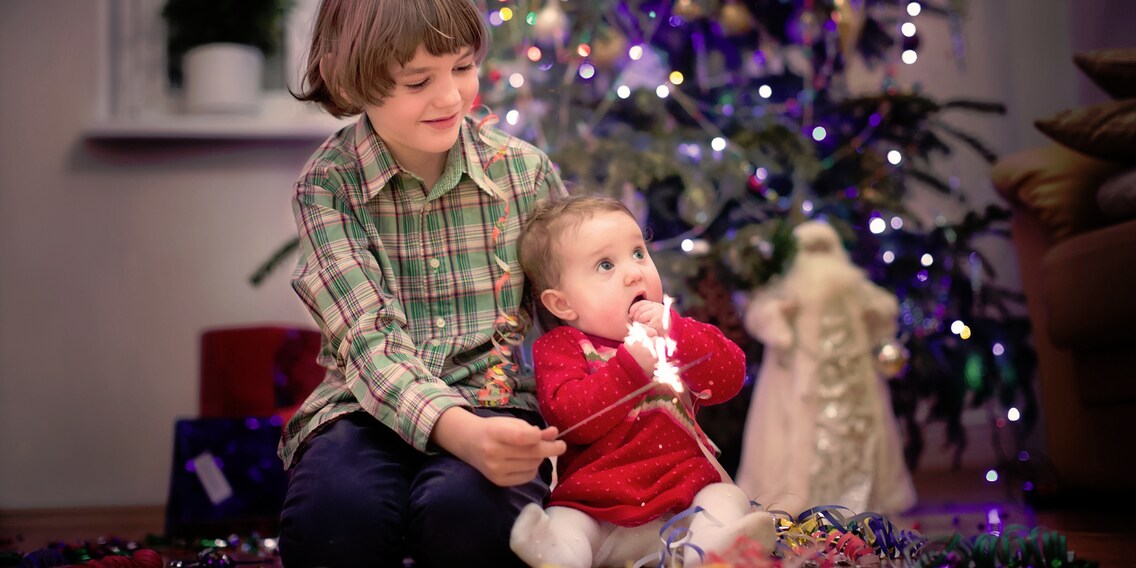 Our age-based recommendations: the perfect present for every child

We've compiled a list of perfect Christmas presents for children of any age – shining eyes and happy smiles are guaranteed. You'll find one of our bestsellers in each age category. Each of the below links will give you a practical overview of all the products.
Depending on age and interest, children have learned different skills and enjoy different topics and toys. Toys should be tailored to the child's developmental stage so that they aren't too easy or too challenging. Otherwise, the little ones will quickly become bored or frustrated. To make your decision easier, we have divided our toys into age categories, and each category includes a description of the average development of the child. When making your decision, also think about the age and skill level that the child needs to fully enjoy the relevant toy. It's best to ask the parents about what their child would like to avoid duplicate gifts and ensure that the toy in question is definitely suited to his or her developmental stage. And, most importantly, to make sure that your gift is definitely the favourite!
From birth
In the first few months of life, babies sleep a lot and gradually discover the world around them. Between birth and six months of age, little ones make huge strides in their development. They start to follow movements, gradually develop motor skills and begin to differentiate between bold colours. The baby moves more and more with each month that passes, mainly exploring objects with his or her mouth. Babies are interested in everything, but not everything is suitable for them.
Check out our recommendations for babies from birth
From six months
At this age, babies become increasingly livelier and more mobile. They crawl, clamber and begin to learn about the world. This means that they are interested in what other people do with different objects and start to imitate actions. The little ones are already playing with building blocks and trying to create shapes with them. They also like rattles and grasping toys because they are easy to hold and make a noise, which youngsters find especially exciting.
Check out our recommendations for babies from six months
From one year
The little one is starting to babble cheerfully and may even have said his or her first words. Fine motor skills are also being rapidly developed. He or she will be edging along furniture and attempting his or her first steps. Actions become more targeted and movements more controlled and coordinated. Babies may even be hurling themselves around at this stage. The little ones will now be actively exploring things with their hands, not just their mouths. They will also be making targeted movements, such as stacking small cups inside larger ones.
Check out our recommendations for children from one year
From two years
At this age, children can walk well and love climbing on play equipment. They are moving more and more, learning new skills all the time and playing more actively, although they still tend to play next to each other rather than with each other. Children of this age love to help with household chores and mimic activities. Words develop from babbling and two-year-olds start to name things and describe objects. Sorting and stacking toys are extremely popular because the little ones are recognising their first shapes. They are also developing fine motor skills at around two years of age, so they can thread large beads and grip a crayon, for example.
Check out our recommendations for children from two years
From four years
Building, making and helping around the house are still favourite activities. Over time, children don't only build things from their imagination, but recognisable houses, cars and aeroplanes without a template. Their fine motor skills are improving all the time and their movements are becoming more stable and varied. Children share toys with each other and enjoy role-play games and board games. They generally follow the rules, but they also like to make up their own. It's an inquisitive age, where children know basic colours, learn numbers and can distinguish between different shapes.
Check out our recommendations for children from four years
From six years
At the age of six, children's persistence increases considerably. They keep going with a task until they have completed it. They play well with others, share their toys and immerse themselves and others in their imagination. They are mostly able to follow rules in everyday life, in groups and during games. Most children already deal with frustration well, and contradictions and failures are increasingly accepted. They play with complex building sets and assemble large vehicles or houses based on instructions or their own creativity. Drawings become ever more detailed and they are able to depict shapes accurately and extensively.
Check out our recommendations for children from six years
From eight years
Eight-year-olds have settled into school now and think a lot more rationally. Their movements are more temporally and spatially coordinated, so hand-eye coordination is constantly improving. Children can use different tools (such as saws and hammers) correctly and carry out different manual tasks. School aged children play a range of different sports and like to compare themselves to other children in their age bracket. They also work better and better in teams and help each other. Children of this age often know exactly what they want. If, however, they haven't written a long wishlist, read on for our suggestions.
Check out our recommendations for children from eight years
From ten years
Children from ten years of age continue to develop their personalities with their own suggestions and needs. Soft toys and dolls must often give way to cooler products. Their chosen toys and the themes behind them depend more and more on their own interests, so Lego's different virtual worlds are extremely popular. Nevertheless, we have compiled more suggestions for you.
Check out our recommendations for children from ten years
From 13 years
At 13 years of age, youngsters are at secondary school, with very defined hobbies and specific interests. Complex games and demanding building sets are popular, depending on interests. If the teenager in your life hasn't specified a gift, you might find the perfect present in our suggestions.
Check out our recommendations for youngsters from 13 years
From 16 years
It's surprising how many toys are suitable for children and adults (Teenagers and adults alike love techy gadgets. Cult Lego figures, Carrera tracks and board games create real joy across generations. Our present ideas are sure to bring out your inner child.
Check out our recommendations for youngsters from 16 years
Read more about Christmas presents for children
Skeleton Loader

Skeleton Loader

Skeleton Loader

Skeleton Loader
---



I love the strategy game "The Settlers of Catan", the Ravensburger puzzle "Colourful Cupcakes" and the pink fluffy unicorn that sits on my desk (a birthday present from my workmates). Not only do I have a weakness for toys, I also get excited about good food and comedy TV shows. 
---
These articles might also interest you
Skeleton Loader

Skeleton Loader

Skeleton Loader

Skeleton Loader

Skeleton Loader

Skeleton Loader