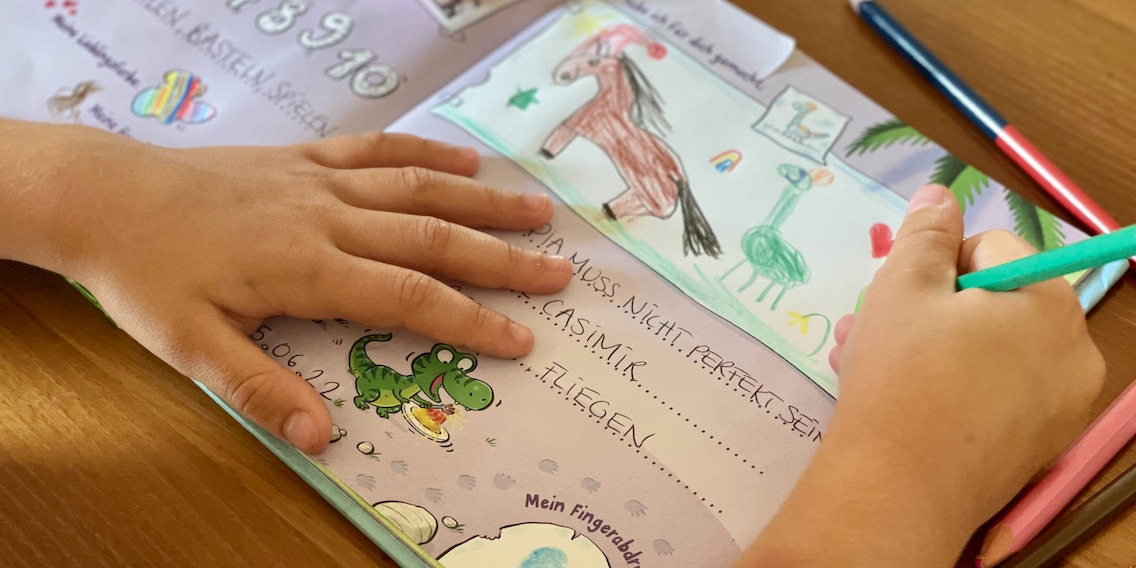 Of unicorns and Riz Casimir: fun, frustration and friendship journals
Reminiscing on childhood memories of friendship journals is great. Filling them out, on the other hand, took some patience. A rant on those kitschy, beautiful wanted poster albums that fluttered into our houses from kindergarten onwards.
Me: «You forgot the E.»
Her: «Huh?»
Me: «The E!»
Her: «What?»
Me: «The Eee! Look, here: The E is missing from your name.»
Her: (Throws hands over her head.) «Oh no!»
Me: «Just squeeze the letter into that little space.»
Her: (Close to tears) «Mommy, it won't fit in there. I can't do it! No way!»
My six-year-old daughter is on the verge of a nervous breakdown. I rescue the book before she throws it in the corner and declare our lunch break project of «filling out friendship journals» over early. «Oooomm! Remain calm,» I think to myself. All while squinting at the two albums still waiting to be filled in on the dresser.
In the evening, my child's nervous system is intact again. Well then: next attempt.
My daughter is now effortlessly patching the missing E into her name, and I'm inwardly pleading for our project to really pick up steam now. For the remaining lines I take over the pen, after all: except for a few names she can't write, she's still in kindergarten. I read out, she answers, I take notes. Our division of labour. In theory.
Here's what it actually looks like: I read, she answers, I check, she answers, I check again, she revises, I note, she revises again, I cross out and correct.
Welcome to Facebook Kids
«Whatever happened to friendship books?», asked my colleague Carolin in an article last year. The truth is: they never disappeared. They've spread like lice through classrooms, seeking out their latest hosts in kindergartens. There, they're simply called «Kindergarten Friends Journals» now.
«It's your own fault, you don't have to go along with everything!», you may be thinking now. With all due respect: no later than two weeks after your offspring starts kindergarten, the first album will also land on your family dining table. Whether you like it or not. And bang! The Friendship Journal game has already begun. From then on, they'll travel weekly via school bag to your home, and soon you'll be joining the dark side («I want one too!»).
Welcome to Facebook Kids. You won't get out of this one anytime soon.
Running to the photo booth once more
Close your eyes and get through it, is my motto. So for at least the thousandth time, I sit next to my daughter and write «pink and purple» in a friendship journal («What's your favourite colour?»), squeeze «dancing, singing, gymnastics, crafts, playing outside»onto the much too short line («What are your hobbies?»), and wish the other person «unicorns and good health» for the future. I try to calm my daughter down when I once again automatically write down «Maccaroni in Meat Sauce» instead of «Riz Casimir» («What's your favourite food?», changing monthly) and cursingly search for the tape measure that should be in the kitchen drawer («How tall are you?»).
For a crowning conclusion, the still Herculean task: a photo! Do we still have a printed one? If so, where? A problem that class photographers have long since taken care of: they sell (for a lot of money) small self-adhesive portrait pictures, which run out again after only three months anyway. Requiring us to run to the overpriced photo booth again.
Cheesy feelings from cheesy books
Spoilsport! Grumbler! Crybaby! You may want to call me these and other epithets around now. That's okay, I'll take it. But don't get me wrong: I don't think friendship books suck per se.
On the contrary, the albums in their ultra-kitschy layouts make me reminisce about the wonders of childhood. I love to poke fun at school friends and their likes from back in the day. Or laughing out loud at my own career choices («actress», «singer», «dancer»), my completely misspelled favourite songs («Olltat she wont» by Ace of Base). And no, I don't have an old corpse of a book lying at home just because I forgot to return it when I was a kid. Then why I can quote my own profile? At that time I unselfishly claimed a double page in my friendship journal for myself.
So I can definitely see the necessity and beauty of filled albums. Only, the road there is rocky. Terribly rocky.
New rules for old customs
Abolishing or refusing to play the game is not an option. But we should at least discuss the introduction of a minimum age. Using our foresight – otherwise the things will already be distributed to the crib in a few years.
I advocate the following game rules: friendship books may not make the rounds until school age. That way the children can read, express themselves and write. Whenever they're able to scribble «Photo comes later» in their own handwriting on the image placeholder. With at most still some parental assistance. The only exception: multiple-choice selection books.
Otherwise, there's a strict ban on friendship journals until elementary school. Kindergarten class pictures will have to do until then as a reminder. During six years of primary school, there are still plenty of wanted posters to fill in – from the same people as on your Kindergarten picture, keep in mind.
«Where did our book end up?»
My daughter interrupts my reverie and brings me back down to earth. «Ready?» she asks after proudly drawing a unicorn, a dinosaur, and a rainbow that's a little too small in her book and signing it with her fingerprint. I wish, I think, pointing my finger at the dresser, «Two more.»
She makes big eyes and starts to rant. I quickly infer: both daughter and mother have neither desire nor air, so I declare the project officially over for today. And I'm already bracing myself for the next WhatsApp message from a compassionate mother: «I've lost track. Is Emma's friend journal still with you?» – «Oh yeah, totally forgot. Soooorry! Coming soon, photo later then.»
---
Mom of Anna and Elsa, aperitif expert, group fitness fanatic, aspiring dancer and gossip lover. Often a multitasker and a person who wants it all, sometimes a chocolate chef and queen of the couch.
---
---
These articles might also interest you
Skeleton Loader

Skeleton Loader

Skeleton Loader

Skeleton Loader

Skeleton Loader

Skeleton Loader