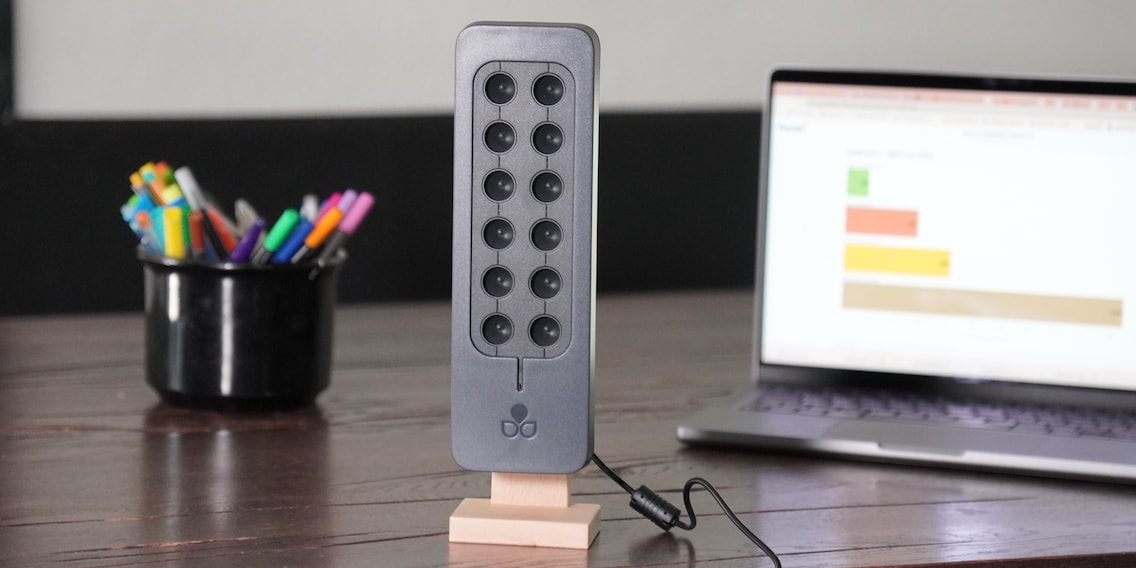 No noise about nothing: this air purifier is totally silent

Translation:
machine translated
Not a whiff, not a sound - and yet the air is purified? I test whether the Teqoya Desk can keep its promises and even lock myself in the bathroom to do so.
Is the plug really on the power? It is. But I don't hear any sound. And I see no sign that the Teqoya Desk is really running. Amazingly, the air purifier really keeps its first promise. It is absolutely silent.
So I put it in the home office right next to the computer without a second thought. Because unlike other air purifiers, I don't hear any constant hissing, no noise, nothing at all. There is also no noticeable draught. In addition, the device is compactly built - and looks like a high-quality loudspeaker.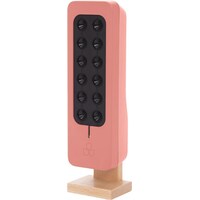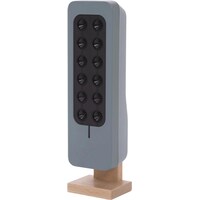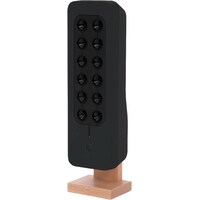 Does it run? The hand test proves it
. But somehow it's also a bit strange. Not even a little light shows whether the Teqoya Desk is running. Is it really running? I read up on it in the instruction manual. In fact, there are certainly methods I can use to test it.
I hold my palm very close to the round openings on the front. And sure enough, here I feel a gentle breeze. The headphone test is even more effective: When I hold the cable close to it, I hear a crackling sound, a kind of atmospheric disturbance.
Ions sound like humbug, but they're not
. But an air purifier completely without a filter and without a fan - can that even work? If you think humbug, you're wrong. So-called ionisers have been used for decades in the food industry, for example, to destroy bacteria and fungal pathogens and to slow down the ripening process - for example during transport by sea.
At the end of the day, it's not even possible.
Ein Ionisator erzeugt mit Hochspannung Ionen – direkt aus dem Sauerstoff. Die Ionen sind vereinfacht gesagt negativ elektrisch geladene Moleküle. Sie binden sich mit Partikeln in der Luft, die dann aneinander oder auch an Oberflächen haften. So können sie besser gefiltert oder gereinigt werden.
Teqoya is well aware that many people are sceptical about this technology. That is why the manufacturer has also made available on its website the total of 28 tests and certifications for customers, which prove the effectiveness in detail.
99.9 per cent of pollutant particles are said to be effectively removed from the air. Among others, pollen, mould, viruses, bacteria, but also odour or smoke. Nanoparticles up to PM0.1 and fine dust are also bound by the ions.
Don't forget to clean despite this
. What you need to know, however: Unlike other cleaners with ions, the Teqoya Desk does not suck anything in, it just distributes the ions in high concentration up to three or four metres into the room. The particle clusters then stick to surfaces or the floor. It is therefore important that you clean the room regularly. A small amount can also be deposited around the nozzles of the air purifier, which you should therefore dust every few weeks.
Compactly built and very economical
. But what is the advantage of such an ionic air purifier anyway? It can be built very compactly. The Teqoya Desk is less than 30 centimetres high, eight centimetres wide and weighs 460 grams. This size is sufficient for a room up to 35 square metres.
On top of that, as already mentioned, the cleaner is totally silent and needs almost no maintenance. The power consumption is also minimal. We measured a constant 1.6 watts of power, which would be just over 14 kWh per year in 24-hour operation. At a current average electricity price of 27 centimes per kilowatt hour, that's less than four francs. By comparison, conventional air purifiers with fans draw 5 to 50 watts of power - depending on size and purification stage.
Criticism about ozone: also with the Tegoya Desk?
However, there is also criticism of ionic air purifiers: some models produce ozone as a by-product - quite intentionally - which neutralises odours, among other things. Lung doctors warn against using such purifiers in living rooms because the aerosols can produce fine dust. Fortunately, the tested Teqoya Desk does not use ozone at all - scientific proof is also available for download. .
Feeling better with ions? A matter of faith
Then there is the promise that you will feel better surrounded by negatively charged ions. This is inferred because many negative ions are measured in nature in places like at waterfalls, in the mountains, at the sea or in the forest. Scientifically, however, a connection with well-being cannot really be deduced.
I remain somewhat incredulous that the totally silent air purifier really works. At home with Minergie ventilation, the effect isn't really noticeable in everyday life, so I'm setting up a small trial.
Included in the bathroom for the measurement
. I turn off the ventilation and lock myself in the smallest room in the flat - namely the bathroom. A measuring device is used to record the level of fine dust in the air, and the display shows the values PM10 and PM2.5. These are particles smaller than 10 and smaller than 2.5 thousandths of a millimetre.
The value in the flat at the time of the test is 2 to 4 µg/m3. By way of comparison, Switzerland has an annual average limit value of 10 µg/m3. Increasing the level of particulate matter in the air is quite simple. I light a candle.
After only twenty minutes, the soot becomes noticeable. I now see constant levels of 60 to 70 µg/m3. When I turn off the candle, the particle density stays high for a long time. I still measure 40 µg/m3 after three hours - still massively above the limit.
Now we ventilate and restart. This time the Teqoya Desk is running as I light the candle. At first the meter goes crazy, as usual, because the match and the lighting process releases a lot of soot. After an hour, the value settles at just under 25 µg/m3. After that, it slowly drops. After a little over two hours, I am back at 2 µg/m3 and the soot is gone.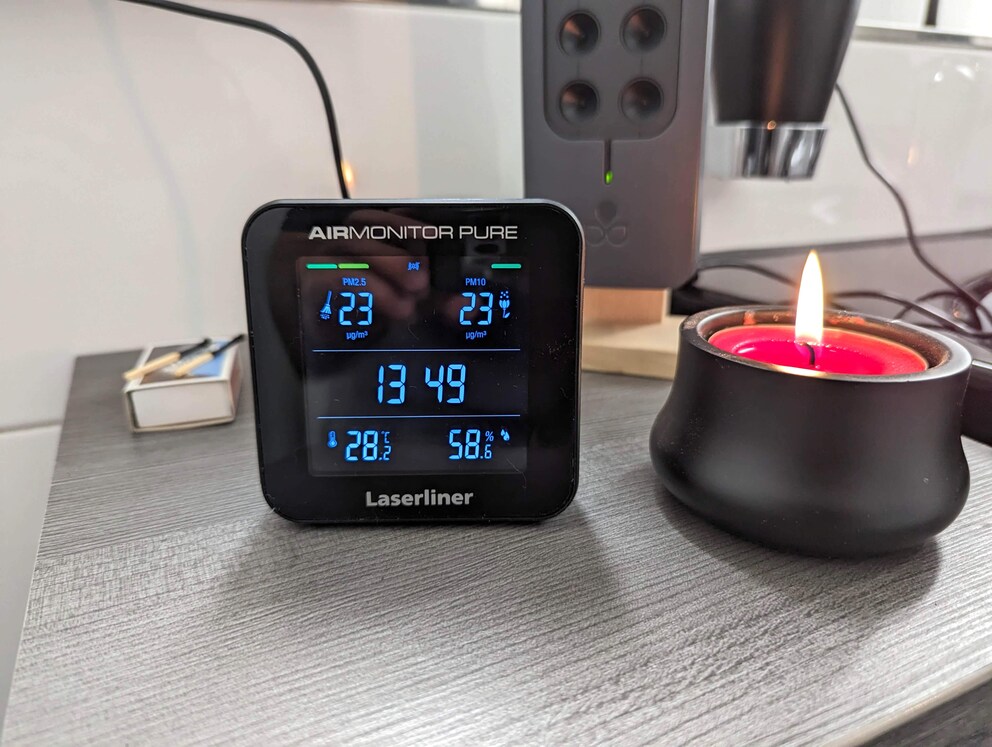 Conclusion: Promise kept
The silent air purifier works flawlessly and is economical in power consumption. The air is not cleaned very quickly, but continuously. And it does so completely silently. The Teqoya Desk shows its strengths where this feature is crucial. That is, if you place the air purifier in your bedroom or home office, where any additional noise can be disturbing. Then the rather high price is also justified.
By the way, the supplier Teqoya offers other sizes of air purifiers with the same technology. The Road for cars and the Home for rooms up to 50 square metres in size.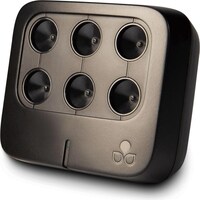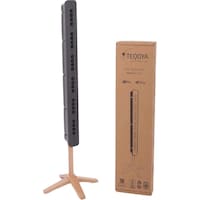 Do you also use an air purifier? Write me your experiences and tips in the comments.
Titelfoto: Lorenz Keller
---



Gadgets are my passion - whether you need them for the home office, for the household, for sport and pleasure or for the smart home. Or, of course, for the big hobby next to the family, namely fishing.
---
---
---
---