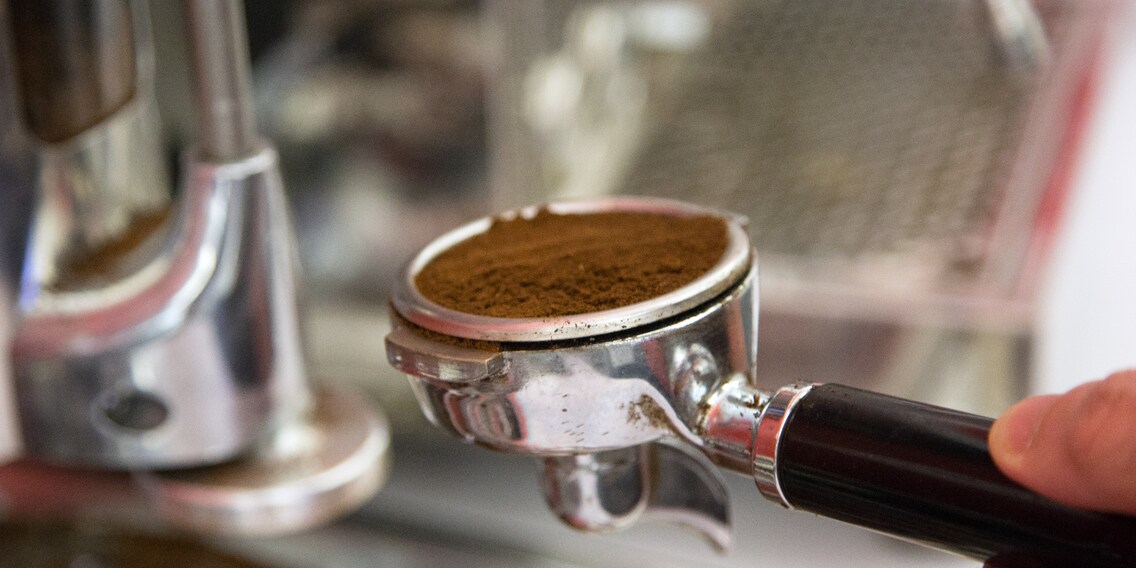 My quest for the perfect cup of office coffee

Our office is absolutely riddled with coffee makers. You'd be forgiven for thinking that this kind of environment is a paradise for coffee lovers. It's not. Find out how I still managed to find my (almost) perfect cup of coffee.
In my opinion, it's OK to be demanding if you drink several cups of coffee a day. Some of you might disagree. Take my boss for example. His brew of choice is instant "coffee". I deliberately put those quotes there because that brown mud Nestlé calls coffee really has nothing to do with the real thing. It's still a bit of a mystery to me why he doesn't just use one of the six coffee makers in our office. I'd probably find even more if I have a thorough look. From capsule systems to automatic coffee makers to a genuine Italian espresso machine – we've got them all. The latter is a larger, more expensive version of my own little Bezzerra that works wonders in my kitchen. As our office espresso machine is a new addition to our brewing fleet, my quest for the best coffee started with a few other devices.
The workhorse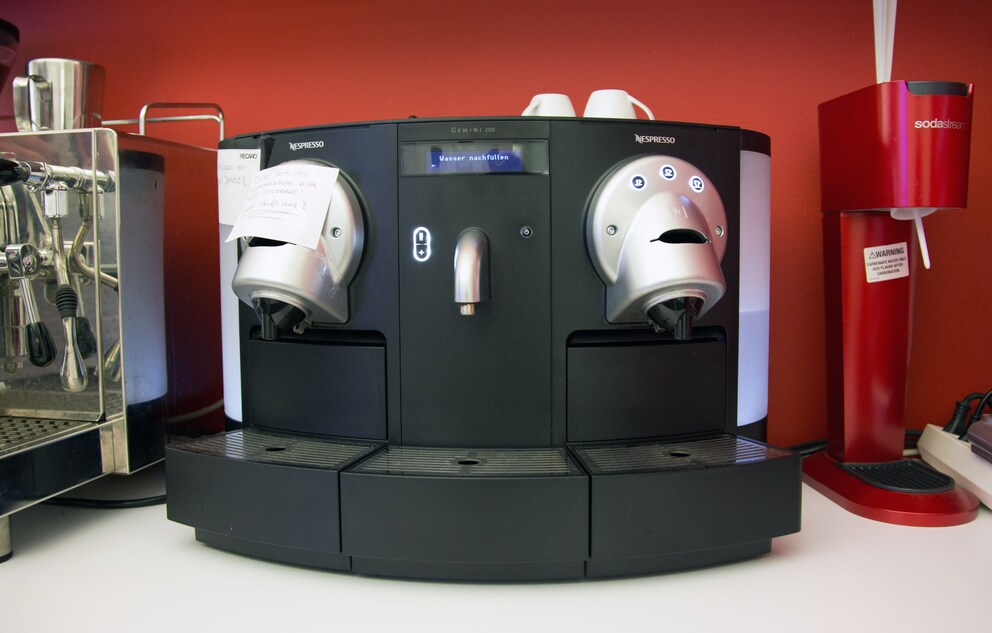 Currently running at one horsepower.
I started my journey with the large Nespresso Gemini 200 – a machine I had already go to know at my previous workplace. It's a typical machine intended for largish offices with a high coffee consumption. The Gemini uses disc-like capsules. Frankly, I didn't particularly enjoy any of the coffee types available and, in view of the fact that I'm not a big Nespresso fan, I went on to test the next device.
The usual suspects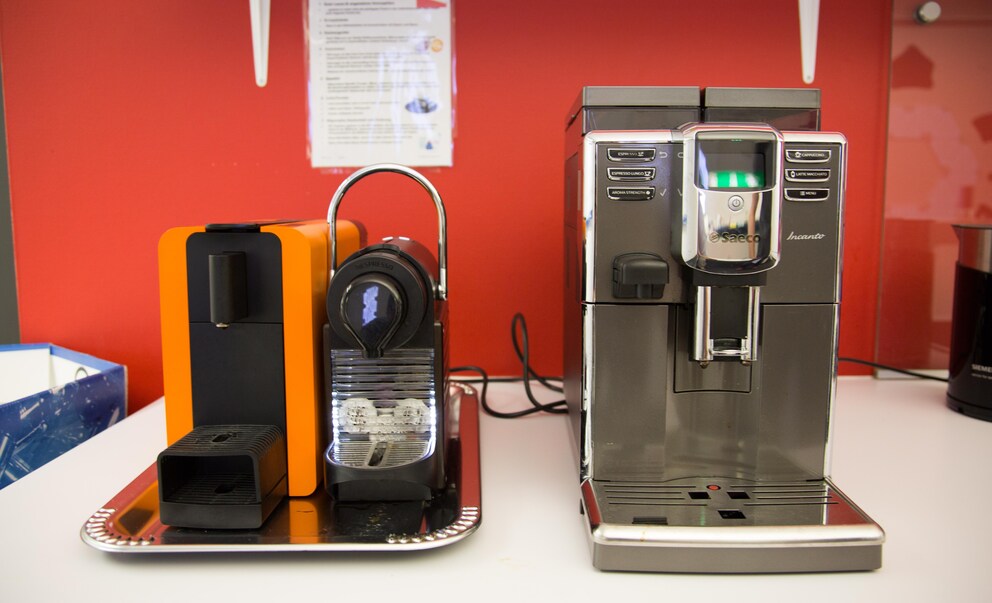 Look at us. We want to please everybody.
Clooney's darling
Moving on from the discs, I took a closer look at the classic Nespresso capsules. The Gemini changed nothing about my attitude towards Nespresso or rather Nestlé – and above all about those hoity-toity coffee boutiques of theirs. Therefore, I went for the imitation capsules sold by Migros and Coop. To be honest, Switzerland's favourite coffee making system never completely convinced me. Nonetheless, I slurped my way through the whole range but was never fully satisfied. Then I gave up. There were even two different machines at my disposal: the Turmix Pixie and the Zenius. But I couldn't really taste the difference.
Another caspule system
The Delizio Compact One also uses capsules. Migros' very own system comes with a wide range of coffee types to choose from. This coffee maker kept me going for a few months before I went off it. I'll admit, I'm really spoilt because of the fantastic brew I get at home.
The fully automatic
Coffee tastes best when it's made from fresh beans. So I gave Saeco's automatic coffee maker another chance and used the same beans I use at home. The beans are from the roastery Rösterei Küng in Winterthur – my coffee supplier of choice. Despite these fantastically fragant coffee beans, the result was the kind of watery slop you'd expect to be served in an American diner. To make things worse, I was only able to use a handful of beans at a time. This is because our office has no rules when it comes to drinking coffee, so everyone just chucks in their handful of beans whenever they need their caffeine fix. That's waaay too impractical for my taste and the result is not worth the hassle, either.
The Ferrari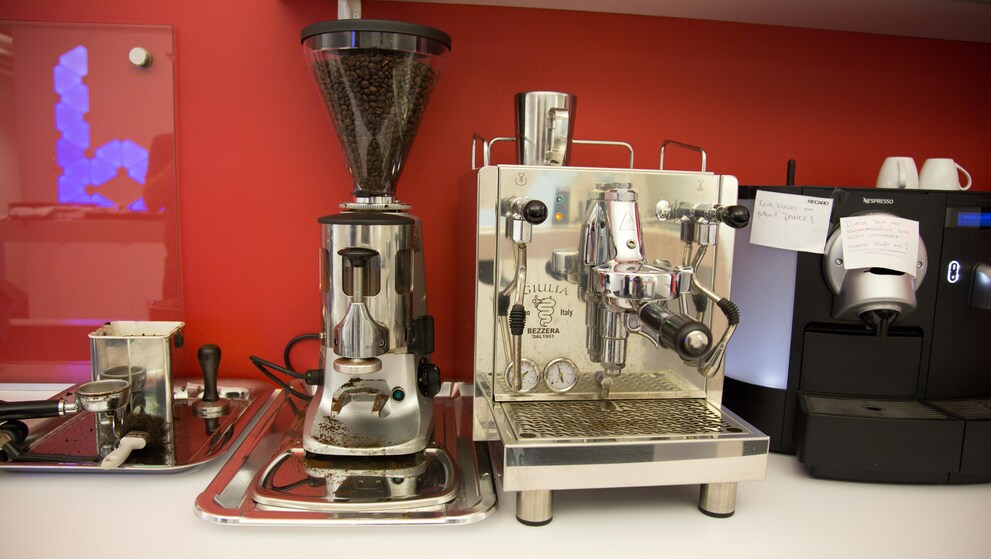 This gigantic restaurant-style grinder was introduced after our bean consumption rose to over six kilos a month.
Thankfully, I'm not the only coffee nut around here. One fine day, there was a fully-grown dual boiler Bezerra machine in our kitchen – and a small electric grinder. The miserable days of mediocre coffee were numbered. At least that's what I thought. It turned out that the grinder had seen better days and scattered more powder around the kitchen than into the designated portafilter. Furthermore, I wasn't too keen on the beans our Creative Director and coffee machine owner Flurin had provided. I was even less impressed with the fine grinding degree. The amount that trickles into my Mumins mug at the speed of a glacier amounts to about one teaspoon. Don't get me wrong – I love strong coffee but this was not really my thing. Meanwhile, the grinder has been replaced by a gigantic grinder of the type you'd find in a restaurant of café. But the result still isn't to my taste.
As I had no intention of imposing my beans or my grinding degree on others, I needed to find a different solution. On the one hand, I was this close to my goal and giving up was not an option. On the other hand, I didn't want to return to the caspule mafia or the watery slop.
Do it yourself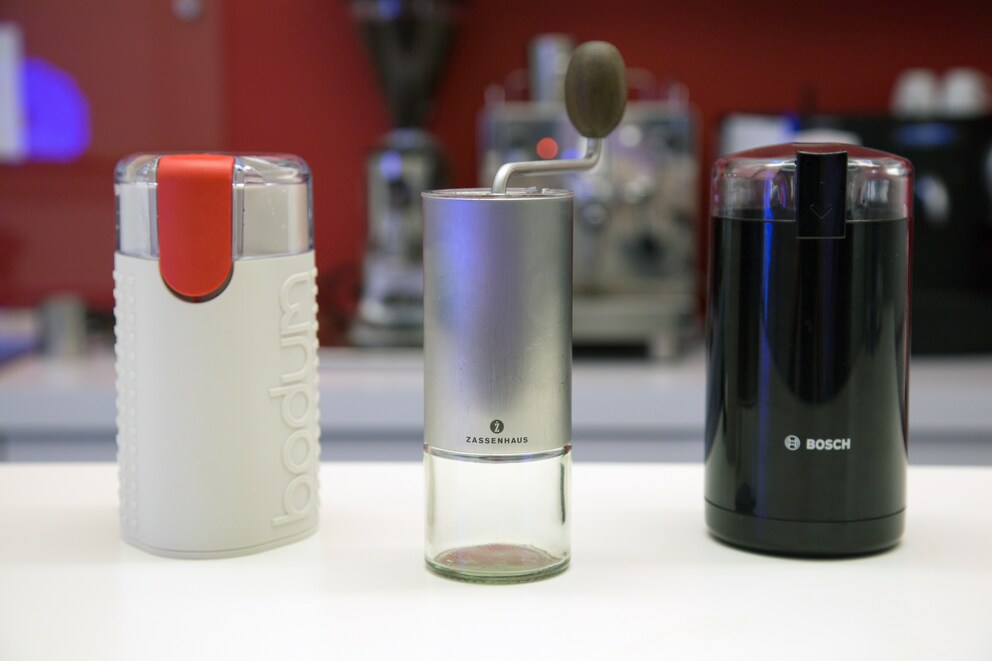 We make our own powder.
Fellow coffee afficionado and workmate Ramon accompanied me on my next experiment: Grinding by hand. We organized three different models with which we ground our very own little ego blends.
Contestant no. 1: Bosch
The Bosch MKM6003 is a small electric grinder the size of an overweight beer can. It has a transparent lid that allows you to watch the beans being pulverized. The lid's fastener-cum-power-button feels a bit flimsy. The grinder is based on a simple principle: Connect to power, put in a handful of beans and grind away. The longer you grind, the finer the coffee – in theory, that is. The problem is that the motor starts to overheat after about one minute and the aroma is lost if the beans are ground at a high temperature. In addition, the powder doesn't get finer when you grind it for longer. The only thing that does happen is that the result is similar to mediocre filter coffee. The powder is a little coarse and a bit tricky to transfer into the portafilter. But this deficiency is negligible as the machine was designed with filter coffee makers in mind.
On the bright side, the whole process is fast, straightforward and the noise levels are OK.
Contestant no. 2: Bodum
Bodum Bistro works exactly like the Bosch grinder. It's also almost the same size. Only the design is different and more elegant – typical for Bodum. What's more, it's nice and sturdy and the button to start the grinding has a nice size. Unfortunately, the result is just as average as Bosch's. Likewise, the grinding degree is not fine enough to get a decent coffee out of an espresso machine. You can tell that this grinder was not made for espresso machines.
Other than that, this is an irreproachable device with low noise levels.
Contestant no. 3: Zassenhaus
For our last attempt, we revert to manual grinding. The Zassenhaus is a little smaller than a beer can but also has an elegant aluminium shell. The beans are poured into the opening at the top – not as easy as it sounds because of the three struts. The see-through plastic lid is a bit wobbly and somewhat dampens the elegant overall look. After their torturous trip through the grinder, the beans ends up as powder in the glass container at the bottom of the grinder. The container is perfect for dosage and storage, should you have ground too many beans.
Compared to Bosch and Bodum, this one requires a little elbow grease. It takes about a minute of grinding to get enough powder for two cups of coffee. You won't need much strength except when it comes to holding the grinder. Our fellow editor Alina's face did get a bit flushed when she tried the grinder and she didn't look too relaxed. In other words, the Zassenhaus just isn't as convenient as an electric grinder. You really have to earn your coffee.
A special feature that sets the Zassenhaus apart from the competition are the adjustable grinding degrees. The underside of the grinder is equipped with a turn-switch that allows you to adjust the grinding degree to your coffee blend. Depending on the beans you're using, you may have to experiment a little until you find the right degree. Meanwhile, Ramon and I are very happy with the result. Although the coffee isn't quite as tasty as the stuff I drink at home, it's significantly better than all the other alternatives. Furthermore, knowing that my 500-franc grinder does a better job than a 100-franc model is also quite reassuring.
The low-down: Manual is best
After countless watery, tasteless and bitter coffees, I'd almost given up hope that I would ever taste a decent coffee at the office; in spite of the selection that was far from small. Capsules, powder, beans, automatic, electric, manual. But my perseverance paid off. My colleague and I are very happy with the hand grinder by Zassenhaus. Even though this grinder does not deliver perfect coffee, the adjustable grinding degree in combination with the fancy Bezzera espresso machine does make for a pretty decent brew. And as we enjoy trying new beans, our quest continues.
You might also like
---


Being the game and gadget geek that I am, working at digitec and Galaxus makes me feel like a kid in a candy shop – but it does take its toll on my wallet. I enjoy tinkering with my PC in Tim Taylor fashion and talking about games on my podcast http://www.onemorelevel.ch. To satisfy my need for speed, I get on my full suspension mountain bike and set out to find some nice trails. My thirst for culture is quenched by deep conversations over a couple of cold ones at the mostly frustrating games of FC Winterthur. 
---
These articles might also interest you
Skeleton Loader

Skeleton Loader

Skeleton Loader

Skeleton Loader

Skeleton Loader

Skeleton Loader