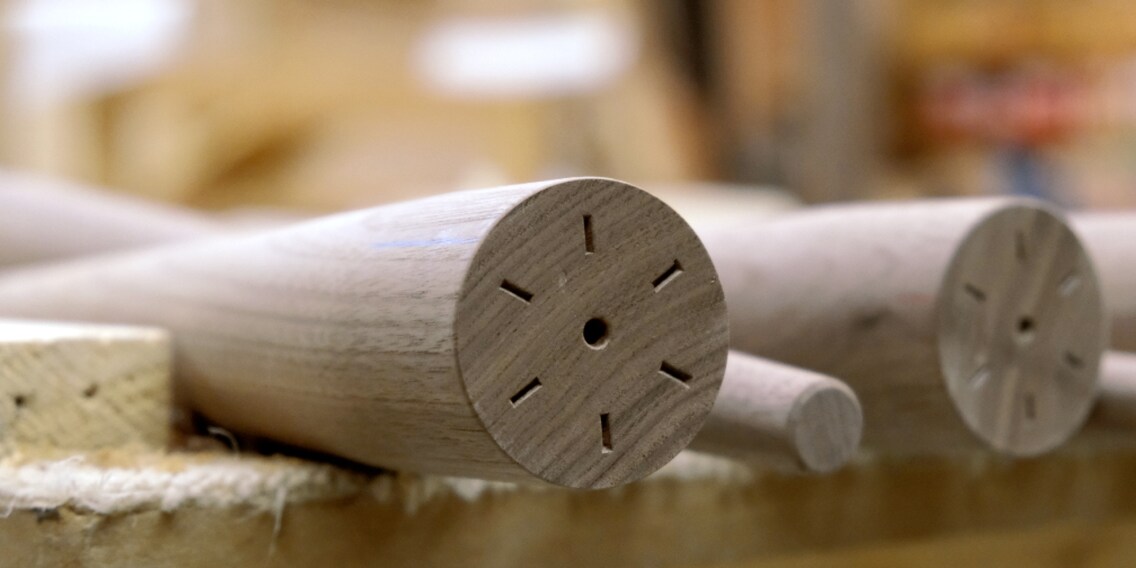 Meet Baptiste Ducommun, founder of Swiss furniture label Klybeck, and builder of all its products

What is it that drives carpenter Baptiste Ducommun? A love of craftsmanship – and complete confidence in his own abilities.
It takes courage for a newly trained carpenter to reject prototype-building and assembly-line work from other furniture brands in favour of immediately starting their own label. Baptiste Ducommun, however, didn't hesitate for a second. Ten years ago, he took his first piece and went into the über-competitive design business for himself, naming his label Klybeck.
In doing so, he demonstrated strength right from the off; the design that remains his best-selling piece to this day required two years of tweaking to get to where it is now. When I visit him in his studio, he tells me why it's okay if some things take longer than expected.
Did you always know you wanted to start your own business right after you were done with your apprenticeship?
Baptiste Ducommun: Yeah, I wanted to launch something of my own. I was young and didn't exactly have anything to lose at that point.
Things seem to have been going well since then. Have you been pushed to your limits at all since founding the company?
Some of the furniture stores selling my products had to close temporarily during the pandemic, which wasn't easy. But like so many others, I found a solution by creating my own online shop.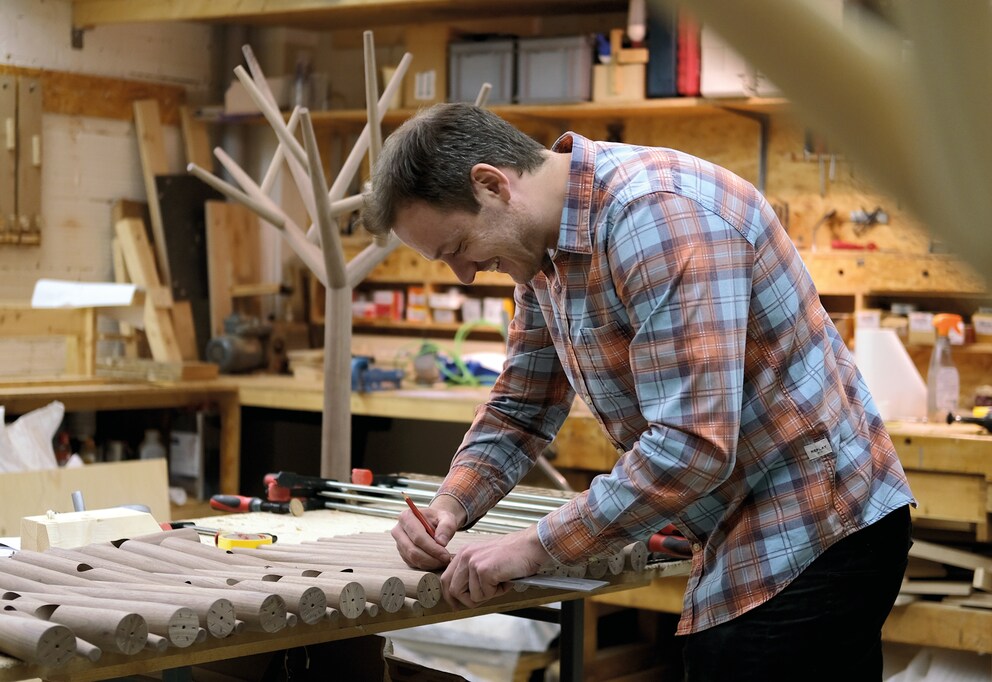 Have you always wanted to get into design?
As I never studied design, I see myself as more of a carpenter. Still, I think it's much more important to have good ideas and to be able to make them a reality in the workshop myself.
What does the name «Klybeck» mean?
It's inspired by the Klybeck district of Basel. Back in the day, I lived in a flatshare on Klybeckstrasse. As I didn't have my own workshop, that was where I finished my first prototype. Although I now live elsewhere, my studio is still in the same neighbourhood.
What was your first prototype?
My tree-inspired clothes rack, named «Y». I came up with the idea for it during my carpentry apprenticeship, but it took me two years to make it look like the version that's sold today.
Why's that?
I could initially only work on it in the evenings or on weekends because I still had to finish my apprenticeship. Not only that, but it also took me several attempts to find the perfect proportions.
What makes today's design stand out?
On the one hand, the branches of the clothes rack are supposed to look natural. On the other hand, there had to be some mathematical logic behind it. The branches of the first prototype were still a bit too thick. Today's design is slimmer than the first and irregular in exactly the right places.
Why did you choose a tree as the basic motif?
I wanted to develop a clothes rack that would stand out from the crowd and look good. I was also fascinated by the idea of building a tree out of a tree; as a symbol of nature. Some customers don't use it as a clothes rack at all, arranging it instead like a sculpture.
The clothes rack was followed by hangers and coat hooks – designs which you also based on tree branches. What's your design process like?
It varies. For instance, I developed my Ivy coat hooks because the clothes rack was too large for a lot of hallways. Otherwise, I go with my gut on a lot of designs, and like sticking to the forest theme. That's how the «Yy» deer came about. Though a modern take on a hunting trophy, it's actually a coat hook.
Is it a coincidence that the lion's share of your designs are for entrance hallways?
Not quite. Hallway furniture is the first thing that catches your eye when you step into an apartment or house. That appealed to me. Plus, hallway pieces are usually rarer than, say, dining tables, which I wouldn't be able to make at the moment with my resources.
Which of the material's properties do you appreciate?
The fact that every tree is different and has a different grain. Because of that, each product turns out unique.
Have you ever wanted to try other materials?
As a carpenter, wood is obviously still my favourite. But I like mixing materials. For example, my deer design plays with colour contrasts, because the head can be covered with different fabrics.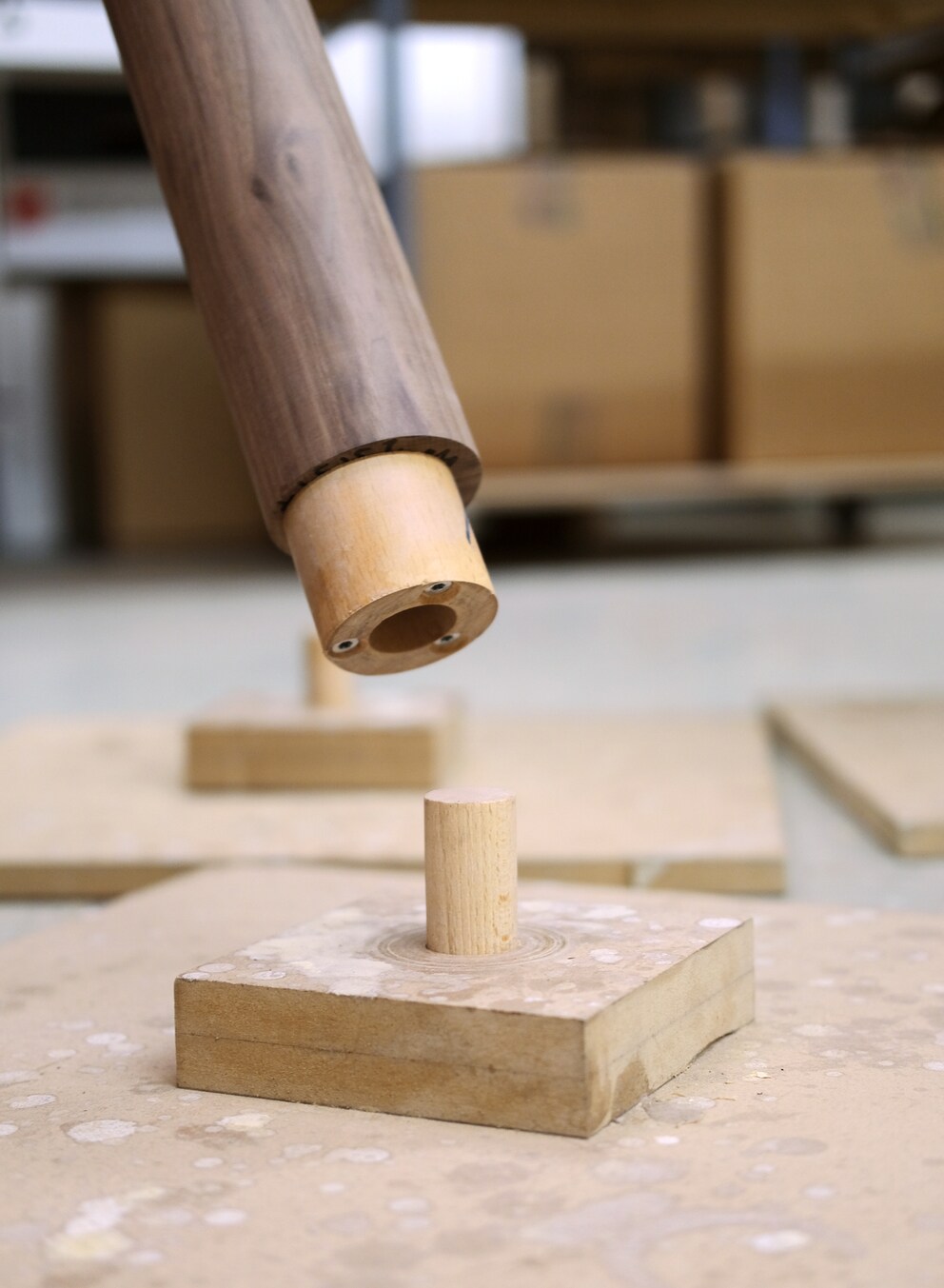 Sometimes, it's hard to come up with something that isn't already on the market. How do you find niches?
Whenever I have an idea, the first thing I do is check the internet to see if there's already something similar out there. If there is, it's not worth continuing. Plus, doing so wouldn't be fair to other designers either. When that happens, I usually wait for inspiration to strike again, and trust that my skills and signature style will set me apart.
You're doing everything on your own at the moment. Do you plan to grow your business at some point?
I already get help in the workshop whenever necessary. In the future, I could also imagine employing a second person on a permanent basis, selling in neighbouring countries and producing more units to meet that demand.
You make an effort to design sustainably. How does that effort manifest itself?
The wood comes from Germany, but I process it in my workshop. I get the metal parts from a partner near Basel, despite the fact that I'd certainly get them cheaper elsewhere.
Do you think it's important for a product to be developed slowly so that it'll retain its appeal for a long time?
Yeah, I think so. Otherwise you run the risk of designing trend furniture pieces that no-one will like a year later. That's why investing more time in a design pays off.
What kind of people are always on the lookout for better design solutions? The people dreaming up new chair or table designs although there are thousands of them out there already? In this series, I'll introduce you to them. Follow me for the next instalment.
Header image: Pia Seidel
---



«There are only two ways to live your life. One is as though nothing is a miracle. The other is as though everything is a miracle. I believe in the latter.»
– Albert Einstein
---
---