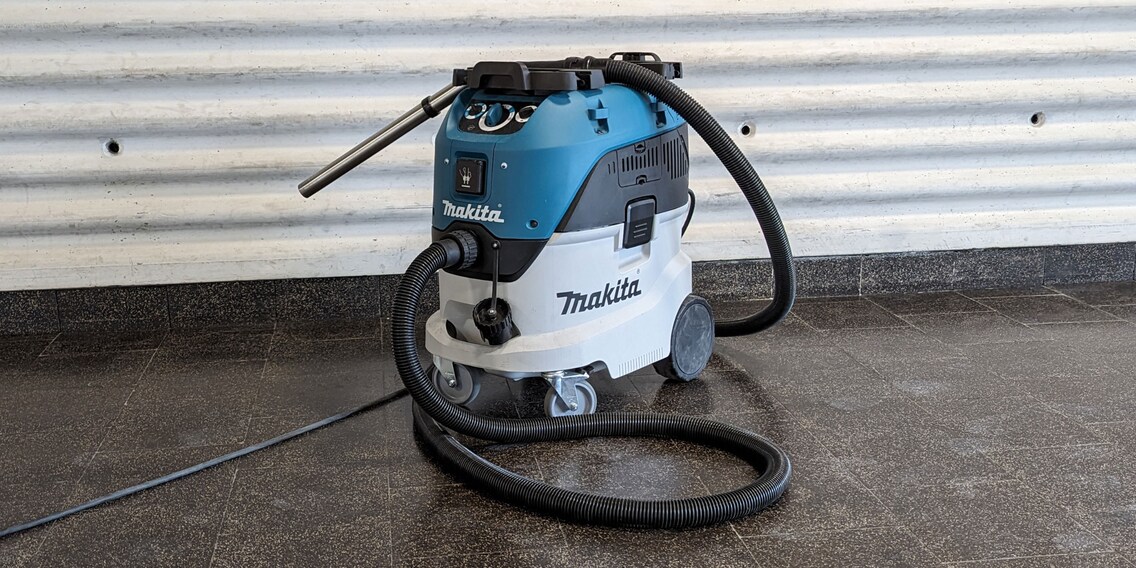 Makita VC4210M: the vacuum cleaner for rougher stuff

This October, ETH students are looking to take part in the world's largest solar car race in Australia. To jet through the outback as efficiently as possible, a streamlined carbon chassis is cut and mounted. One important tool here is the industrial vacuum cleaner from Makita.
Makita's industrial vacuum cleaner is a constant companion as the aCentauri team builds a solar vehicle. After all, planing, sawing, sanding and drilling launches carbon chips in every direction. A perfect space for finding out if the vacuum cleaner's design delivers what it promises.
When we last left off, aCentauri's race car still had corners and edges. The test drive at Dübendorf airfield has been successfully completed, and now it's just a matter of streamlining the car with carbon cladding.
With or without a bag
«The industrial vacuum cleaner is worth its weight in gold,» says Jent Imelman, Structures Lead at aCentauri. «The vacuum cleaner has protection class M, meaning it should be suitable for fine carbon dust». However, only if you also use a bag. Jent had to learn this the hard way: «The vacuum cleaner also works without a bag, and we used it that way initially. I subsequently had to clean up all the dust with paper towels…,» laughs Jent. Now there's a bag attached. Since the beginning of the project, the students have never had to empty it.
Only sucks when it's supposed to
It's immediately obvious that the Makita vacuum cleaner is at home in the workshop. Makita toolboxes can be attached to the device. The rollers are free-standing, and the operation is simple: on/off, one control for the hose diameter and one for the suction power are enough. A special feature is the socket on the vacuum cleaner itself, which can be used to plug in a drill, saw or grinder. «This is particularly useful, because as soon as I put the tool in place, the vacuum cleaner also produces suction,» says Pascal Burkhard from the project team. It seems the purchase was worth it.
What's less ideal is that the cord doesn't automatically retract, as you'd expect from home vacuum cleaners. «It's not so bad, there's a bracket in the back and that's where we roll up the cable by hand,» Burkhard says.
The team is ambivalent about automatic filter cleaning. «We initially thought the thing was broken because it kept stopping every now and then. We then realised that it was the automatic filter cleaning system that was knocking dust out of the filter,» laughs Jent Imelman. «We can live with that. The alternative is a clogged filter.» «Only the knocking noise takes some getting used to,» Pascal Burkhard adds.
Verdict: sophisticated and effective
Makita's vacuum cleaner is extremely effective and filters efficiently when you use a bag. The socket on the cleaner itself is particularly useful. This way, the suction cup only runs when the tool is also in use. Automatic filter cleaning ensures that the filter doesn't become clogged. The knocking and partial switching off takes some getting used to, but is necessary.
Header image: aCentauri
---



When I flew the family nest over 15 years ago, I suddenly had to cook for myself. But it wasn't long until this necessity became a virtue. Today, rattling those pots and pans is a fundamental part of my life. I'm a true foodie and devour everything from junk food to star-awarded cuisine. Literally. I eat way too fast. 
---
---