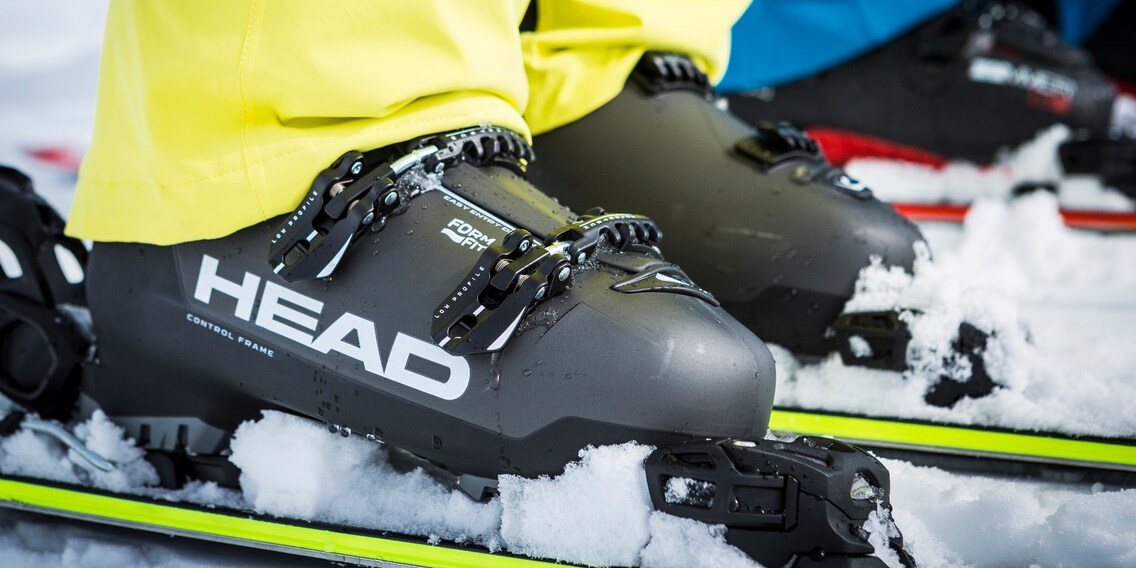 Let Galaxus mount your ski bindings
A few winters ago, we added skis and ski sets to our ever-growing range of products on Galaxus. Read on to find out everything you need to know about our service of mounting and adjusting your ski binding.
First things first
The service of mounting ski bindings can only be selected for products in the category «Ski sets». Unfortunately, you can't place any skis and ski bindings in your shopping cart and add this service.
What does it cost to have my ski binding mounted?
Having your ski binding mounted by a specialist costs CHF 49.00. Of course, you are free to order most product without mounting.
How long does it take to have my ski binding mounted?
Usually, our mounting service takes is done in no more than 2-4 days.
How does Galaxus know the necessary details?
After placing your order, our service partner will send you an e-mail with a form asking about all relevant details. Please fill in this form and send it back.
The form asks me to choose between «beginner», «allrounder» and «expert». How do I know which type I am?
Beginner: As a beginner, you have only just started to ski or you took a beginner's course some time ago. If you don't have a lot of experience on skis, you'll need time to learn the right movements and technique. To be on the safe side, you're best off going down blue or red slopes. You need skis that help you learn how to turn and break and keep you from going too fast.
Allrounder: As an all-rounder, you can manage to get down almost every slope, but there's still a lot to learn. The right skis for you come with equipment and settings that help you improve. As an experienced skier with good technique, you can ski red slopes even in bad weather and aren't afraid to tackle an off-piste area at speed.
Expert: You know exactly what you want to and what you can do. You go down any on or off-piste area in any weather and like to take a risk.
How do I find out the sole length of my ski boots?
Most ski boot manufacturers indicate the length of ski boots in millimetres (XXX mm) on the side or sole of the boot. If not, measure it yourself. Watch out: This isn't equivalent to the mondopoint scale.
Is the binding pre-adjusted?
Your ski set is delivered with basic settings and is not pre-adjusted and bfu-tested.
How is my ski binding mounted?
Your binding is mounted and adjusted by an experienced professional.
How does the mounting point of the binding affect the ski?
A mounting point is indicated on almost every ski – usually adjusted to the centre of the boot. For Park&Pipe and Freeride skis, the binding can also be mounted further to the front or to the back. Keep in mind: If the binding is mounted further to the front, the turning ability of the skis increases and more dynamic turning is possible. Mounting the binding behind the original mounting point makes the ski smoother to run at high speed and offers advantages in deep snow.
Which mounting points can I choose from?
Mounting point «Allround Standard» (manufacturer's recommendation): The binding is mounted on the «Recommended/Team mounting point». It's located between Park&Pipe and Freeride and is ideal for all skiers who want the freedom of riding/landing «switch» with their freeride skis.
Mounting point «Park&Pipe Standard» (manufacturer's recommendation): The binding is mounted according to the respective ski manufacturer's recommendation for Park&Pipe. If not available, the binding is mounted in the centre of the ski.
Mounting point «Freeride Standard» (manufacturer's recommendation): We mount the binding on the rearmost possible mounting point according to the manufacturer's recommendation.
Mounting point «Ski touring Standard» (manufacturer's recommendation): The binding is mounted according to the respective ski manufacturer's recommendation for ski touring. Customised mounting point: The centre of your boot is mounted on the point selected by you. Please select the respective scale (ranging from +1 to -7cm from the centre of the ski) on the form that's sent to you by the service partner.
---
I'm not a great cook, struggle with home decorating and am incapable of properly assembling IKEA furniture. So at Galaxus, I'm a marketing manager in charge of sports. And sports is also what I love doing best in my spare time: cycling, tennis, skiing, swimming or working out at the gym. I'm also passionate about football and a big Bayern Munich supporter. 
---
These articles might also interest you
Skeleton Loader

Skeleton Loader

Skeleton Loader

Skeleton Loader

Skeleton Loader

Skeleton Loader