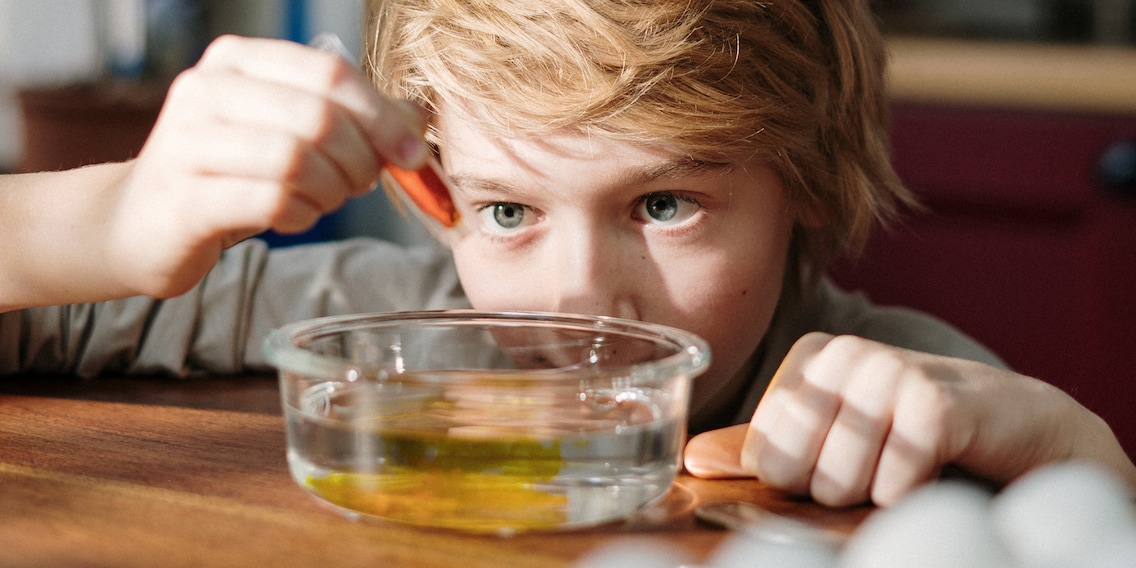 Kosmos science kit turns 100

In 1922, the Kosmos publishing house launched its first science kit for kids. 100 years later, their range includes a set for every level and interest.
In addition to Catan, EXIT and Die drei ???, Kosmos is best known for its experimental kits. Thanks to them, generations of children have been learning the basics of science the fun way for 100 years. From chemistry to physics to astronomy to biology and many more: no matter your interest or age group, Kosmos has the right science kit for you. Please note that they're all in German.
First steps for budding scientists
Kosmos offers simple starter sets for children as young as four. Easy experiments put the fun in exploring natural sciences. For example, watching bubbles form with baking soda, making a parachute or growing flowers.
Learning the basics
Kids age eight or older will enjoy science kits that delve a little deeper into the basics of science. Through active trial and error, children learn to understand the world they live in. The chemistry set is used to emulsify oil in water, for example. The electric set helps little scientists understand how electricity is generated. The technology set is all about constructing a catapult and hurling objects through the air.
Exploring topics
The German games publisher not only has beginner sets, but also specific experiments to choose from. In the fragrance lab, pint-sized perfumers can explore their sense of smell by creating air fresheners. Another science kit lets children cast their own fruit gums and give Haribo a run for their money. There's even a set that involves building a hydraulic cyborg hand and using it to grab things you couldn't normally hold.
Galaxus has around 150 different Kosmos science kits its range.
About Kosmos publishing house
In addition to its science kit anniversary, Kosmos is also celebrating 200 years since its foundation. In 1822, Johann Friedrich Franckh founded the Franckhsche Verlagsbuchhandlung in Stuttgart. One year later, the young publishing house launched its first book – «Phaeton» by Swabian poet Wilhelm Waiblinger. The end of the 19th century saw natural sciences go through a rapid development. As a result, Kosmos started to publish its first guides and non-fiction books on popular science topics. In 1908, the publishing house moved its headquarters to Pfizerstrasse 5 in Stuttgart. The historic building is still part of the Kosmos headquarters today.
In 1922, the first science kit was published. Its aim was to introduce the natural sciences to children and adolescents. Another major milestone in the history of the publishing house was set in 1968. It was the year the first volume of the successful children's crime series «Die drei ???» (The Three Investigators) was published. When «The Settlers of Catan» was voted Spiel des Jahres (game of the year) in 1995, the foundation was laid to further expand the family games segment at the publishing house. Further successes followed in 2012 with the connoisseurs' game «Legends of Andor» and in 2016 with the beginning of the «Exit» series, which is very popular to this day. Today, the company employs 300 people and has an annual turnover of 150 million euros.
---



Riding my motorbike makes me feel free, fishing brings out my inner hunter, using my camera gets me creative. I make my money messing around with toys all day.
---
---
These articles might also interest you
Skeleton Loader

Skeleton Loader

Skeleton Loader

Skeleton Loader

Skeleton Loader

Skeleton Loader