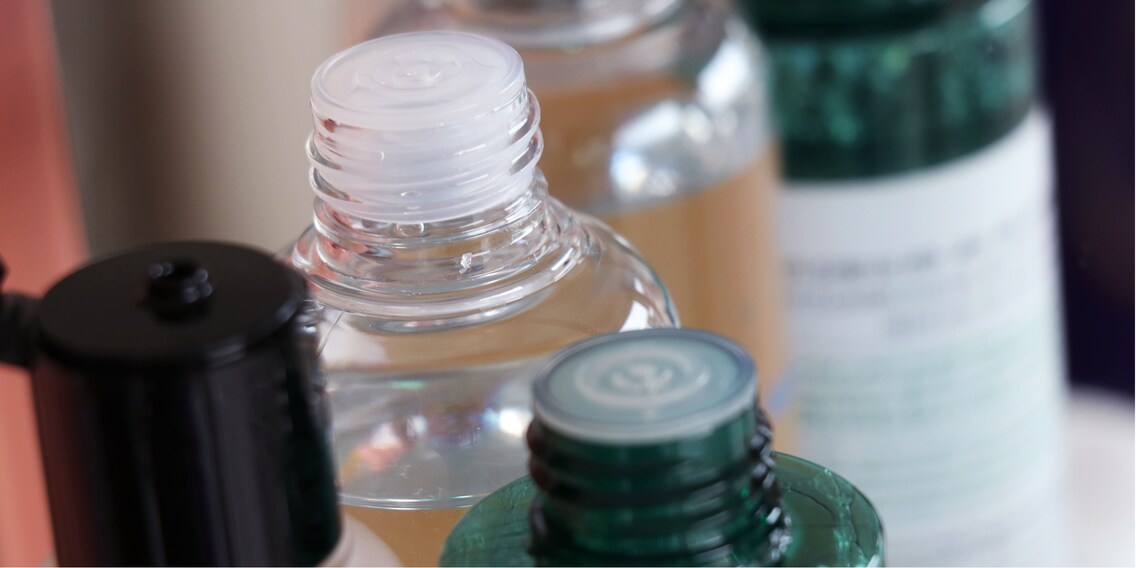 K-beauty: 10 facial care products that are worth the money

My colleague Stephanie Vinzens and I have caught K-beauty fever. In the first of a two-part series, I present my personal face care highlights – including products I never expected to wind up in my bathroom cabinet.
The fact that I change my face care routine on the regular isn't news. After all, I test products professionally. But I've never done a total overhaul of my inventory like this. Who's to blame? The Korean beauty industry. I finally understand why everyone swears by K-beauty. Here are my top ten from our range.
Skin Blur Hydrogel by G9 Skin
The second my eyes start looking drained, I scamper off to my fridge. Why's that? Because it's where I keep my glittery pink «Hydrogel Eyepatches» from G9 Skin. They're little serum-soaked, crescent-shaped eye masks included in four sizes. These disposable patches cool your under eyes, reduce swelling and moisturise. All four sizes are narrower than I'm used to from comparable products, which makes them more comfortable to wear around my eyes. Fifteen minutes is usually enough to make me look awake again.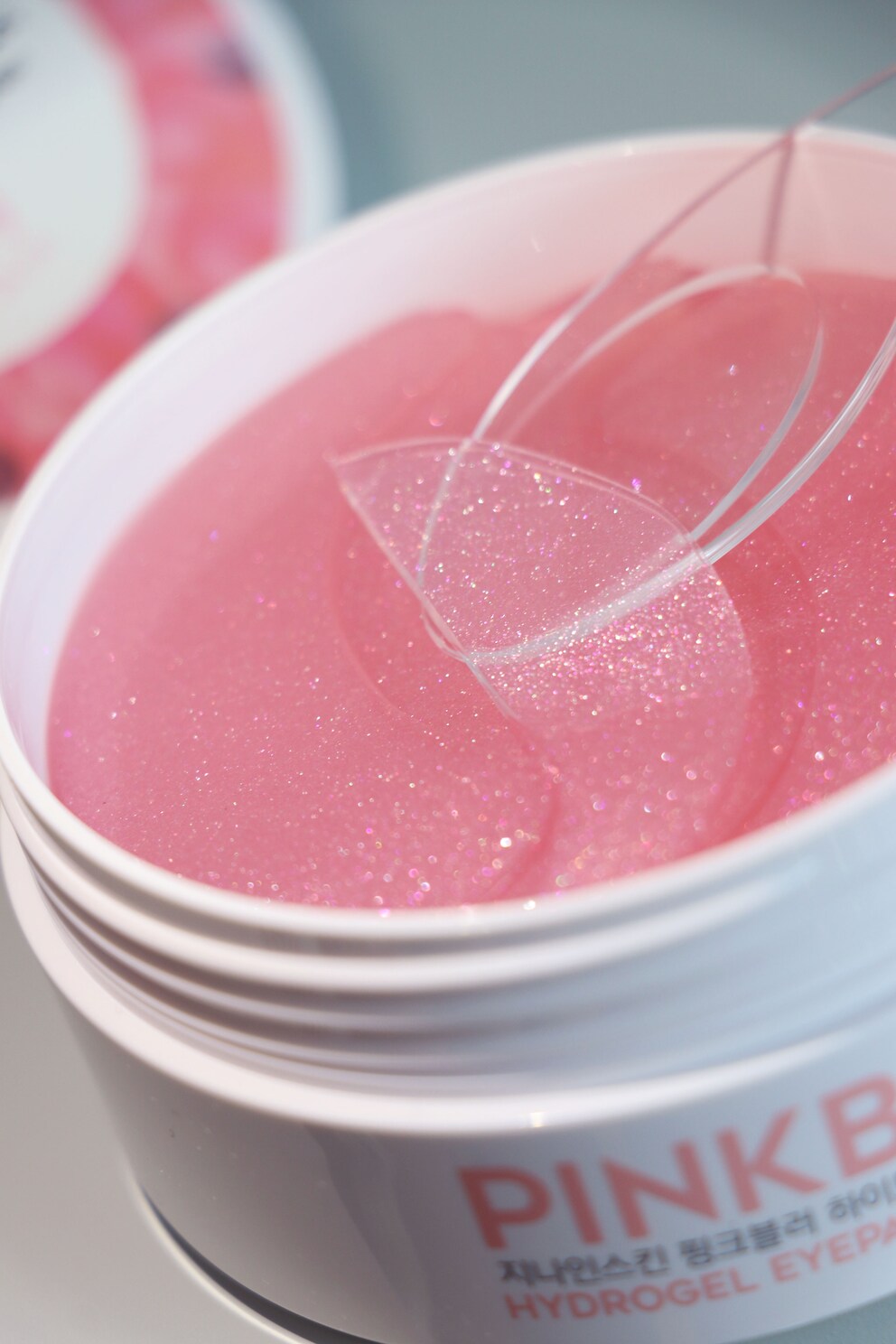 Vitamin E-raser Cleansing Oil by Meisani
Looking for a no-frills oil cleanser? Here you go. The «Vitamin E-raser» from Meisani smells of nothing and contains just seven ingredients. Among them are rice bran, baoba and olive oil, as well as calendula extract, which is supposed to have a calming effect. This cleanser removes waterproof make-up without burning my eyes. Just massage it in, wash it off – and done.
You can find further K-beauty cleansers that I'm a fan of here and here.
Acne Pimple Master Patches by Cosrx
I only get pimples every so often. But when they do spring up, they always do so in good company – much to my chagrin. Inflammations of this kind typically take ages to calm down for me, not helped by the fact that I keep scratching and trying to pop them, which leads to scarring. With the pimple patches from Cosrx, I'm able to avert the worst overnight. I apply the so-called hydrocolloid patch in the evening after cleansing my face. This draws fluid out of the pimple overnight without drying out my skin. This causes the inflammation to subside more quickly and accelerates the healing process. The best part? It forces me to keep my hands off my pimples. Two applications are usually enough for me. One package comes with 24 plasters in three sizes. Given how few patches there are in one pack, the plastic packaging is, unfortunately, excessive.
Fundamental Eye Awakening Gel by Klairs
I'm not usually the type of person who takes the time to apply a separate eye cream. Why should I? After all, a regular day or night cream will do just as well. So, as far as I'm concerned, this eye gel from Klairs is not a must, but a nice-to-have. It's not something that's fundamentally improved my skincare routine, but a product that has managed to be the first from its category to keep me interested for several weeks. The light, gel-like texture is easy to apply and has a slightly cooling effect on the skin around my eyes. In addition, the formula is very moisturising, quickly absorbed and contains caffeine to combat tired eyes and red bean extract to do away with puffiness. Have you been looking for something just like that? Then I say go for it. Have you never even considered buying a separate product for your under eyes? Then I'd leave it be.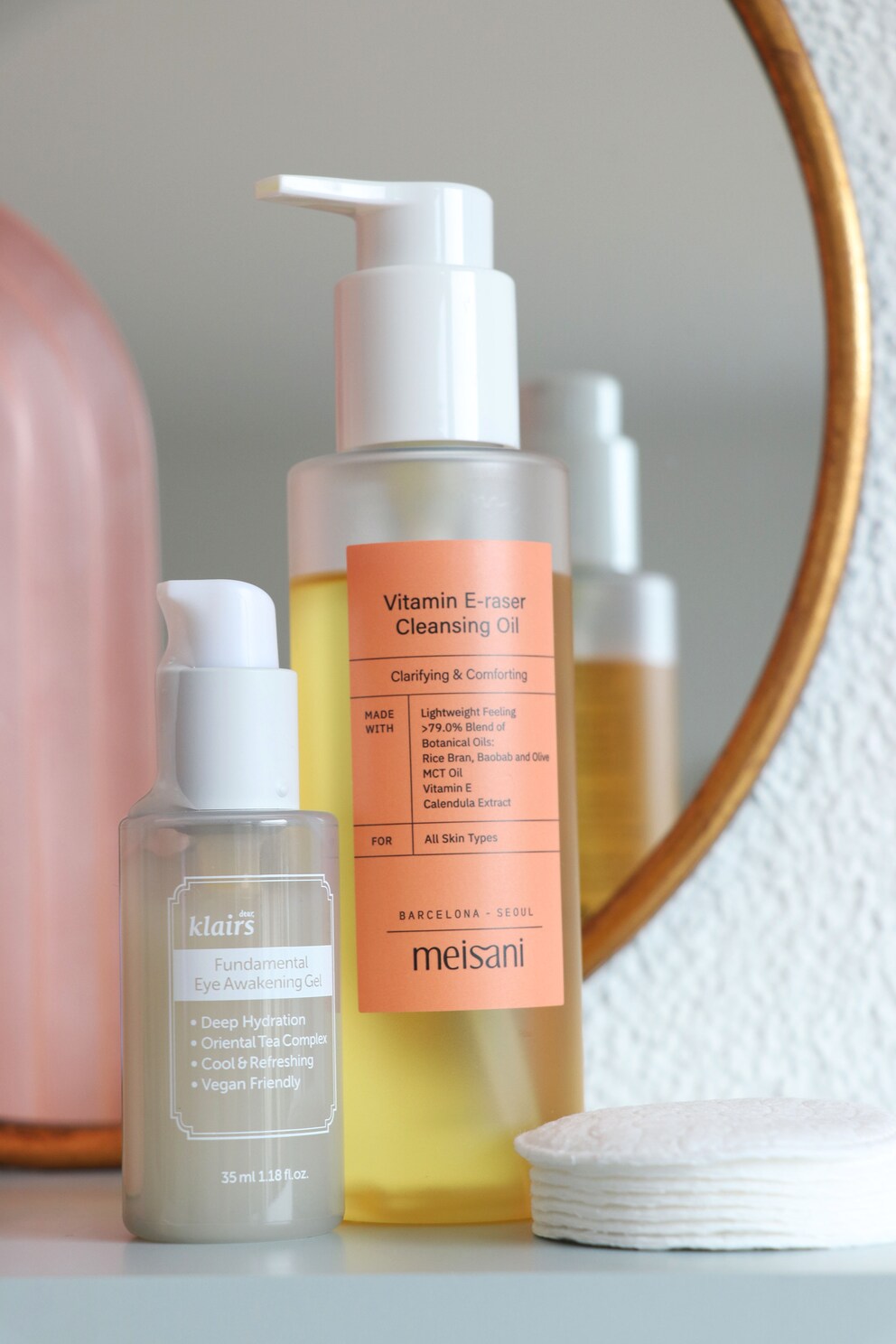 Hyaluronic Acid sound by Isntree
Similar to eye cream, I avoided toners for a long time. One more step in my skincare routine? No, thank you. But then I discovered the «Hyaluronic Acid Toner» from Isntree. It contains three types of hyaluronic acid and has a slippery, thin texture that absorbs instantly and leaves no sticky residue. I apply it in the morning after cleansing, which makes my skin look plump, moisturised and smooth.
Full Fit Propolis Synergy Toner by Cosrx
I didn't stop at one toner. I like to use the Cosrx «Propolis Synergy Toner» on cleared pimple marks before bed because of its brightening, anti-inflammatory and soothing properties.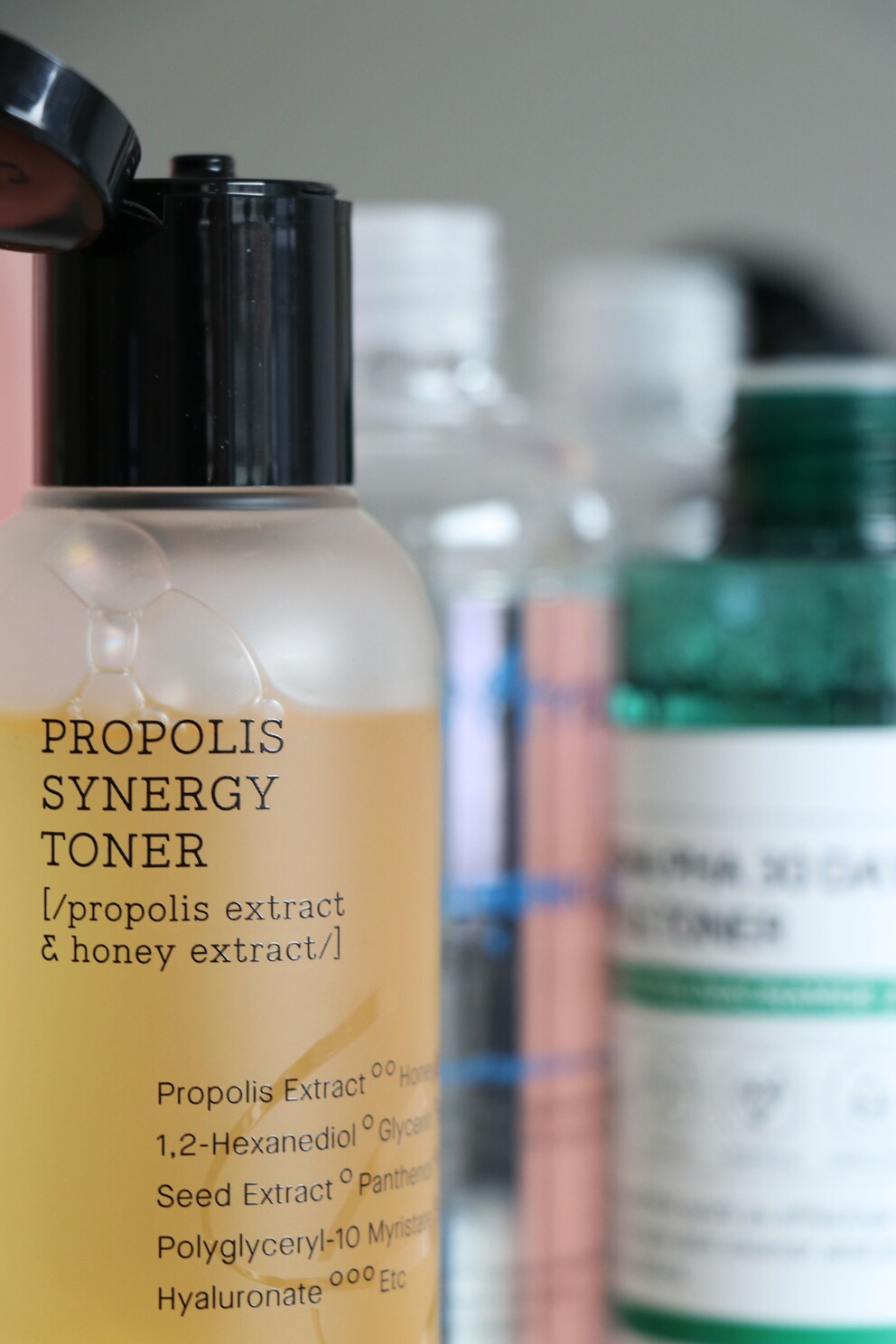 30 Days Miracle Toner by Some By Mi
To fight impurities and rough spots, on the other hand, I rely on the «30 Days Miracle Toner» from Some By Mi. It contains AHA, BHA and PHA – that is, active ingredients that act as chemical exfoliators.
For another K-beauty miracle weapon against blackheads, check out this article.
All Day Vitamin Brightening & Balancing Serum by Jumiso
Some people need their morning smoothie – me, I need this serum from the brand Jumiso. The light yet nourishing formula has a brightening effect that successfully fights my pigmentation spot on my left cheek. It also evens out my complexion and makes me glow. It contains various vitamins – including vitamin C – and niacinamide to strengthen the skin barrier.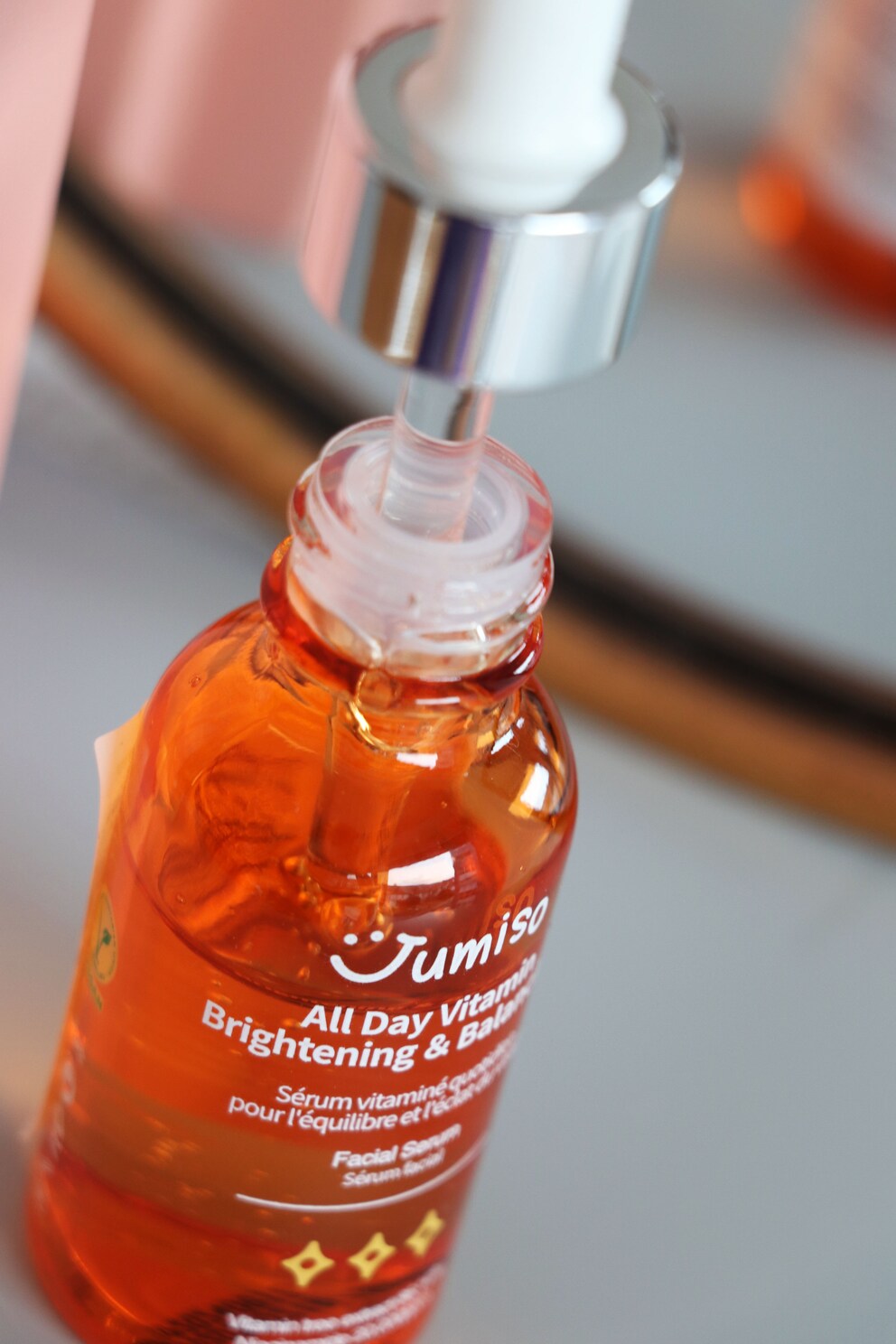 Ultimate Nourishing Rice Overnight Spa Mask by Cosrx
A night mask is nothing more than a rich night cream. This one by Cosrx is very nourishing indeed. I apply the «Overnight Spa Mask» as the final step of my evening routine. It's packed with rice extract and pampers my skin with so much moisture that I'm happy to put up with the sticky film it leaves on my face. Ah, the things we do for soft skin in the morning.
All-day Airy Sunscreen SPF50+ PA++++ by Klairs
«Simple but enough» – the slogan on the cardboard packaging couldn't describe this sunscreen more succinctly. With its water-based gel texture, this Klairs sunblock absorbs in no time. It leaves my skin feeling silky and matt with no white residue, making it perfect for daily use and as a make-up base.
You'll find two further Korean sunscreens that won me over in this article.
In part 2, my colleague Stephanie Vinzens will share her Korean beauty favourites with you. K-beauty is no-man's-land for you and you'd like to give products from brands like Klairs a go? You'll find a selection of Korean products you can test on-site at Beauty Lab by Galaxus & En Vogue on Kasernenstrasse 11 in Zurich!
---



As a massive Disney fan, I see the world through rose-tinted glasses. I worship series from the 90s and consider mermaids a religion. When I'm not dancing in glitter rain, I'm either hanging out at pyjama parties or sitting at my make-up table. P.S. I love you, bacon, garlic and onions. 
---
---