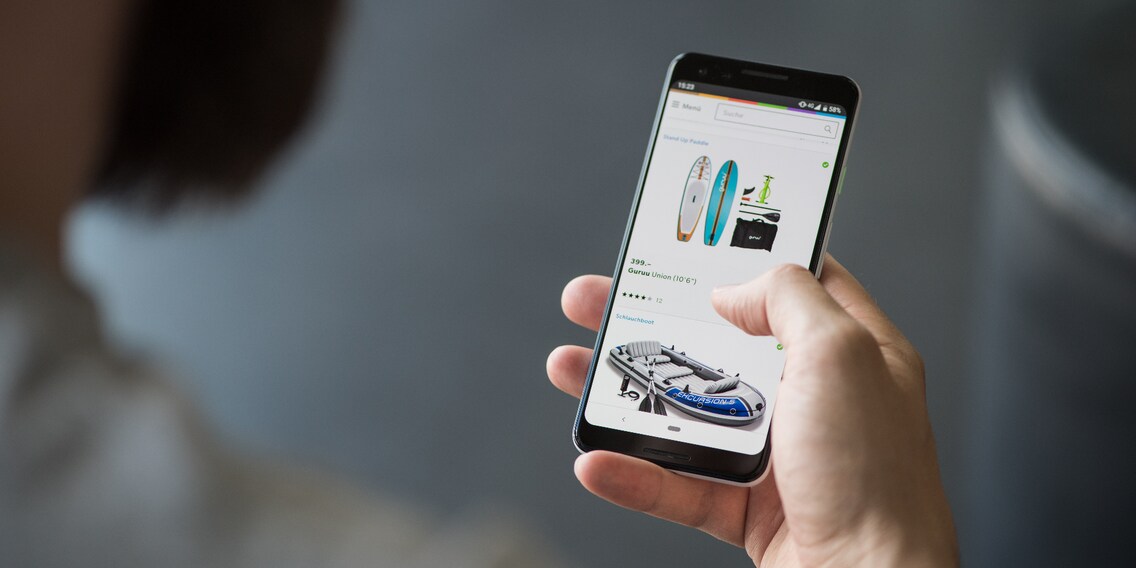 Join our merchant programme
Boost your sales by joining our merchant programme and selling on the largest online shops in Switzerland. Our attractive merchant programme is a chance to tap into a new sales channel and sell your products under your own name on digitec and Galaxus.
With its range of over 4 million products for pretty much everyone, Galaxus is Switzerland's largest online retailer. Digitec is Switzerland's leading platform for IT, telecom and consumer electronics. Both platforms provide informative, inspiring, independent content as well as an active community that shares information and helps each other out.
The power of Digitec Galaxus AG
Partnering with Digitec Galaxus AG means joining forces with the most relevant and strongest player in the Swiss e-commerce market with experience since 2001. The online shops www.digitec.ch and www.galaxus.ch together have monthly traffic of around 23 million visits. Digitec Galaxus AG is proud to have a very satisfied and enthusiastic customer base of over 2,7 million active users.
How the merchant programme works
The sales agreement is concluded directly between you as a merchant and the end customer. Incoming customer orders are forwarded to you – you send the ordered products directly to the customers. Digitec Galaxus AG acts as facilitator within the scope of the merchant programme. We manage your product data, your orders and the entire payment process.
Advantages
Being presented with your own name and brand but fully integrated into our existing online shop means you gain our customers' trust and extend your reach to every corner of Switzerland. There is no faster and more efficient way to tap into such an established, extensive and loyal client base than with Digitec Galaxus AG's merchant programme.
We offer more than classic marketplace features:
Marketing
Although all merchants appear with their own name and brand, you have the chance to benefit from Digitec Galaxus AG marketing services. We make it possible to automatically place your products in our personalised newsletter and for our marketing or product management teams to use your products in any marketing activities or campaigns – even if we don't sell the product ourselves, but via you as a merchant.
Payment methods
Our range of easy and secure payment options are also offered for any orders made within the merchant programme (see payment methods).
Customer service
The Digitec Galaxus AG customer service is also available to customers who order products from merchants via our online shop. Customer service is the first port of call for questions about products, deliveries, invoices, payment modalities and so on.
Returns process
End customers who are not satisfied with a product they purchased through the merchant programme may also use the easy and comfortable Digitec Galaxus AG returns process (see returns and warranty). This allows customers to directly return goods without much effort or hassle to you, the merchant – all in accordance with our mailing conditions.
Professional product management
The Digitec Galaxus AG online shops are by no means a messy collection of goods. We enter and maintain all products in a neat, tidy and user-friendly way. In addition, our professional product management team ensures the presentation of your products is adequate and of high quality. Although we don't actively take part in designing your product range, we are happy to offer you a personal contact person who gives you feedback on potential weaknesses and areas of improvement.
Fees related to our merchant programme
There are no base fees or initial costs for merchants, only variable fees as so-called sales commission on sold products are charged. Therefore, charges are only incurred if you sell products. The sales commission is a fee on a percentage basis. The following table gives you an overview:
The detailed fees on product type level and a general overview on the topic of fees can be found here.
Technical integration
The selective merchant programme offered by Digitec Galaxus AG is only addressed to professional retailers with a solid and well-established IT infrastructure (online shop or Enterprise Resource Planning system). Setting up a technical integration through an interface is a basic requirement for a successful cooperation, as manual data collection is not an option. There are different levels of automation available when setting up an integration interface. Complete automation allows for a fully automatic transfer of product, order and returns data.
Partial automation (automated transfer of product data only)
Within the scope of partial automation, merchants export their current product data (sales range) as a CSV file from their online shop or ERP (Enterprise Resource Planning) system to Digitec Galaxus's FTP server. This is how the specific sales range, prices and stock levels displayed in our online shop are kept up to date. Merchants can view and edit orders manually in Digitec Galaxus's so-called merchant portal (CMI). Status responses as, for instance, «in stock», «delayed» etc. as well as delivery notifications are entered manually via the merchant portal.
Complete automation (automated transfer of product and order data)
Complete automation allows you to connect their online shop or ERP system directly to Digitec Galaxus, requiring no manual work to update data. In addition to the daily export of product data (as with partial integration), you can additionally import and process orders made in the online shop digitec and Galaxus directly in your system. The completion of orders or other order updates are entered in your system and sent to us via an XML file.
Digitec Galaxus AG works closely with the following systems, feed engines and middleware:
Feed engines
Plug-ins for webshops
Middleware
Find more details about technical integration options here.
Our customs clearance solution for merchants from the EU
The EU hub is our uncomplicated all-inclusive solution and gateway to the Swiss market. It's a fully integrated customs clearance solution that allows merchants from the EU to connect to the two Digitec Galaxus AG online shops. This smart cross-border solution can be used both by EU merchants registered in the Swiss VAT register (fiscal representation) and by EU merchants without fiscal representation.
Participation and further details
We don't open our online shop to just anyone but only to selected merchants whose philosophy, image and quality standards match those of digitec and Galaxus. Please express your interest in joining our merchant programme by filling out the registration form.
Find more information on our merchant programme here. If you have any further questions, please contact us at start@digitecgalaxus.ch.
These documents are regularly updated. We recommend to download the latest version from this page instead of saving it locally.
---