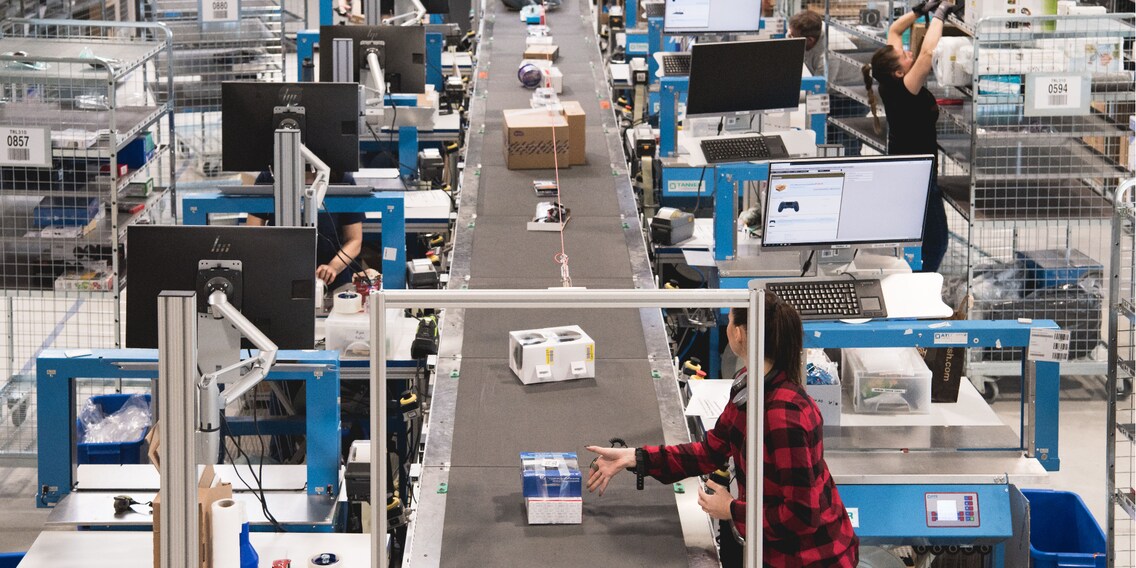 Digitec Galaxus cracks one billion mark in sales
Digitec Galaxus generated 1.146 billion francs in turnover through its online shops. That is 16 per cent more than the previous year. In 2020, the Swiss online retailer is focusing on doubling its logistics capacity.
Switzerland's online market leader confirms the strong growth trend of previous years: in 2019, the online department store Galaxus and electronics specialist digitec achieved a turnover of 1.146 billion francs in Switzerland and Liechtenstein. This corresponds to a growth rate of 16 per cent. The net yield increased by 14 per cent to CHF 1.082 billion over the same period.
«The annual result is great,» says Florian Teuteberg, Digitec Galaxus CEO. In early December, for the first time in its history, the company achieved more than one billion in sales in one calendar year. Contributing factors included record sales on Black Friday and Cyber Monday as well as strong Christmas sales.
Both digitec and Galaxus have grown considerably in the past year. Amid a declining electronics market, digitec managed to further increase its sales and thus expand its position as the electronics market leader. Although the online department store Galaxus grew more in percentage and absolute terms, digitec is still stronger brand in terms of revenue.
Boom in French-speaking Switzerland and electronics sales
Once again, Digitec Galaxus achieved above-average growth in French-speaking Switzerland. In the French-speaking cantons, the product yield rocketed to over 30 per cent. In the past calendar year, the sectors Digital, Home + Kitchen and Sports showed the highest growth throughout Switzerland. At a lower level, the sectors Watches + Jewellery and DIY + Garden recorded the highest relative growth. The full range of Digitec Galaxus also increased overall. The product portfolio grew from 2.8 to 3.2 million articles within a year.
In addition to the billion in sales, Digitec Galaxus reached further milestones in 2019: Since January last year, Galaxus has been selling Migros' own brands. Last January, Galaxus introduced Migros' own-label products to its range. In addition, digitec not only launched its own mobile subscription but also founded an agency for the marketing of media and creative services. And finally, the company opened its eleventh store in Solothurn. In addition, Digitec Galaxus founded an agency to market media and creative services last spring.
April will bring a doubling of logistics capacity
The next level of logistics at Digitec Galaxus is expected to ignite at the end of April: that's when the online retailer will be opening a new, fully automated warehouse with 180,000 additional container spaces in Wohlen, Aargau. What's more, the incoming goods department as well as the packing line will also be expanded – the latter by an extra 18 packing stations. «The warehouse expansion will more than double our capacities in the small parts sector,» says Teuteberg. In future, up to 90,000 parcels can be sent from the Wohlen site every day. «This will enable us to continue delivering to our customers on time despite increasing order volumes.»
Galaxus.de: Beta version complete
Meanwhile, Galaxus Germany has graduated from Beta. Galaxus.de was launched with a range of electronics products in November 2018. Since the launch, home and kitchen articles as well as toys have been added, thereby increasing the product range in Germany from 50,000 to 180,000 products.
«Our first year in Germany fared better than expected,» says Teuteberg. The national subsidiary now generates well over one million euros in sales per month – without generating major marketing expenses. «I strongly believe that we can be successful in Germany. Right now it's all about turning all those first-time buyers into regular customers.» In spring, Digitec Galaxus and its parent company Migros will take stock and decide on the next areas of investment.
Contact for media representatives
Digitec Galaxus AG
Corporate Communications
Pfingstweidstrasse 60, CH-8005 Zurich
Phone: +41 44 575 96 96
E-mail: media@digitecgalaxus.ch
Internet: digitec.ch galaxus.ch
Images for free use
Warehouse in Wohlen AG
Digitec Galaxus headquarters in Zurich
---
At digitec and Galaxus, I'm in charge of communication with journalists and bloggers. Good stories are my passion – I am always up to date.
---
These articles might also interest you
Skeleton Loader

Skeleton Loader

Skeleton Loader

Skeleton Loader

Skeleton Loader

Skeleton Loader