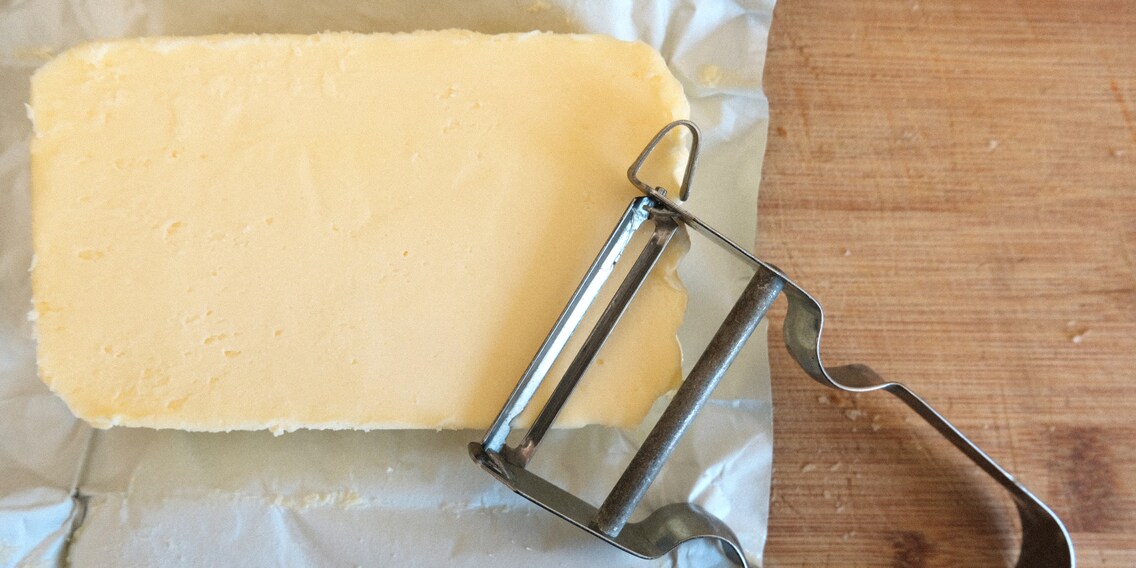 Is rock-hard butter playing havoc with your Sunday brunch? Try using a peeler

There are plenty of curious things on social media. One such curiosity? Videos demonstrating how to slice butter with a potato peeler. I gave it a whirl.
It's Sunday morning and I've just been to the bakery to pick up a fresh loaf of bread. All that's left to do now is make coffee, and slather the bread with butter and jam. The problem is, the rock-solid butter is making a right mess of things. I could just wait until it thaws out, but by then, my cappuccino will be cold. Alternatively, I could put a social media hack to the test.
Peel the butter
Instead of cutting a slice of butter from the end of the block, I scrape a layer off the top by using a peeler. It might look like it'd take some getting used to, but it's also fun, and works pretty well. The slices are so thin that they don't even really need to be spread over the bread at all. And even if they do, they get softer immediately, making the process easy.
I could, of course, use a knife to scrape small, thin slices off the top of the butter and spread them onto the bread. That works too, but the slices aren't intact. At the end of the day, that has absolutely no effect on my enjoyment of the bread – it's just a less interesting way of doing it. Though, it's probably the more obvious method, seeing as you'd be using a knife on the bread anyway.
My verdict
It's a nice bit of fun or party trick at brunch with friends. However, I'm fairly certain that this hack isn't going to become routine for me. When all's said and done, I still feel daft for breaking out the peeler just to butter a slice of bread.
---


My life in a nutshell? On a quest to broaden my horizon. I love discovering and learning new skills and I see a chance to experience something new in everything – be it travelling, reading, cooking, movies or DIY.
---
---
These articles might also interest you
Skeleton Loader

Skeleton Loader

Skeleton Loader

Skeleton Loader

Skeleton Loader

Skeleton Loader