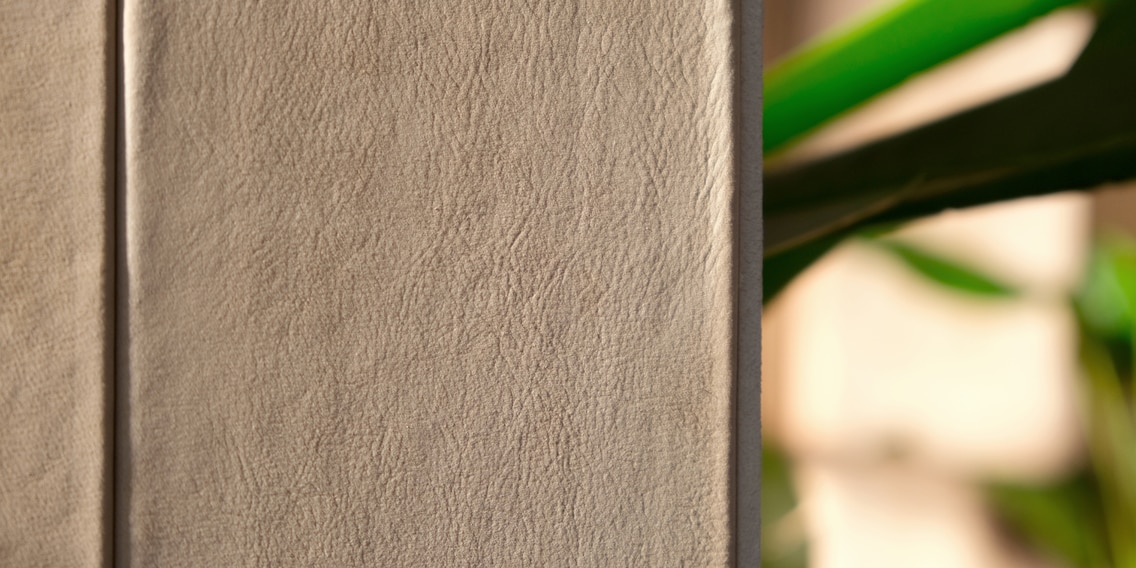 This article was translated automatically.
Inflatable leather and other novelties for the interior

Paper, cardboard or leather were used unconventionally for new design pieces at the last furniture fair "Maison et Objet". Because of nine of them, I'm still all over the place.
Treating the ordinary in an unusual way. That's what creative people do. They look at everyday materials with different eyes and create something unprecedented out of them. At this year's Design Week in Paris, various design studios reinterpreted paper or leather, among other things, and inspired me with them.
1. floating paper
Most lamps simply make light, these are mobiles at the same time: the hanging lamps from Baku Sakashita 's "Suki" collection are composed of semi-transparent paper circles and rectangles and thin stainless steel wire. When light passes through them, the geometric shapes are projected onto the floor and walls.
"Suki" means several things at once in Japanese: "transparency," "making paper by hand," "empty space," or "fine taste." The first three terms perfectly express the character of Japanese Washi paper, and therefore the lamp.
2. mirror handbags
Usually, mirrors are compact to carry around. However, Hélène Nepomiatzi 's version is as big as a handbag and otherwise comes across as one. "Miroir sellier" is made of calfskin and has a handle for carrying and tabs on the back for hanging on the wall. The fashion influences are no coincidence. The accessory designer has already designed for brands such as Hermès or Céline.
3. tassel lamps
Hélène Nepomiatzi's unconventional look at things is evident in another object: the "Pompom" lamp. Actually, hand stitching, edge dyeing and two-tone leather fringes are traditional stylistic devices in the processing of leather goods. In "Pompom" they are used to embellish a simple lamp. Thus, tradition and modern ideas are combined in one object.
4. inflatable leather
Inflatable products are easy to carry. Yet we use them only temporarily. Yet they could provide us with valuable services all the time, says Satomi Minoshima. The Japanese designer from Eindhoven has created a series of inflatable furniture covered with genuine leather. Thanks to their lightness, feel and look, they should have their place in interiors: "The more the leather is used and ages, the more its value increases," says the designer.
5. leather tiles
Without air, but not without blowing at work, Alphenberg's wall coverings are created. The Dutch brand sources walls with soft leather pieces in two different ways: "We join the thicker pieces of tundra faux leather tightly together like tiles," the manufacturer says, describing its process. "The softer suede pieces we first stretch on an additional panel and then mount it on the wall."
6. sheet cardboard box
That storage can be decorative is proven by the Netflix series "The Home Edit." Proof that it doesn't have to be rainbow-colored, however, comes from Scandinavian designer Kristina Dam. She just released arch-shaped boxes called Storage Decor, translated, storage decor, to complement her curvy coffee tables. When you pair them with a second arched box made of burnt cardboard and matching Curved Box Clips, they become an independent catch-all for magazines, kids' toys and more.
7. cardboard tables
Also part of the Kristina Dam Studio collection, created in Copenhagen, is the sculptural "Edo" furniture, the result of a collaboration with Amanda Betz, a Danish paper designer. You can fold the side table like a cardboard moving box and use it especially in cramped living conditions.
8. villa motley MDF
MDF is often covered with veneer to make it more visually appealing. But Broste Copenhagen makes an exception. The Danish brand does not hide the slightly cheaper wood, but colors it. Equally worth knowing, the lid hides chaos and turns it into a coffee table.
9. wood terrazzo
Strikingly often for the production of wood we help ourselves only to a very specific part from the tree. Not so Yuma Kano. The designer mixes everything from the tree together with an acrylic resin for his "ForestBank" project: Bark, foliage, seeds, fruit and the soil around it. This turns into a solid mass reminiscent of terrazzo.
In this way, any tree, no matter how small, becomes valuable, which until now was considered worthless in the construction of furniture. Moreover, they can be processed using the same woodworking methods. However, they will never look the same. That's because the pattern varies, providing different insights into the grain of unique forest finds depending on the depth of the cut.
Design studies like this are the reason why, from now on, I will no longer label even everyday things like cardboard or tree bark as boring.
---



«There are only two ways to live your life. One is as though nothing is a miracle. The other is as though everything is a miracle. I believe in the latter.»
– Albert Einstein
---
---
---
These articles might also interest you
Skeleton Loader

Skeleton Loader

Skeleton Loader

Skeleton Loader

Skeleton Loader

Skeleton Loader