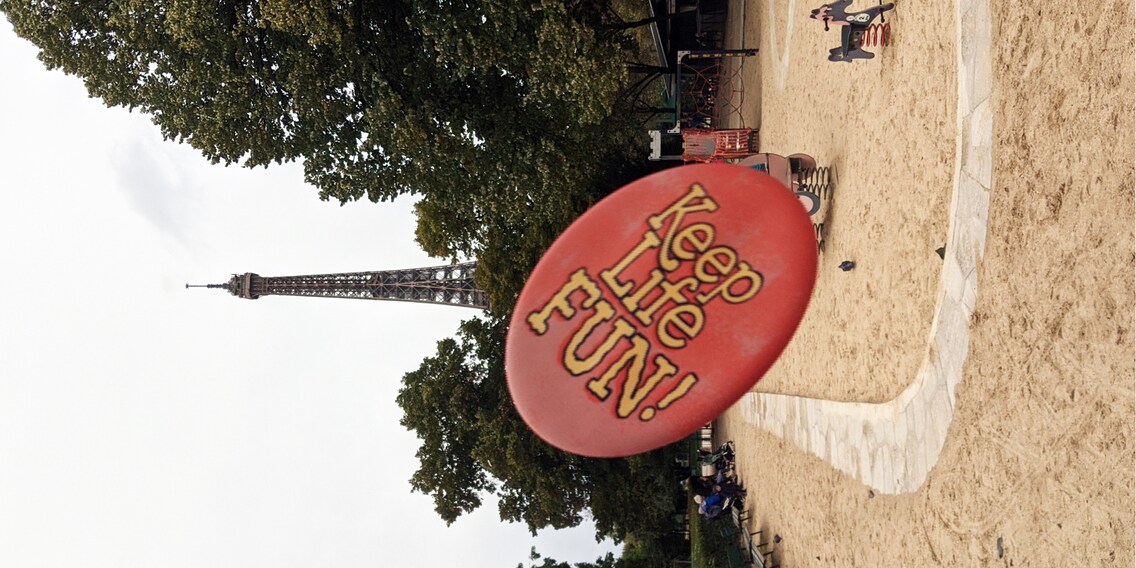 In defence of play

You may be wondering why I'm keeping you from your shopping with this off-the-wall article. Don't worry about it – I'm just playing around. And you should do the same.
A friend recently gave me the gift of good vibes in the form of a disc-shaped object: a frisbee the size of a flying saucer. The surface is printed with three words: «Keep Life FUN!» A simple demand. But on an average day in 2022, that's easier said than done. Work, check the news, smooth out your worry lines. And in the evenings, your kids ask why there's a war going on, how atomic bombs work and what's happening with Covid. It's become difficult to be carefree – which is exactly why it's now so important to try.
One man's game is another man's torment
Every so often, you've got to get off that road; play around instead of working it out. Life isn't just a joyless sequence of tasks to be ticked off your to-do list. In fact, it should be anything but. Sometimes, you need moments where you can let the mask drop and come into yourself again – moments of play. There's a famous quote, likely incorrectly attributed to George Bernard Shaw, which goes: «We don't stop playing because we grow old; we grow old because we stop playing». Regardless of where the saying comes from, there's definitely something in it. You can't lose the drive to play. Even if you sometimes do it well, and at other times not so well.
The «National Institute of Play» explains the different ways this can work here. A ball or frisbee might ignite a completely different feeling in me than it does in you. Some people experience playfulness when they're collecting, others experience it in competition, others sense it when they're doing arts and crafts, painting or making music. And that's good – it makes the world a more diverse place. After all, everyone needs to play in their own way so as not to lose themselves. When things get stressful, this balance is often forgotten. So, do something about it. If you're into board games, why not invite some friends over? Or if exercise does you good, go outside and get moving. Whereas if music is what chills you out, grab an instrument or set up a band.
Take care of your inner child
I think we all go through a stage of life where it's possible to lose ourselves in play. The rest of the time, we have to make compromises. Sometimes our inner child can't blossom until the age of 30, when we get the time and opportunity to cultivate a passion for collecting. Others would still be skateboarding at 80 if their bones hadn't gone to mush. These people need to have a rethink and discover the fun in other things. The important thing is to keep at it. Although the way you play might change over time, your passions remain – and shouldn't be allowed to slip out of your life. Take care of your inner child once in a while.
My little frisbee represents the fact that play is okay. We shouldn't just allow ourselves to play once we've ticked everything off our to-do list or when everything else has been sorted out. Play is human, and we're moved when we see others doing it. We even relate to animals who play. We recognise ourselves in their actions and forget the things that separate us. Play is about celebrating the moment. It connects us and elevates our relationships to a new level. Sometimes, it's planned, other times, it's random. If my frisbee lands at a stranger's feet, they usually toss it back with a smile. A brief interaction between strangers, fleetingly living in the moment before moving on and sinking back into their own thoughts. But maybe the message has got through to someone: «Keep Life FUN!»
---



Sports scientist, high-performance dad and remote worker in the service of Her Majesty the Turtle.
---
---
---
These articles might also interest you
Skeleton Loader

Skeleton Loader

Skeleton Loader

Skeleton Loader

Skeleton Loader

Skeleton Loader