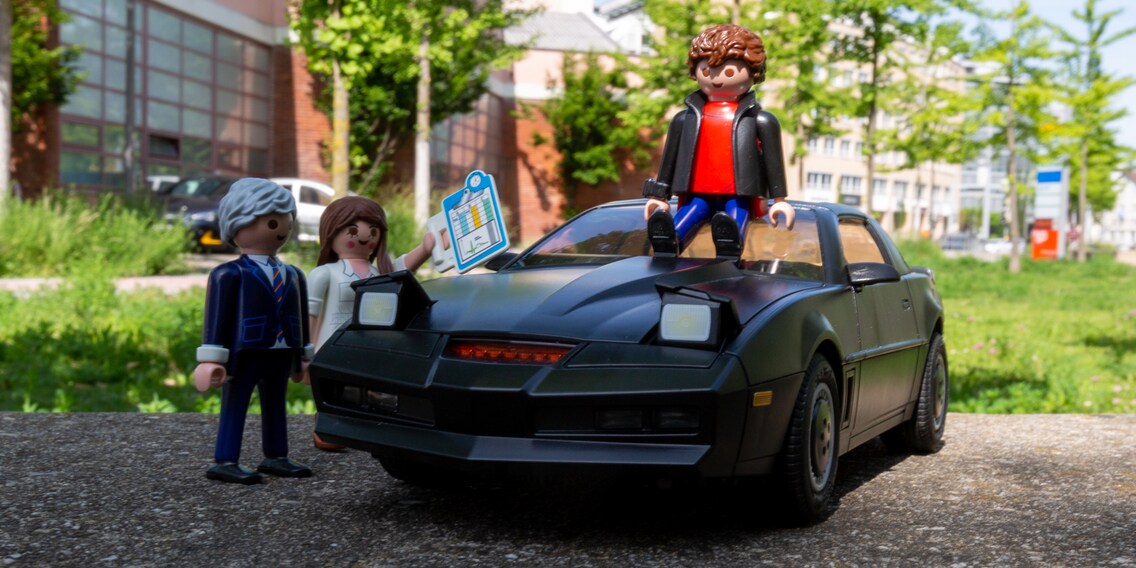 This article was translated automatically.
I need backup, K.I.T.T. - No problem for Playmobil
Playmobil brings another cult vehicle into the playrooms: K.I.T.T. - the talking car from the 80s series "Knight Rider". Includes Michael Knight, Devon, Bonnie and electronic functions.
When I think of TV series from my childhood, "Knight Rider" is right up there with MacGyver, A-Team and Baywatch. Cool sayings, mean villains, exaggerated explosions and of course David Hasselhoff - everything an 80s series needs. After Michael almost dies as an undercover policeman, millionaire Wilton Knight saves his life. He gives him a new face, a new name and puts him in the coolest car in movie history: K.I.T.T.
Driven by the desire for justice, Michael Knight fights injustice and crime together with his car. K.I.T.T. is an acronym for "Knight Industries Two Thousand" and is a modified Pontiac Firebird Trans Am with artificial intelligence. Legendary features of K.I.T.T are its red scanner on the radiator grille, the Turbo Boost or even the Super Pursuit Mode.
Er kommt – Knight Rider – Ein Auto. Ein Computer. Ein Mann. Knight Rider – Ein Mann und sein Auto kämpfen gegen das Unrecht.
With K.I.T.T. as a Playmobil model, you can re-enact all your favorite scenes from the series and completely immerse yourself in the USA of the 80s thanks to its electronic functions. The set will be available from May 27, 2022.
Just like his counterpart in the series, K.I.T.T. from Playmobil has a whole range of functions. It features a rotating license plate at the rear, pop-up headlights, a printer for mug shots in the dashboard, a grappling hook and a removable roof.
In addition to the vehicle, three figures are also included in the "Knight Rider" set from Playmobil. First, you have the title character Michael Knight with iconic bootcut jeans, black leather jacket and a watch for communicating with K.I.T.T., plus Devon Miles, the executive director of the "Foundation for Law and Constitution" and Dr. Bonnie Barstow, computer expert and chief mechanic.
Insert two AAA batteries (not included in the set) into K.I.T.T. and the car can play sound and light effects. Touch the hood to activate the electronic feature. When you do, the iconic string of lights on the grille lights up red and the original voice of K.I.T.T. can be heard. Touching the hood again plays various quotes from the series. The feature turns off automatically after a certain amount of time, or you can hold your finger on the hood for about three seconds to manually stop the effects.
Conclusion
Playmobil has been increasingly wooing adults for a few years now. Especially with vehicles. Already released are the DeLorean from "Back to the Future" and the classics from Volkswagen, the Bulli and the Beetle. There's also the iconic Aston Martin DB5 from James Bond, the van from the cult series "The A-Team" and the Mini Cooper. The fact that Playmobil produces vehicles from iconic series in addition to knight castles, police stations and princess castles serves two different target groups at once: Adults, who put them in display cases as showpieces, and children, who use them to live out their imaginations while playing. Playmobil manages to combine these two worlds.
K.I.T.T. from Knight Rider is in no way inferior to its predecessors. As soon as I took the car out of the packaging, I was immediately transported to my childhood. While I was putting the stickers on the car and clipping the wheels to the chassis, I couldn't get the soundtrack from Knight Rider out of my head. When I inserted the batteries and the red lights moved back and forth, I was hooked. The nostalgia really kicked in. It's worth buying for that feeling alone. But the model is also impressive: As usual from Playmobil, they paid a lot of attention to small details, which will please many "Knight Rider" fans. Moreover, you don't have to be squeamish about it either, because the model is made of solid plastic. Even the laser beam of arch-enemy K.A.R.R. can't harm it.
---



Riding my motorbike makes me feel free, fishing brings out my inner hunter, using my camera gets me creative. I make my money messing around with toys all day.
---
---
These articles might also interest you
Skeleton Loader

Skeleton Loader

Skeleton Loader

Skeleton Loader

Skeleton Loader

Skeleton Loader