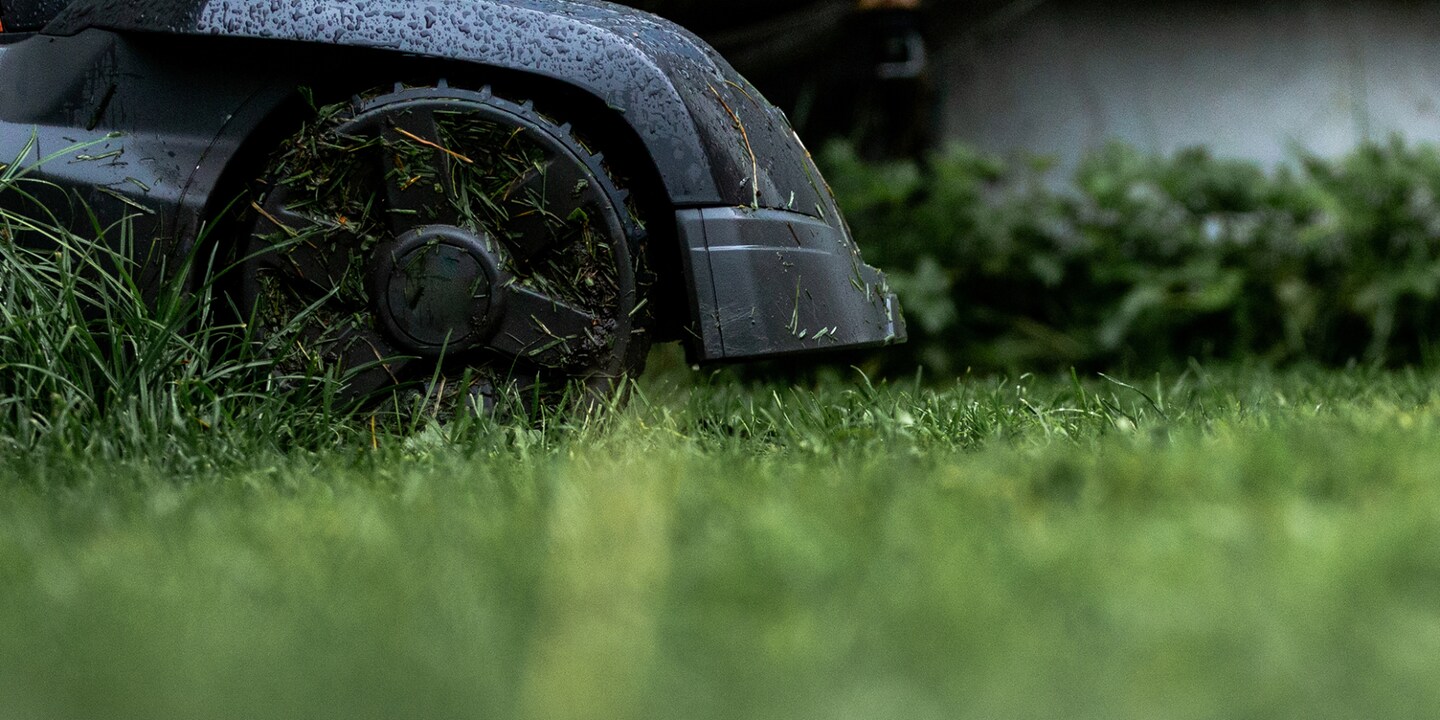 How to prepare your robot lawnmower for hibernation

When autumn comes, lawn growth goes. It's the perfect time to prepare your robotic lawnmower for its winter sleep. Here's a guide on how to do it and what to pay attention to.
After you've sent your robot on its last errand across your impeccable lawn at the end of October, it's time for its winter sleep. Your lawn also goes into sleep mode in the winter. It stops growing and gives you a break from gardening. It does this to protect itself from the cold. Not to mention, it gets trampled less in the wintertime and can use the time to recover. To get your robot fit for spring and ready to take care of your sacred acres again, you'll need to put in some work before putting it into storage. If you want your smart gardening assistant to be equally productive next year, you'll need to follow a few steps.
Storage: punctuality is paramount
As soon as temperatures fall below zero degrees Celsius at night, your robot will be much happier indoors. Leaving it outside in the cold is no good for its innards: sub-zero temperatures can damage the battery and electronics. Possible consequences are a reduction in battery life, shrinking of the motherboard's fine metal components, decreased mowing performance; your robot mowing minion may even go on a full-out strike. But before you put your robot to sleep for the winter, be sure to mow your lawn nice and short one last time. That should keep your grass in check until you whip out your assistant again in the spring. Besides, a slightly longer lawn won't bother anyone – it's not exactly the most popular winter hangout.
Charge the battery
Most manufacturers include care instructions with the robot lawnmower. But the basic rules are pretty much identical for all models. Take the battery, for instance: it's always a good idea to fully charge it before setting it aside for the winter. Otherwise, total discharge can reduce its performance. This refers to when the battery is almost completely empty, i.e. below the end discharge voltage that keeps the battery functioning properly. So, by fully charging the battery, you're extending its lifespan. Depending on the model and manufacturer, a full charge shouldn't take much longer than three hours. If you don't use your robot for an extended period of time, it makes sense to repeat this right before use. So make sure you don't forget to juice up your mowing minion before redeploying it the springtime.
Deep clean
Deep clean your robot before stowing it away to keep it strong and lean. The upper side – or chassis – is best cleaned with a damp cleaning or microfibre cloth, or a gentle sponge. Alternatively, you can opt for a compressed air duster or a vacuum cleaner to remove dirt. Make sure you really clean out all the nooks and crannies before packing up your robot. Otherwise, the stuff can get caught in the wheels or wrap around the axles and block other moving parts. Make sure that no water gets inside the lawnmower – it could damage the battery or electronics. For this reason, you should never use a pressure washer or garden hose. Clean the wheels and associated components, so any dirt or residue doesn't dry up and become difficult to remove. Trust me, it's not something you want to procrastinate on until springtime. The wheels can usually be unscrewed or folded out to get better access to the parts underneath.
Check the mower blade
Since you're already taking apart the robot lawnmower for thorough cleaning, you might as well also check the cutting blades. Are the blades worn out or dull? Have the cutting parts been damaged by stones or other objects? Has rust formed on the blades? If there's only minor dirt and damage, clean the mower blades and sharpen them with a standard knife sharpener. If they're seriously damaged, replace them completely so they continue to cut evenly. Wear gloves when handling the blades to avoid injury. Don't use water to clean the blades either – it could get inside the robot and damage it. Although some manufacturers' robot lawnmowers are weatherproof, I'd avoid using them in the pouring rain, and make sure to put them in storage over the winter.
Choose where you'll be storing your lawnmower
To protect your robot lawnmower from damage during storage, choose the spot carefully. Ideally, it's someplace dry, where the temperature will not drop below ten degrees Celsius. A closed garage or cellar compartment will usually do. Importantly, the temperature should never fall below zero degrees Celsius. If need be, you can temporarily store the robot lawnmower in your apartment, for example in the cleaning cupboard. The charging station and any electronic accessories should also be stored indoors in the winter. Always lay the robot down horizontally for its winter sleep – don't hang it up on the wall. Some batteries can get damaged if stored vertically.
If you follow these tips, your mowing garden gadget will wake up in the spring purring like a kitten and ready to serve you again. Yes, proper preparation, cleaning and storage takes a bit of effort. But it's worth it – it saves you from consequential damage, expensive repairs or even a new purchase. With the right care and hibernation set-up, your trusty mowing minion will serve you longer and deliver the results you've come to expect.
---

When I'm not stuffing my face with sweets, you'll catch me running around in the gym hall. I'm a passionate floorball player and coach. On rainy days, I tinker with my homebuilt PCs, robots or other gadgets. Music is always my trusted companion. I also enjoy tackling hilly terrain on my road bike and criss-crossing the country on my cross-country skis.
---
---
---
---
---
---
These articles might also interest you
Skeleton Loader

Skeleton Loader

Skeleton Loader

Skeleton Loader

Skeleton Loader

Skeleton Loader