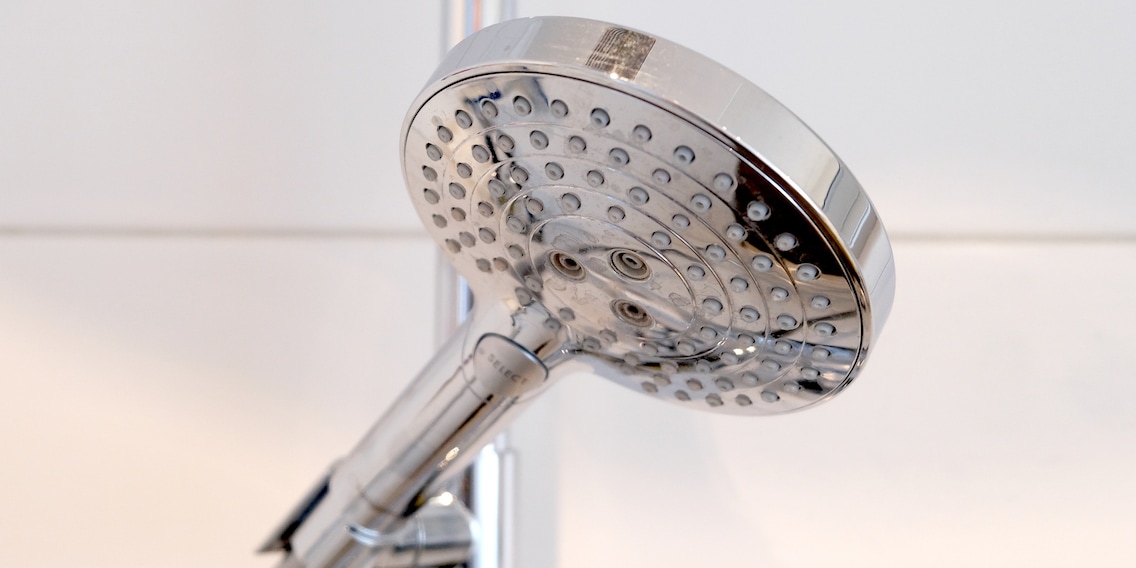 Here's how your showerhead can save you water
Eleven shower heads were tested by a laboratory on behalf of the SRF consumer magazine «Kassensturz». Only one was rated «very good». It performed well in terms of water consumption as well as convenience and handling.
If you spend your showers not only singing, but also thinking about the environment, you may want to consider purchasing a water-saving shower head. Large amounts of water get flushed down the drain every time we fire up the shower. A five-minute shower with a standard, non-eco-friendly shower head easily uses 70 or more litres.
For a pleasant shower, this water must first be heated with a lot of energy. Heating 70 litres from 10 degrees to 40 degrees consumes about 2.4 kWh of energy. For comparison, a Tesla could drive about 15 kilometres with this amount of energy.
And because the heated water is contaminated with shampoo and shower gel, it first goes to the treatment plant before being released back into the environment.
Water consumption: just one of the test factors
The decisive factor for eco-friendly showering is the flow rate of the shower head, which is measured in litres per minute at a pressure of three bar. The fact that you can reduce the flow of your water by adjusting the faucet handle was not accounted for in the «Kassensturz» test.
However, other factors in addition to flow rate were taken into consideration. And weighted higher. Water consumption, for example, only accounted for 35 per cent of the final score; convenience and handling accounted for 45 per cent, and design and robustness for 20 per cent. In this respect, the «Öko-Test» – which tests how eco-friendly something is – is really just one third eco-friendly itself.
Which shower heads are economical?
The flow rate of the eleven showerheads tested varies greatly – from just under five litres per minute (the most economical model) to almost 14 litres per minute (the least economical model). Unfortunately, while you'll find a range of shower heads in our shop, you can't (yet) filter by flow rate. We're working on it, as well as on a filter for the energy efficiency category. Until then, you can at least filter by «ECO function» to find some potential shower heads. The majority of the eleven shower heads examined by «Kassensturz» scored a level A, B or C on the energy label.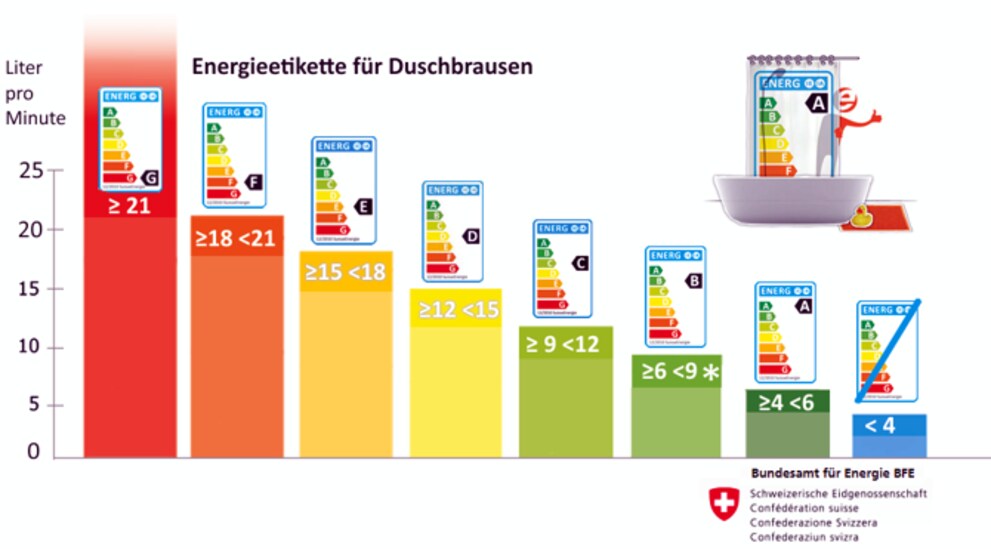 The test winner, the «Tempesta 100» from Grohe with three jet options, is rather wasteful with its flow rate of 6.3 litres per minute and «C» grade.
The Grohe model stole the gold, because handling and comfort accounted for almost half of the score. In terms of comfort, jet coverage and the «feel» of the standard jet were decisive. Of course, this assessment is highly subjective. Not to mention the fact that shower heads offer several jet settings expressly for this reason. In the «Kassensturz» test, shower heads with a softer jet tended to score higher.
A matter of taste
What's your shower head preference?
I like a Kärcher kind of shower – the stronger the jet, the better!
I like my jet to be gentle, like a caress.
The best shower head is like a Swiss Army knife: it has multiple jet settings on offer.
The competition has ended.
Here's a shower head that received a «good» rating and is available in our shop.
There are more eco-friendly shower heads
As you can see above in the illustration of energy efficiency categories, there's a category superior even to «A», though it has no letter designation. Shower heads in this category have a flow rate of less than four litres per minute. The authority responsible for the energy classification, Energieschweiz, doesn't classify these in any special way – «A» is the limit.
The super-saving shower heads only work if the plumbing in your house or apartment is designed for them. Some faucets have trouble regulating the temperature if too little water flows through them. As such, your eco-friendly shower may quickly morph into a hot-and-cold one. Other problems may also arise, such as whistling noises or calcium build-up in over or underused piping.
To make sure your plumbing is suited to this super-economical class of shower heads, it's best to ask an expert. But there are two clues you can look out for that point to your plumbing being suitable for «A» shower heads:
You have a faucet with a thermostat, allowing you to adjust the temperature very precisely.
You have a pressure of three bar. If this is the case, the shower hose (without a shower head) should release 30 litres (or three large cleaning buckets) of water per minute. If it only fills one and a half buckets – or less – the pressure in your pipes is, unfortunately, too low for a very economical shower head.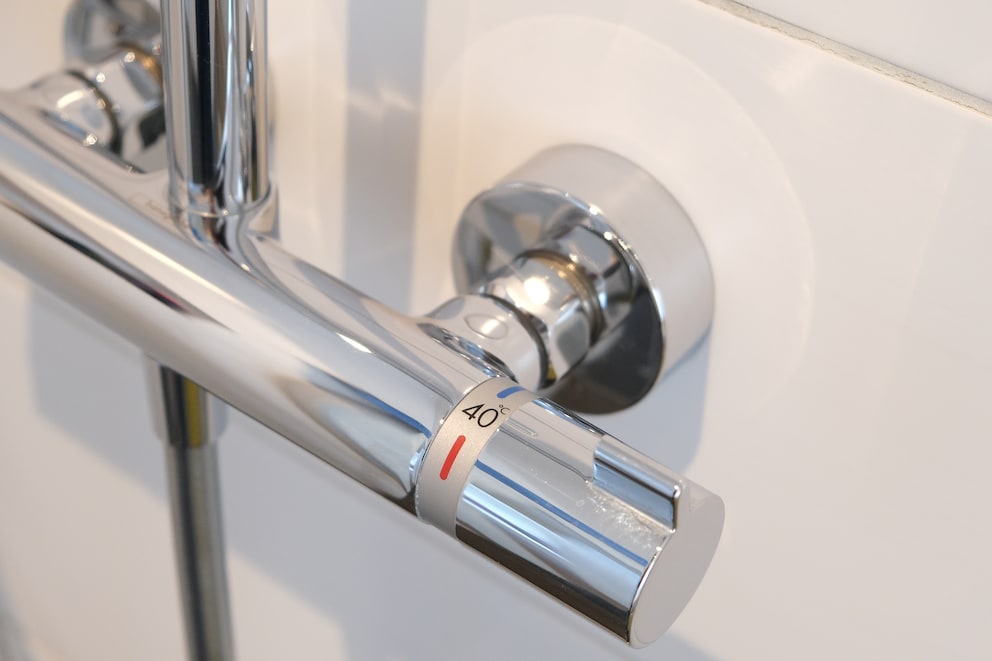 If you're not sure about your plumbing and can't ask a professional for whatever reason, the «Swiss Clima» from Aquaclic shower head might be worth looking into. It includes discs that you can insert yourself to adjust the water flow in your pipes.
---



Journalist since 1997. Stopovers in Franconia (or the Franken region), Lake Constance, Obwalden, Nidwalden and Zurich. Father since 2014. Expert in editorial organisation and motivation. Focus on sustainability, home office tools, beautiful things for the home, creative toys and sports equipment. 
---
---
---
These articles might also interest you
Skeleton Loader

Skeleton Loader

Skeleton Loader

Skeleton Loader

Skeleton Loader

Skeleton Loader