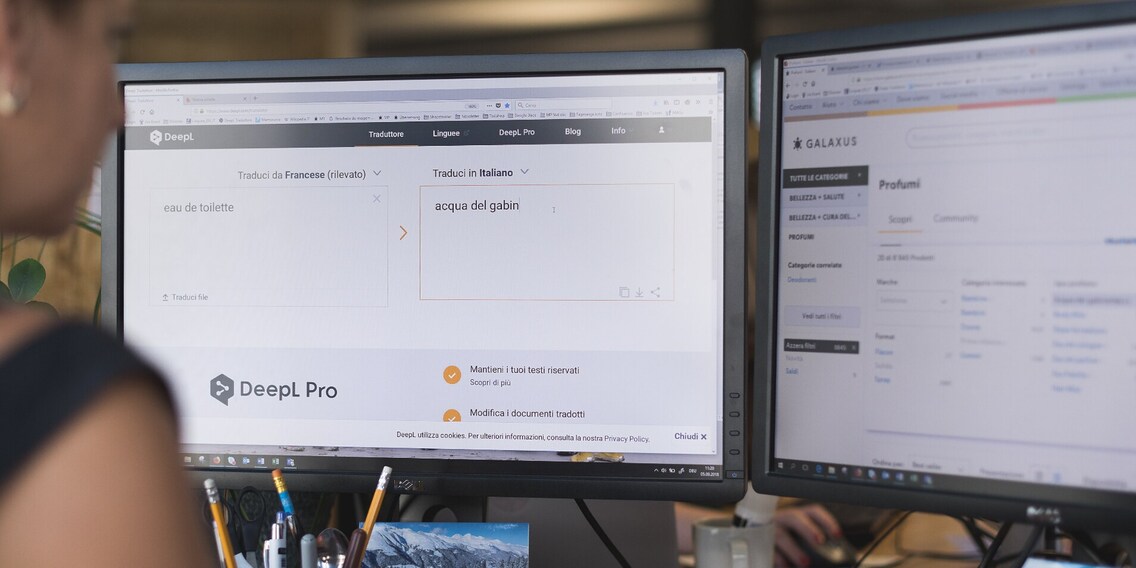 Hair crap?! Machine translation at Digitec and Galaxus

Ever heard of the fragrance types «body crap» or «hair crap»? Neither have we. Yet they still appeared in our shop. Why? Because we work with DeepL, a machine translation service that's clever but not perfect.
Sure, DeepL is a smart tool – but far from perfect. That's why we need help from all you non-machines: let us know if you see a weird translation.
Our range is growing and growing – and with it all the product-related texts, such as product names, descriptions, product filters, properties and technical specifications. We want you to have all this information available in your preferred language, whether it's German, French, Italian or English.
Manually translating all this data from German into three languages is just impossible. Although we have an internal team of fifteen professional translators, it would take us years to translate all product details. After all, our range includes over five million available products – with more being added every day. And frankly, who would have fun going through all of them?!
That's why we welcomed DeepL to our team a few years ago. DeepL is a machine translation service – in our eyes, one of the best of its kind. Every night, when our translators are asleep, DeepL takes up work, goes through our database of product-related texts and delivers them in French, English and Italian. What does this mean for our human translations? When they arrive at the office in the morning, they can focus on what's essential and on the creative aspect of the work – translating product reviews, shopping guides and other inspirational articles written by our Editorial Team, press releases from the PR Team and other content types. What does this mean for you? You can browse our shops in your preferred language without having to miss out on product information.
Why we work with human translation
In our opinion, content is key. We're more than a product search engine with smart filter options. We also offer you inspiring articles that inform, entertain and explore the newest trends. And most importantly: articles that are written by real people with a genuine interest in the subject. This is why we have a team of 30 professional journalists who choose what to write about and research these topics critically and independently – and 15 in-house translators who translate these editorial articles every day with passion and creativity. In times of automatisation, we're proud to offer you authentic insights, original articles and honest reviews – in your preferred language.
So who's this new guy, DeepL?
DeepL is a tech company specialising in developing AI systems for languages. The Germany-based company was founded in 2009 as Linguee and introduced the first internet search engine for translations. In 2017, the company introduced DeepL Translator, a free machine translation system that uses neural networks trained with huge amounts of freely available language data. We agree, DeepL is darn clever. And we must admit, it's a lot faster than we are. This is why DeepL is a great addition to our in-house Translations Team. So far so good, but nobody's perfect. And certainly no machine (even if it's called HAL 9000).
Find out more about AI, machine learning and deep learning here:
Not only product data, but also editorial articles
We've been working with DeepL for several years and will continue to do so in view of our ever-growing range and expansion into new markets. Since December 2021, not only product-related texts but also all articles categorised as «Promotion», «New to our range» and «News & Trends» are machine-translated and marked as such. This means that all these articles are available to our readers in German, English, French and Italian at the same time. The situation is different for the remaining editorial content, such as the articles categorised as «Product test», «Background information», «Opinion» or «Guide». These are translated by our in-house Translations Team to ensure high quality. Consequently, there's a delay (usually of a few days) in the publication of these articles in English, French and Italian. Of course, our translators always do their best to translate as much and as fast as possible. However, if they don't manage to translate all the articles, the remaining ones are also translated by DeepL nine days after publication of the original. The assumption behind this is that having a machine-translated version of an article is still more useful to our readers than no translation at all.
Find out more about automatic translation of editorial content in this article by Martin Jungfer:
Multilingual product reviews and discussions in the Community
In addition to product data and editorial articles, we've recently also enabled machine translation for the comments and opinions of our Community members on products and magazine articles. This means all visitors to our shops can read the helpful product reviews of other users as well as the exciting discussions under editorial articles in all languages – regardless of whether a comment was originally written in German, English, Italian or French. This increases the value and interconnectedness of the Digitec Galaxus Community for everyone and makes it all the easier to participate in an exchange of opinions. More on this will follow in an in-depth article.
What DeepL hasn't (yet) learned is Swiss German. We don't yet know whether it will eventually master this language variant. And if so, which dialect?
DeepL fail? Let us know!
DeepL has come up with a few funny creations in our shop. The fragrance types «body crap» for a spray named «Body Mist» and «hair crap» for «Hair Mist» – just to name a few. How come? Well, DeepL is clever enough to analyse the context in which a word is used and adjust its choice of translation accordingly, but if it comes across an isolated word which could have several meanings, there's no way it could know which one's the right choice.
Therefore, every now and then you may stumble upon a strange English, French or Italian translation. If you do so, please let us know. How? Send us an e-mail: languageservices@digitecgalaxus.ch. It's as easy as that. We promise to correct it – and we'll send you an answer and karma points on top!
Meet the translators
Want to know more about our translators? Anne Chapuis, Alassane Ndiaye, Martin Grande, Sophie Boissonneau and Stéphanie Casada are responsible for French; Alessandra Ruggieri De Micheli, Leandra Amato, Nerea Buttacavoli, Rebecca Vassella and Sanela Dragulovic for Italian; and Eva Francis, Jessica Johnson-Ferguson, Katherine Martin, Patrik Stainbrook and Veronica Bielawski for English.
Header image: Thomas Kunz
---



Looking at her Swiss and British passport, there's no denying this lady hails from the hinterlands. Raised in the village of Müllheim, she also has roots in the Welsh town of Brecon. Eva plays Gaelic football at «Zürich Inneoin GAA Club» and is always up for a quirky project. She's currently collecting dog poop bags from all corners of the earth and has accumulated around 100 so far. 
---